go to content
register

sign in

sign up

sign up

sign in

sign out
tips & trends
the hottest nail trends for summer 2021
it's time for the gloves to come off. as summer is upon, we've rounded up the season's best and brightest looks for the beach and beyond. from playful patterns to fresh-squeezed french tips, find out how to nail summer 2021's hottest trends.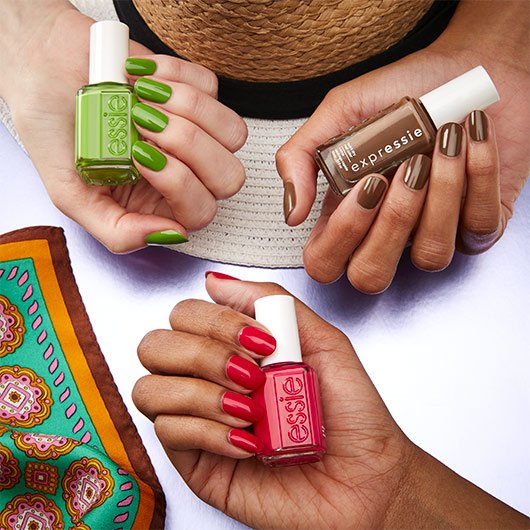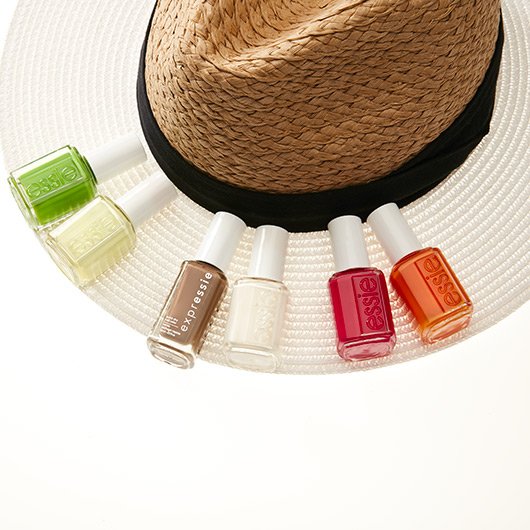 satisfy your craving for color
"prepare for punchy color and muted earth tones," says Rita Remark, a celebrity manicurist and essie global lead educator.
stand out with a statement-making green nail polish. this hue is heating up and there are plenty of ways to get in on action. for a splash of juicy color, reach for feelin' just lime from essie summer 2021 collection. spring's sage green nails still speaking to you? opt for a pastel green nail polish with plenty of pop like chillato, a creamy pistachio guaranteed to refresh fingertips and toes fast.
thinking pink is also a bright idea. blue-toned shades like bachelorette bash (a flirty fuchsia) or sit me in the front row (a rich raspberry) from the brand's gel couture line look flawless on any skin tone—and might just last longer than your summer fling.
let the sunshine in with yellow nails. for a more muted take on the trend, try a shimmery mustard tone, such as get your grove on, or a dusty gold, like zest has yet to come—both shades from essie limited-edition summer palette.
if these bold summer hues get a little too hot, chill out with a cool-toned neutral, like mid-day mocha from the expressie lineup. another option: white nails, a summer staple that never lets you down when temperatures rise.
find the perfect mani-pedi combo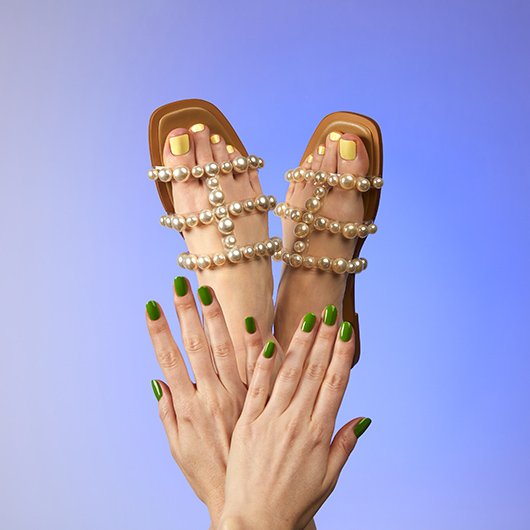 when it comes to creating the ultimate summer mani-pedi pair, "play with monochromatic or complementary colors," recommends Remark.
for a monochrome mani-pedi that looks nothing short of major, juxtapose a bright summer color with a pastel nail polish in the same hue. for example, tangerine tease, a bold orange, plays well with a creamsicle-inspired shade like check your baggage—both from the essie summer 2021 collection. or, try a tone-on-tone combo that incorporates a trending shade like green. feelin' just lime and chillato are a power couple guaranteed to turn heads on the summer scene.
if you can't commit to just one color, turn up the volume with vibrant hues on hands and feet. double down on this warm-weather trend by selecting ultra-saturated shades with a similar intensity, like tangerine tease and pucker up (a punchy hot pink) from essie's summer collection.
for a look that whispers rather than shouts, try pairing a cool brown like mid-day mocha with a sheer, white nail polish like marshmallow, an essie icon.
get creative with nail art
after a year inside, it's time to let loose with next-level nail art that brings you joy. whether you're headed to the salon or DIYing your manicure at home, Remark shares her top nail art trends to try for summer 2021.
mix it up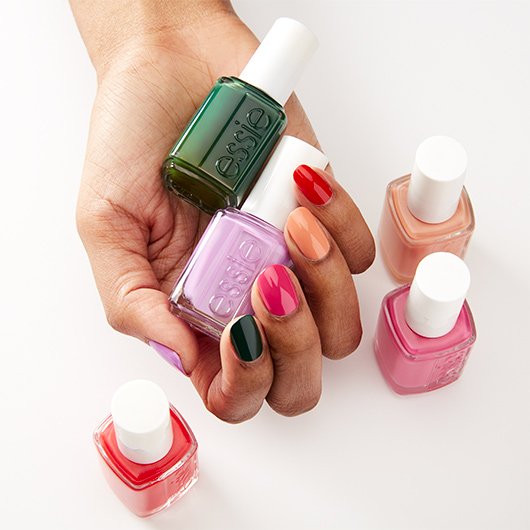 for a mismatched manicure that still looks seamless, pick a palette containing bright, dark, neutral and pastel nail colors. "be sure to break up the order by polishing pastels beside darker shades to prevent the look from treading into ombrè mani territory," says Remark.
need help picking polish for your multicolor mani? look to the color wheel for inspiration. start with shades from one color family and choose complementary hues that allow every nail to shine. (for example: pink/red + green; coral/orange + blue; purple/indigo + yellow).
play with patterns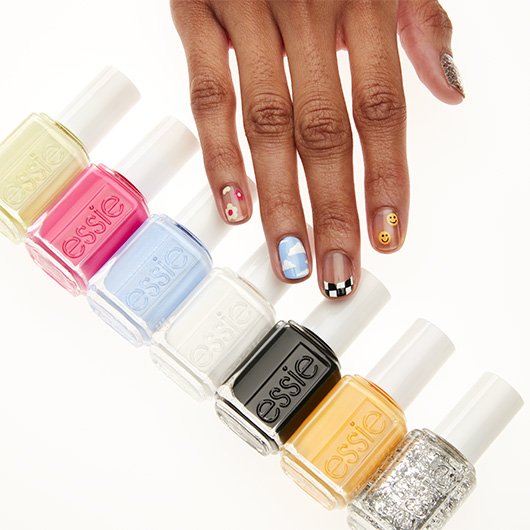 known as "indie nails," whimsical patterns, decals and textures take a mismatched mani to the next level. Remark's go-to motifs include checkerboard, leopard spots, cow print, polka dots, yin-yangs, smiley faces, clouds and flowers. approach each nail independently so you end up with a look that's totally unique.
how to get the look: start by polishing each nail a different base color. then, create a unique design on each nail using a detail brush, dotting tool or decals. let nails fully dry for at least 5 minutes before applying essie gel setter top coat.
give it a swirl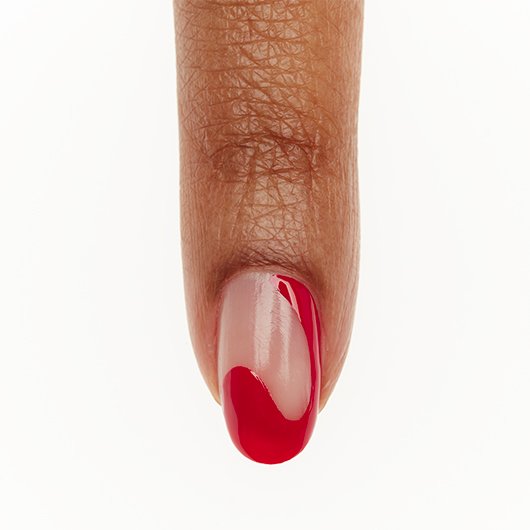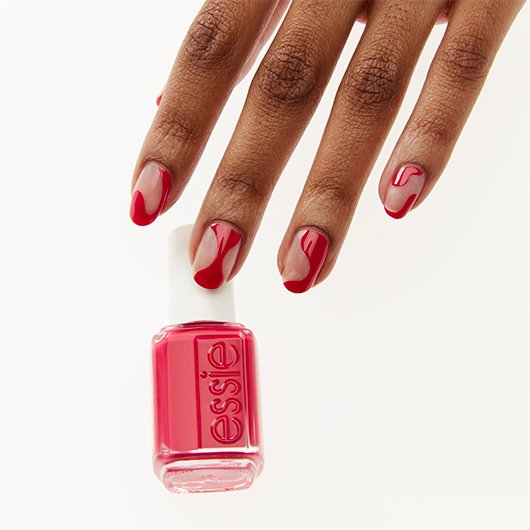 this summer, make waves—quite literally. abstract curves are "easy to DIY, look great on every nail length and only require one color," says Remark. "it's no wonder that the look is trending." simply choose your fave essie polish and dive in!
step 1: apply a base coat, then use a detail brush to create one to two wavy lines across each nail. make an s-curve on some nails and a c-shape on others.
step 2: with the same brush, fill in a section of the nail to create a solid swirl. once dry, finish with essie good to go top coat.
take it down to toes
dip a toe into all of the aforementioned trends! while any of these looks are perfect for your next pedicure, the multicolor nails trend works especially well on toes. all that's left to do? slip on your sandals and strut straight into summer.
---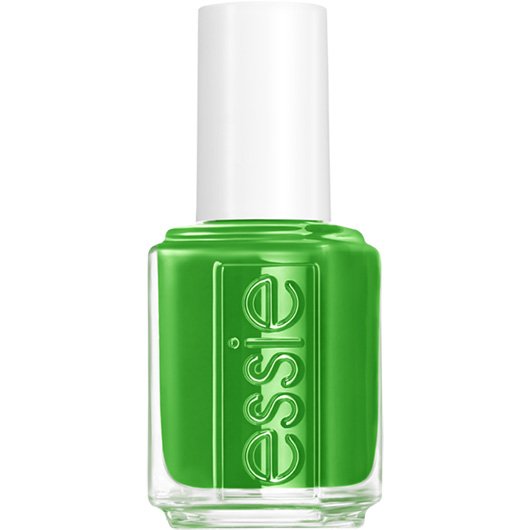 essie?.CategoryName
feelin' just lime
$10.00
the livin&rsquo; is easy when you&rsquo;re wearing this bright, lime green nail polish with yellow undertones<br /> <ul style="list-style-type: disc;"> <li> the essie limited edition summer 2021 collection is a palette of six summery shades with saturated and punchy bright nail polishes to capture a craving for color and summertime cheer.</li> <li> salon quality formula for flawless coverage.</li> <li> our exclusive easy glide brush for quick, even professional application on nails.</li> <li> from the essie collection, which has produced more than 1,000 shades and counting.</li> <li> to use: apply one coat of any of our essie base coats on nails. follow with two coats of essie original color. finish with any one of our essie top coats.</li> <li>over&nbsp;a thousand nuanced colors, essie original nail polish takes from the latest fashion and cultural trends to make your manicure possibilities endless, with a wink and story always on hand.&nbsp;&nbsp;your partner for playful inspiration.</li> </ul> <p style="text-align:center;"><a href="/nail-polish/whats-new/summer-2021">see the collection</a></p>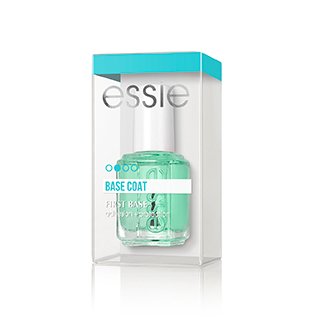 base coat?.CategoryName
first base
$11.00
<style type="text/css"> p.p1 {margin: 0.0px 0.0px 0.0px 0.0px; font: 12.0px 'Lucida Grande'; color: #000000} </style> <p class="p1">essie&reg; first base&reg; smoothes and protects nails while adhesion-promoting ingredients help bond polish to the nail surface to resist chipping.</p>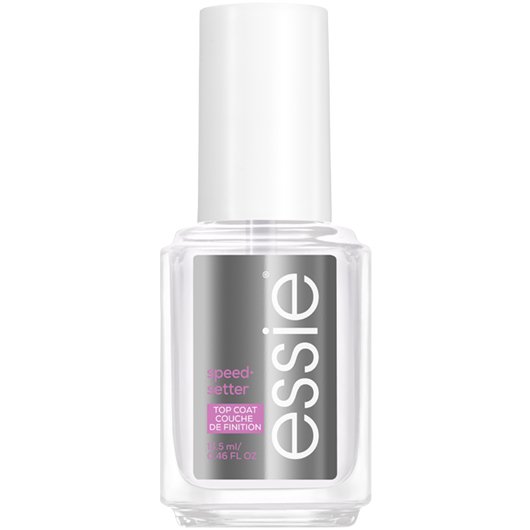 top coat?.CategoryName
speed setter
$10.00
<style type="text/css"> p.p1 {margin: 0.0px 0.0px 0.0px 0.0px; font: 12.0px 'Lucida Grande'; color: #000000} </style> <p class="p1">for a perfect high-shine finish in record time, essie speed.setter is top coat and quick dry top coat in one cutting-edge formula.<span class="Apple-converted-space">&nbsp; </span>This high performance top coat dries in under a minute, and works with any essie enamel polish for an ultra-shiny finish!</p>
---