go to content
register

sign in

sign up

sign up

sign in

sign out
achieve the look of healthy nails by solving these common nail concerns
the key to a perfect manicure is strong nail beds. however, your nails can become weak and affected by your lifestyle, weather, and more. If you are experiencing problems like yellowing nails, nail ridges and more, read below about how to fix and prevent some of these nail concerns.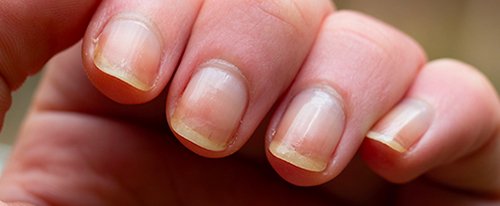 yellowing nails
if your nails have a yellowish tinge, there are two main reasons why this could be happening. the first reason is the simplest; they're stained. neglecting to use a base coat with dark polishes, cooking with yellow spices like cumin, smoking, and some cleaning products can all leave stains on the nails. the other reason is less easy to fix. yellow stains may be the result of a change in health. some conditions like psoriasis or vitamin/mineral deficiencies can contribute to yellow nails.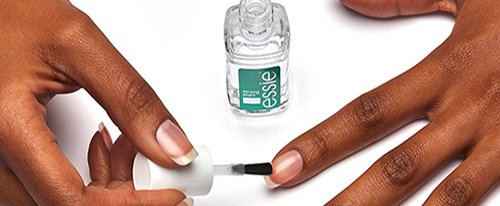 how to fix and prevent yellowing nails
if your nails are stained, this is a relatively easy fix. oftentimes the stain is superficial and a light buff with a 240-480 grit buffer will delicately resurface the nail, leaving bright healthy nails behind. remember to always wear a
protective base coat
when wearing any nail color to prevent future stains. it's also important to wear gloves when cooking with certain spices and when you're cleaning.
shop base & top coat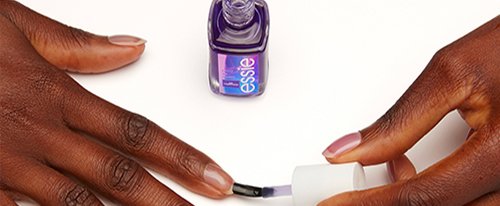 how to fix and prevent yellowing nails
if your nails are yellow, but not stained, it's more important to treat the underlining issue first and then work to conceal and treat the nails – a light buff won't make a difference because the stain likely permeates the entire nail, not just the surface. to conceal and beautify these nails, try essie's
hard to resist
in
"neutralize & brighten"
this clinically proven treatment comes in a light violet shade that offsets any yellow tone and brightens while it strengthens.
shop hard to resist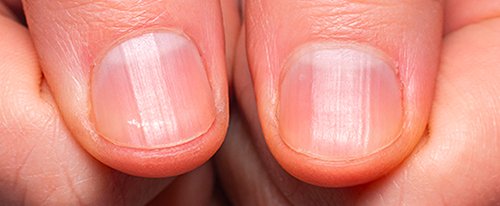 nail ridges
when considering ridges, it's important to remember that they're not always a sign of poor nail health. fine vertical ridges can appear temporarily after injury, but they mostly appear naturally as we age. in this case, the answer is not to fight them, but to treat and work with them. if ridges are deep, horizontal or causing concern, it's important to speak with your doctor for a proper diagnosis.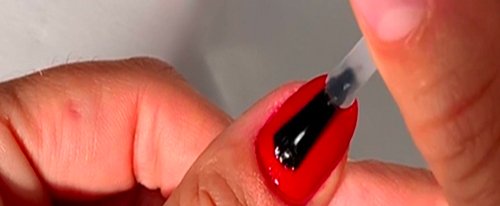 how to fix and prevent ridges in fingernails
soften any light ridges with a light buff using a 240-480 grit buffer. do not over-buff or attempt to completely smooth the nail. this can thin and weaken your nails. instead, use base coats and topcoats that will gently fill and conceal the issue. essie's
smooth-e base coat
boasts a velvety consistency that fills ridges and smooths the nail surface. for deep ridges or dents, use with essie's high volume topcoat,
gel setter.
shop base & top coat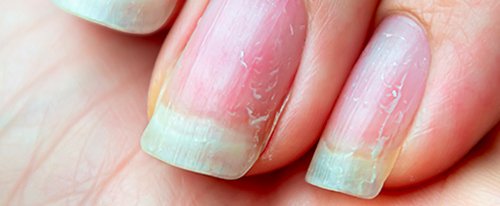 causes of dry nails
dry nails are the most common, but also the easiest-to-fix of all nail issues. many factors like lifestyle, changes in the weather or age can cause dryness. when left untreated, dry nails can become brittle, weak or start peeling, but if you nip this issue in the bud, your nails will be strong in no time.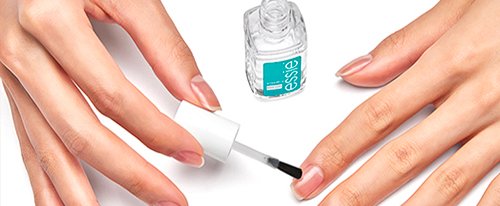 how to fix and prevent dry nails
hydrate, hydrate, hydrate! drink lots of water, use moisturizing base coats, and apply hand lotion and cuticle oil regularly. two super hydrating base coats to consider for dry nails are
essie's all-in-one
that contains argan oil, and
smooth-e,
that contains moisture retaining ceramides.
shop smooth-e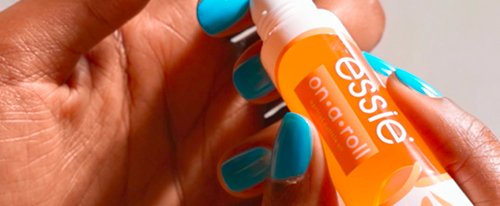 how to fix and prevent dry nails
also, use cuticle oil like it's your job. just using hand lotion, while important, won't cut it. while moisturizing and protecting, hand lotion doesn't penetrate and hydrate the nails and cuticles like an oil can. essie's
apricot cuticle oil
contains apricot seed oil that mimics the skin's own sebum, so it's easily recognized and absorbed without any greasy residue. apply several times throughout the day.
shop cuticle oil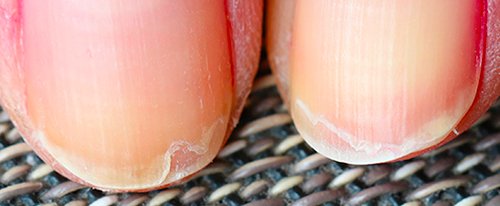 nail peeling
nail peeling occurs when the layers of the nail separate at the tip causing some layers to lift and peel away. there are a variety of causes for peeling and it's important to know which relates to you in order to fix the problem. some of the many causes include improper removal or picking off nail polish or nail enhancements, nail injury, some vitamin or mineral deficiencies and frequent handwashing and sanitizing.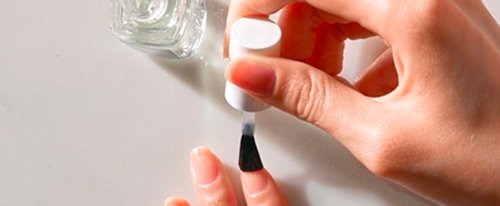 how to fix and prevent nail peeling
hydrate! if your nails are peeling at the tip, start treatment by trimming the nails short. this gives the peeled and weak areas of the nail an opportunity to "catch up" and re-bond to the nail. next, do not go bare or "take a break" from polish. your nails are injured and need a protective coating in order to grow and heal. use essie's powerhouse nail strengthener,
hard to resist
. it's been clinically proven to fortify and bond peeling nails.
shop hard to resist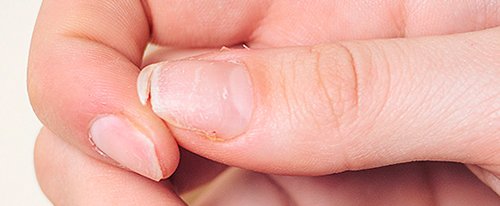 causes of brittle nails
brittle nails are almost always the result of extreme dryness or poor moisture retention. when nails aren't properly hydrated, they can thicken and adopt a rigid, fragile texture. there are numerous causes for brittle nails, some of the most common being changes in weather, frequent handwashing or sanitizing, certain vitamin or mineral deficiencies or, most commonly, age.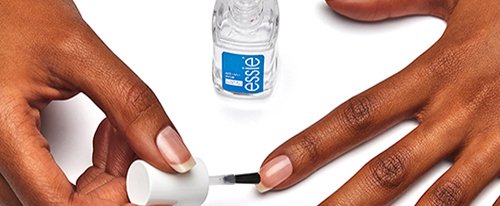 how to fix and prevent brittle nails
the best cure for brittle nails is adding a hydration component to your day to day habits. apply moisturizer after you wash or sanitize your hands or before you leave the house. when polishing your nails, use a moisturizing base coat, like
all-in-one
, that boasts hydrating ingredients like argan oil. if your brittle nails are paired with ridges, try the
smooth-e base coat
, that contains ceramides that aid in moisture retention.
shop all-in one base & topcoat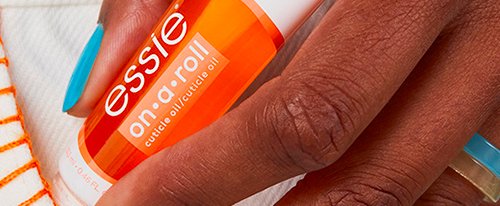 how to fix and prevent brittle nails
finally, regular use of a cuticle oil will work wonders in adding health and flexibility to your nails. applying a hydrator, like
essie's apricot cuticle oil
, throughout the day will not only moisturize your brittle nails but will invigorate your nail beds, stimulating healthy nail growth.
shop cuticle oil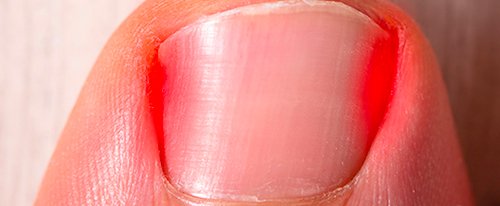 causes of ingrown nails
ingrown nails are most often our toenails, mostly specifically, our big toe. improper trimming of the nail, injury, curved nail beds, uncomfortable footwear and even lifestyle choices like running or sports can cause our toenails to grow inward. ​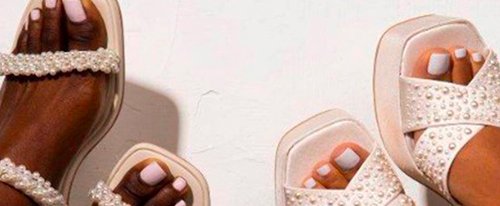 how to fix and prevent ingrown nails
rather than one easy fix, there are a few small changes you can make to fix your ingrown toenail. these fixes all begin with proper footcare. make sure to trim your toenails straight across, rather than curved, and to keep them at a moderate length, rather than very short. short, rounded nails are more prone to grown into the skin. you should also consider switching up your footwear to something that allows more room at the toe or more width. this is especially important when choosing footwear for sports or exercise.
shop this post
best seller new
best seller new
best seller new
best seller new
best seller new
best seller new