go to content
register

sign in

sign up

sign up

sign in

sign out
tips & trends
the perfect at home DIY manicure!
Rita Remark shares her best-kept secrets.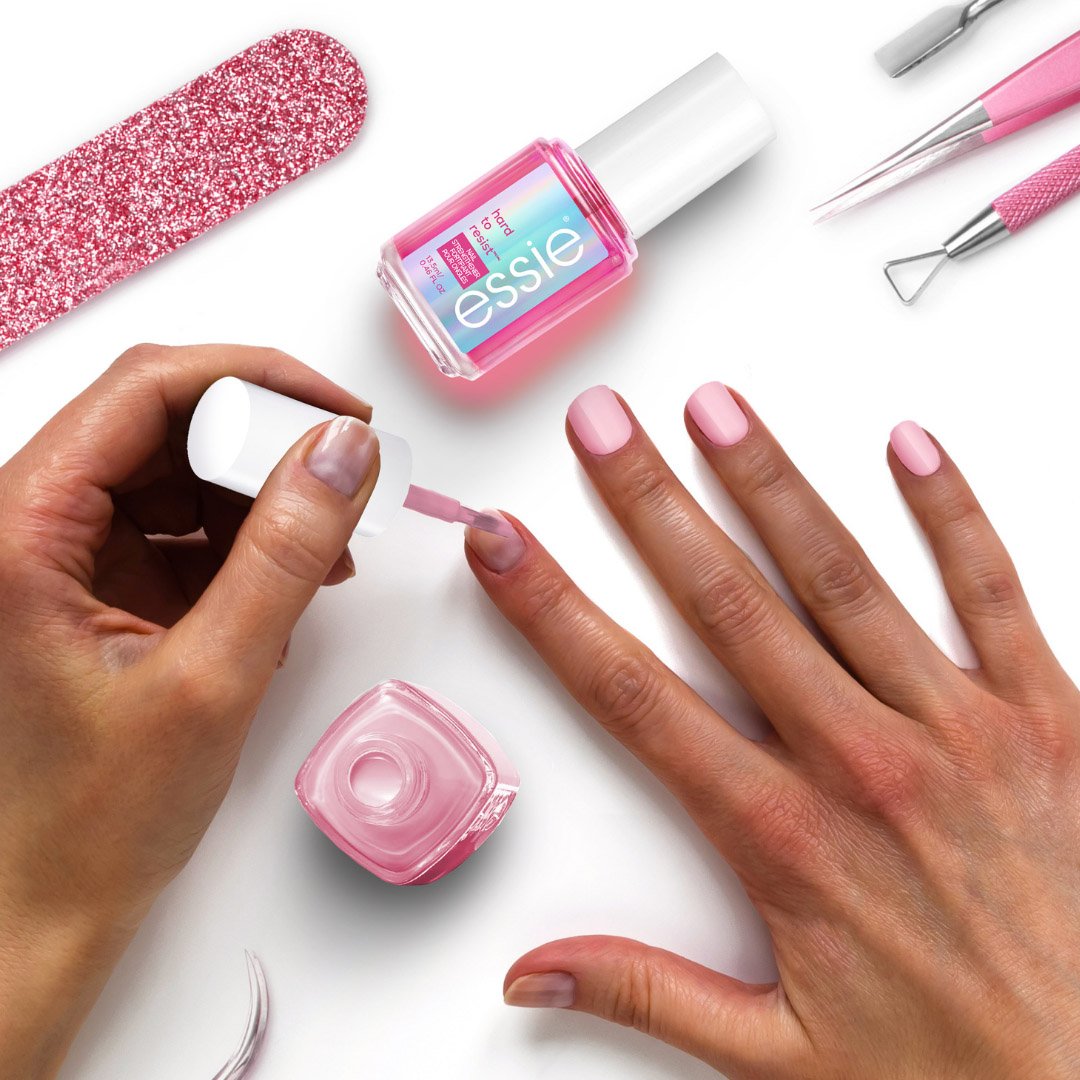 Selecting a color from the ever-growing essie rainbow is only half the battle. Master your next mani with this simple step-by-step from Rita Remark, celebrity manicurist and essie Global Lead Educator. Find out her top tips for keeping cuticles in check, preventing chips, repairing weak nails, and creating fresh-from-the-salon results that last.
The Toolkit:
Polish Remover
Cuticle Softener
Nail Clipper
Nail File
Buffer
Cuticle Pusher
Cuticle Nipper
Base Coat
Essie Polish
Top Coat
Apricot Cuticle Oil
Hard to Resist Nail Strengthener
The Mani Method:
Step 1: Start by removing any old polish. Then, apply a cuticle softener in lieu of soaking nails in water (a common salon practice). "Nails are really porous and they absorb water, causing them to puff up slightly," explains Remark. "If you polish your nails in a waterlogged state, chips are more likely to occur."
Step 2: While the cuticle softener seeps into skin, cut and file nails. If you want a rounded shape, trim the sides of the nail with clippers and leave a bit of length in the middle. For a square, cut nails straight across. "I like to create a base shape before refining it," says Remark. Using a windshield wiper motion, fine-tune the free edge of the nail with a file.
Step 3: Gently push back cuticles with a stainless steel pusher and lightly buff nails to remove any excess product or debris. "I typically use a 240-grit buffer," says Remark. "Anything lower than 240 can be too abrasive." Trim hangnails or any dry skin surrounding the nail plate with a nipper, but don't completely remove the cuticle. "Trimming around the entire perimeter of the nail can cause cuticles to grow back thicker and faster, as well as leave you vulnerable to infection," warns the pro.
Step 4: Wash hands and wipe down the nail plate with polish remover or alcohol. "Really scrub the corners of the nail plate because any leftover cuticle softener or oil can interfere with polish adhesion," says Remark. Depending on the polish formula, apply a base coat to create a strong foundation for color. (Skip this step if you're using Expressie or Gel Couture.) To prevent staining and extend the life of your manicure, reach for Here To Stay, which features innovative color-adhesive technology. For added strength, try Grow Stronger, a base coat formulated with ginkgo biloba, vitamin E, and minerals to nourish and protect nails.
Step 5: Add color! Try a shade from the latest essie collections or reach for your go-to hue. Then, apply two coats nail polish. "Today's formulas are proven to be safer and less irritating than polishes of the past," says Remark, whose favorite essie shade is Geranium.
Step 6: Finish with a top coat. (You can skip this step if you're using Expressie.) To get glossy, try Gel-Setter or Good To Go. For a soft matte finish, reach for Matte About You. Gel Couture fans should lock in their look with Gel Couture Top Coat. "If you want to refresh and extend the life of your manicure, apply a thin layer of top coat (like No Chips Ahead) every two to three days," adds Remark.
Step 7: Moisturize and maintain. Apricot Cuticle Oil is essential for conditioning cuticles. Remark recommends stashing a bottle in your desk, nightstand, and medicine cabinet so that you can easily apply it throughout the day. "I like to keep cuticle oil next to my skin care so that I'm reminded to put it on along with my eye cream in the morning and at night," says Remark. For especially dry hands, exfoliate once or twice a week with a sugar scrub, apply cuticle oil, and seal in moisture with hand cream. Between manicures, treat tips to Hard To Resist Nail Strengthener, a next-gen formula that creates a protective barrier against daily wear and tear (i.e., typing, texting, sanitizing, etc.). Choose from two shades: pink and violet for stronger, smoother, and shinier nails after just three days.
*Formulated without: formaldehyde, formaldehyde resin, toluene, xylene, camphor, ethyl tosylamide, dibutyl phthalate, triphenyl phosphate
---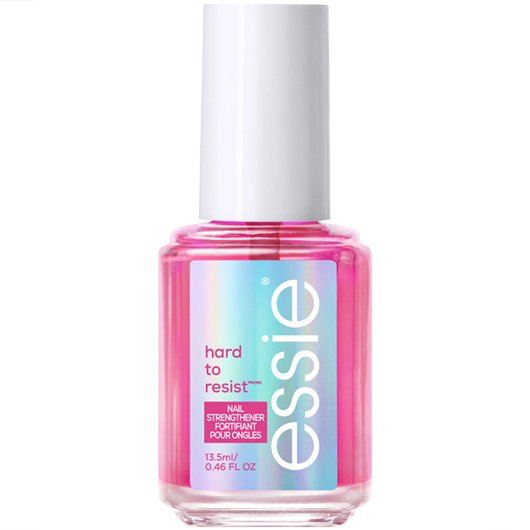 essie
glow & shine
$11.00
<p style="color: #333333; background-color: #ffffff; margin: 1em 0px; padding: 0px; letter-spacing: 0.1px;">let your nails steal the show and shine brighter than ever</p> <p style="color: #333333; background-color: #ffffff; margin: 1em 0px; padding: 0px; letter-spacing: 0.1px;">&bull; life can be tough on nails. luckily our next-gen nail strengthener knows just what to do. hard to resist nail strengthener uses nail bonding technology to create a protective barrier against daily wear &amp; tear&nbsp;</p> <p style="color: #333333; background-color: #ffffff; margin: 1em 0px; padding: 0px; letter-spacing: 0.1px;">&bull; our best essie formula to reduce damage caused by UV gels. this formula improves nail brittleness and leaves nails looking smooth and rejuvenated<br /> <br /> &bull; after 3 days: nails are less brittle &amp; appear healthy, smooth with natural shine<br /> <br /> &bull; instant strength + resistance; 96% agreed instantly nails feel protected* *in a consumer study<br /> <br /> &bull; usage: apply two coats to clean, bare nails and allow to dry<br /> <br /> &bull; vegan formula: no animal derived ingredients or by products; formulated without formaldehyde&nbsp;</p>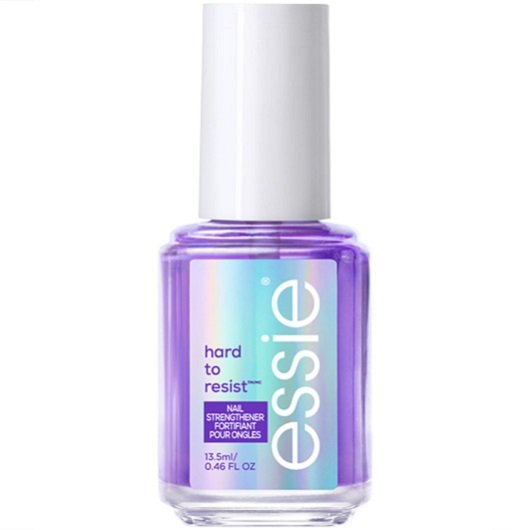 essie
neutralize & brighten
$11.00
<p>let your nails steal the show and shine brighter than ever</p> <p>&bull; life can be tough on nails. luckily our next-gen nail strengthener knows just what to do. hard to resist nail strengthener uses nail bonding technology to create a protective barrier against daily wear &amp; tear&nbsp;</p> <p>&bull; our best essie formula to reduce damage caused by UV gels. this formula improves nail brittleness and leaves nails looking smooth and rejuvenated<br /> <br /> &bull; after 3 days: nails are less brittle &amp; appear healthy, smooth with natural shine<br /> <br /> &bull; instant strength + resistance; 96% agreed instantly nails feel protected* *in a consumer study<br /> <br /> &bull; usage: apply two coats to clean, bare nails and allow to dry<br /> <br /> &bull; vegan formula: no animal derived ingredients or by products; formulated without formaldehyde&nbsp;</p>
---