go to content
register

sign in

sign up

sign up

sign in

sign out
tips & trends
how to apply, remove, & repair damaged nails
How to Repair Nails Damaged By Dip Powder, Gel, or Press-Ons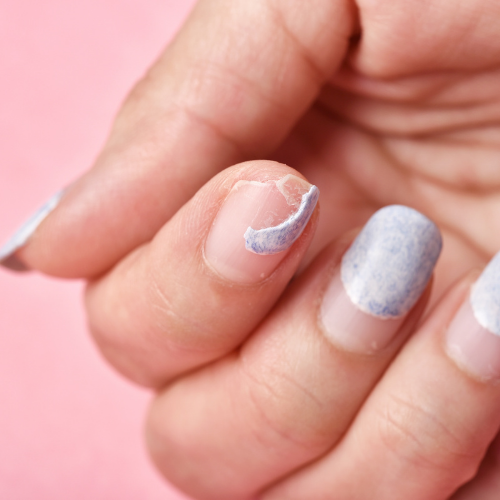 Hard to resist, now available at amazon.com
If gel, dip powder, or press-on manicures have left your nails high and dry, you've come to the right place. While it's easy to point fingers—especially when tips are at their breaking point—you may want to consider overhauling your entire approach from start to finish. "When nail coatings are applied, worn, and removed properly, they are perfectly safe," says Rita Remark, celebrity manicurist and essie Global Lead Educator. "However, if they are applied to unprepped nails, worn for too long, or removed too hastily, damage can occur." Here, the polish pro provides her best advice for rehabbing brittle nails and setting your next mani up for success.
Dip Powder Manicure
Long-lasting and incredibly strong, Remark recommends dip powder if you're especially tough on your nails or tend to chip a gel mani with relative ease. The coating's durability, however, makes it more difficult to remove and isn't the best choice for fragile fingertips. "It can further stress out a previously weak nail," she adds.
How it works: "A dip powder manicure is achieved by applying acrylic powder to the nail between layers of a gentle adhesive," says Remark. The process starts with a tacky layer of adhesive that is applied to clean, dry nail beds like a traditional polish. Next, fingertips are dipped into a small bowl of acrylic powder and any excess is brushed away. These steps are repeated until the desired color is achieved and sealed with a top coat. "Remember to wait two to five minutes between each layer," adds Remark.
How long it lasts: "If done in a salon, dip powders can last up to three or four weeks," says Remark, who notes that DIY dip powder manicures typically have a shorter lifespan of one to two weeks.
The best way to remove: Expect to endure a combination of filing and soaking. "Dip powder tends to damage nails more than other coatings because of how strong it is and how time consuming it can be to remove safely," explains Remark. She suggests visiting a salon where a technician can use an electric or manual file to eliminate the bulk of the product before soaking nails in a shallow bowl of 100% acetone. After about ten minutes, the coating is wiped away with a lint-free wipe and nails are gently buffed to remove any remaining residue.
Ways to repair damage: If your nails are weak post-dip, keep them short and rounded to prevent breakage. "File them regularly to fix snags and stimulate blood flow," says Remark. Then, top off tips with a fortifying treatment, like essie hard to resist nail strengthener, which repairs fractured bonds in natural nails and accelerates healing. After three days, nails are less brittle and appear healthy, smooth, and naturally shiny. Choose the pink tint to boost glow and shine, or the sheer violet shade to neutralize yellow tones.
Press-On Manicure: "Press-on nails have become much more sophisticated, contoured, and natural-looking in recent years," says Remark. "These aren't your mothers bulky press-ons from the 70s!" The global pandemic is also partly responsible for their surge in popularity, adds the pro, as these pre-fab manis offer instant nail art and salon-quality results without leaving home.
How it works: "With the invention of double-sided stickers, you can now apply, add length, and easily switch out your look with zero damage," explains Remark, who likens press-ons to "wigs for your nails." The other option that requires more of a commitment: nail glue. Regardless of which route you choose, prep natural nails by wiping them with polish remover or isopropyl alcohol to eliminate any oil that can cause press-ons to pop off prematurely. Also, make sure that each press-on is the proper size (i.e., there aren't large gaps between the faux tip and your natural nail bed or cuticle) to prevent the edges from catching on hair or clothing, adds Remark.
How long it lasts: Adhesive tabs will keep press-ons in place for about three days, which is ideal for a special occasion or a night out. Liquid nail adhesive keeps a press-on manicure intact for about two weeks.
The best way to remove: "Prying off press-ons will peel away layers of your natural nail," cautions Remark. Ouch! Always read the label before getting rid of glue, but soaking fingertips in a shallow bowl of acetone for five minutes is usually your best bet. "The adhesive softens and the press-on lifts off," she adds. For sticker tabs, apply a drop of acetone to the cuticle area. Then, apply gentle pressure and slowly guide the press-on down toward the tip of your natural nail. "This method rolls the sticky tab onto itself and releases the press-on," says Remark.
Ways to repair damage: You can change your mani as often as you change your mind with press-on nails, but it's essential to maintain a solid foundation. "Healthy nail beds equal healthy nail growth," says Remark. Regularly apply essie apricot cuticle oil and hand lotion to keep natural nails happy and hydrated between sets.
Gel Manicure
Glossy. Resilient. Zero drying time. What's not to love about a gel manicure? Gel is much thinner and more natural-looking than press-ons or dip powder and it can add "flexible strength" to otherwise fragile nails, says Remark. Overzealous buffing or peeling away the polish, however, can wreak havoc on natural nails. To avoid any pitfalls, Remark recommends enlisting an experienced pro when it comes to application and removal. Find a salon that uses essie gel nail color here.
How it works: "Gel nails work by applying a gel acrylic called an oligomer," says Remark. Similar to regular nail polish, this manicure requires a base coat, two layers of color, and a top coat. The major difference? Each layer is cured using an LED lamp.
How long it lasts: "Gel nails can last up to three weeks when applied correctly," says Remark.
The best way to remove: Patience is paramount and proper removal takes time. To speed things along, some salons will use an electric e-file to buff away the gel. "This is perfectly safe if the technician is gentle and doesn't over-file," Remark says. "Gel can also be removed by lightly buffing the surface and applying a cotton ball soaked with 100% pure acetone and wrapping each finger individually in tinfoil." After 10 minutes, remove the foil and the cotton ball. Use an orangewood stick to rid nails of any remaining gel. Repeat the process if you have to scrape or chisel the leftover polish.
Ways to repair damage: If your nails are dry, peeling, or brittle, take a break from gels—but not from polish entirely. "Contrary to popular belief, the one thing I wouldn't do is go completely bare," says Remark. "If you cut or scraped yourself, you wouldn't just let your skin breathe; you'd apply ointment and a Band-Aid." Use a treatment, like essie hard to resist nail strengthener, which creates a protective barrier against daily wear and tear (i.e., handwashing, sanitizing, etc.). For care and coverage, swipe essie treat love & color. Infused with calcium and camelia extract, this clinically tested formula creates stronger nails in just three days. Or, try essie gel couture, which delivers fade- and chip-resistant color with a gel-like finish. Even better? No LED lamp is required and it removes just like regular polish.