go to content
register

sign in

sign up

sign up

sign in

sign out
nail art
need nail art ideas? we've got them. fall in love with your own nail genius and art skills. these cute designs are mini-masterpieces that range from simple, easy-to-master nail art looks for our nail newbies, all the way to an intricate advanced design for our polished pro!

let us see your genius! share your nail design, whether a neutral nude design or goth black one with #essielove! these creative and beautiful nail art looks will inspire your next DIY mani.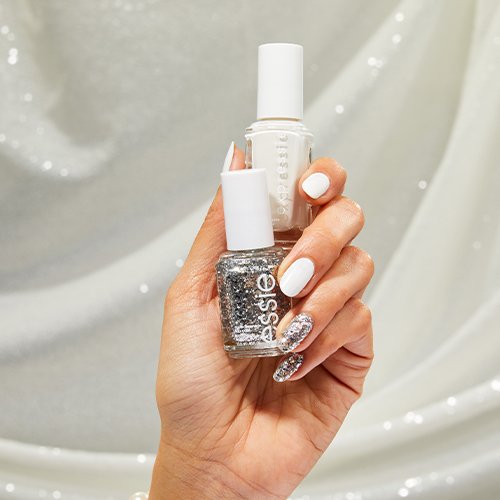 looking for nail inspo for the holiday season? essie's got you covered with this ultra-elegant nail design that'll have you sparkling like tinsel.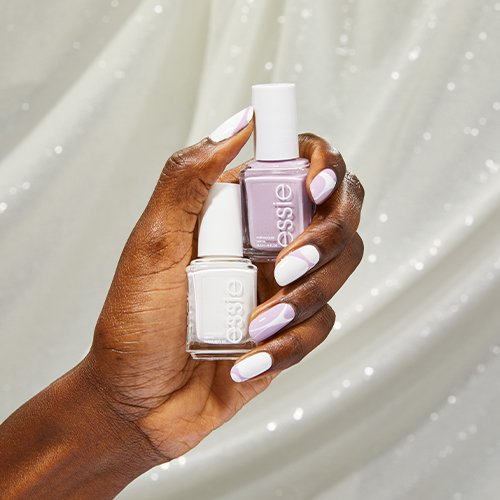 "this is inspired by sci-fi fonts and design. a little space-age manicure" - rita remark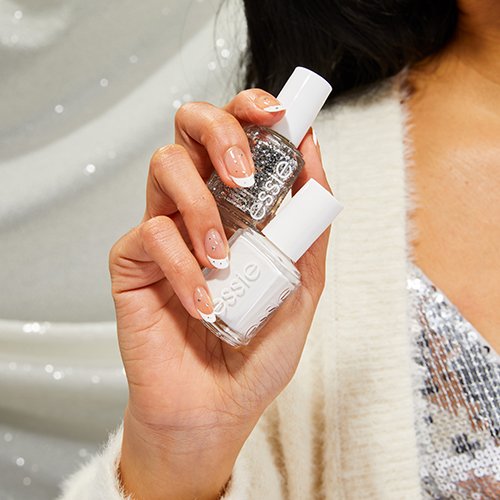 add a little glitz and glamour to your december nails with these white french tip nails, complete with a sparkly festive twist for cute nails this holiday season.
turn that brown upside down with this warm neutral multi-mani in fall nail colors. follow these steps for elegant nails that even nail newbies can do!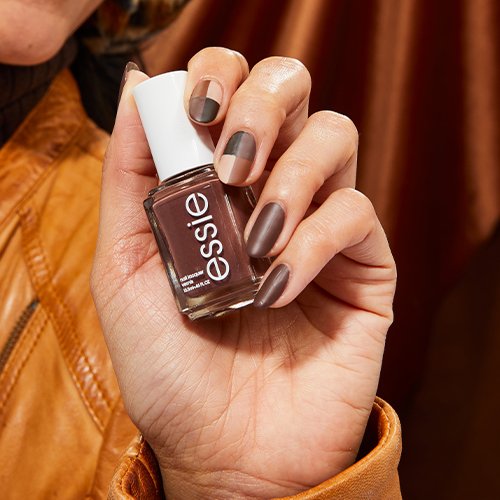 this nail art design inspired by a cozy cardigan print feels extra soft and velvety thanks to the matte top coat.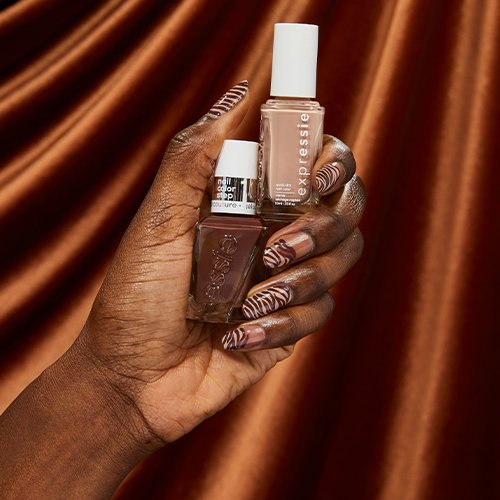 a zebra can't change its stripes, but you can borrow them with this wild abstract animal print mani! this brown design is elegant with a wild twist, making them the perfect holiday nails.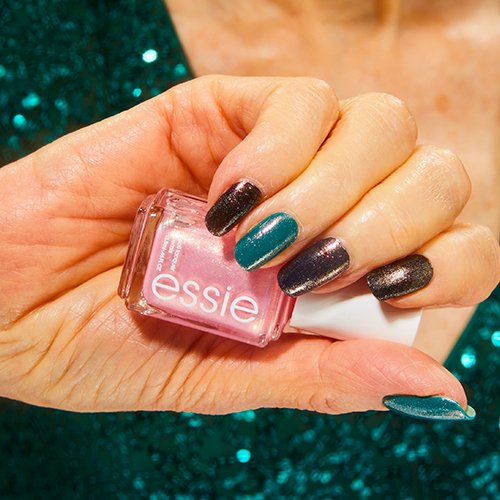 this fall nail design is a perfect intro to the lovely 'birthday girl'. as our nail salon pro says, "this is your reminder that 'birthday girl' is such a versatile shade! you can use it on its own or as a topper to create this shimmery celestial mani"! you can't mess this one up, so get a-brushing, and don't forget to share your twinkly nails on instagram or tiktok with #essielove! 💅🏻✨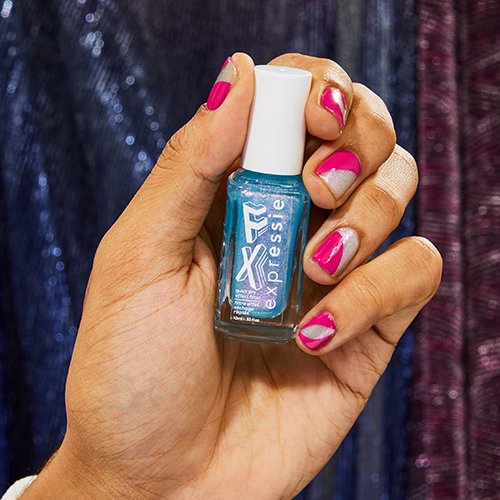 for anyone who lived through and/or loves the '80s, this fall nail art is a sparkly tribute. essie's nail polish guru rita remark clashes colors in fond memory of an era when you wouldn't go out without your hot pink lipstick and frosted blue eyeshadow. show off your retro nails using #essielove! 💅✨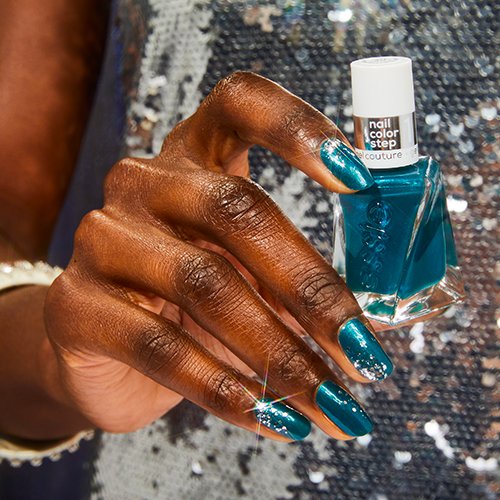 wave your magic brush and poof: glitter everywhere! nail pro rita remark dreamed up this fall nail art after seeing glitter everywhere on new year's eve. these sparkles really pop against the dark night green shade. everyone's results will be unique, so share your gleaming work of art using #essielove 🙂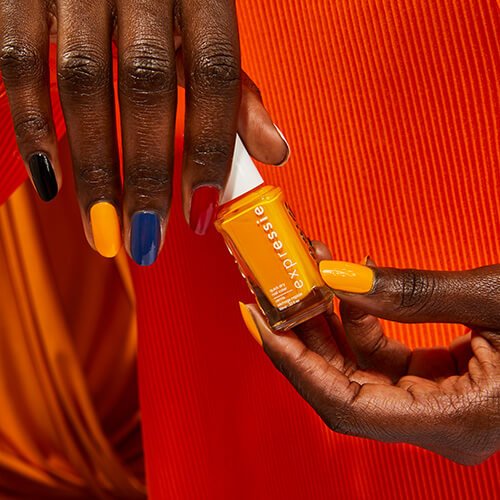 these fall nail colors create a nail art design inspired by a painter's palette. it may seem basic and a cinch to do, but the overall effect is quite fetching! so dive in headfirst and be sure to share photos of your primary multi-mani with us on instagram or tiktok at #essielove. and be sure to check out the pro tip below 🤗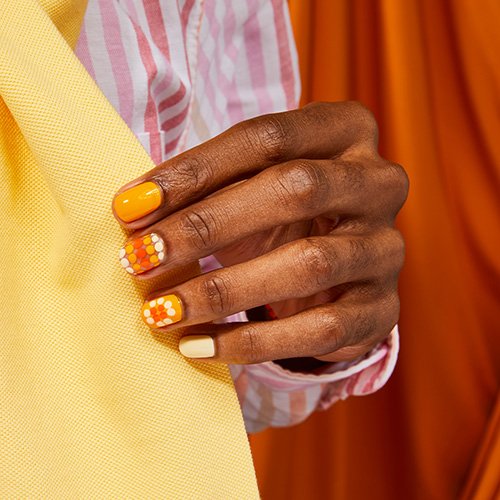 anyone can be a DIY nail art pro with this combo of fall nail colors! essie's global mani educator rita remark says the dotting tool and these step-by-step instructions make it easy-peasy.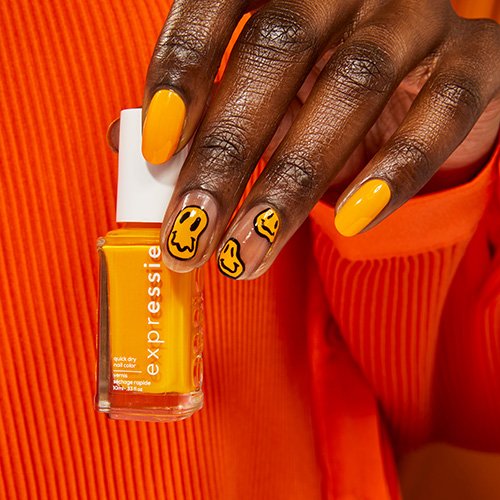 essie nail salon pro rita remark created this retro yellow nail art to look like Y2K drippy smiley faces. you get artistic license to draw them how you want! we can't wait to see your gang of trippy happy faces on instagram or tiktok (#essielove)💅🏻🤗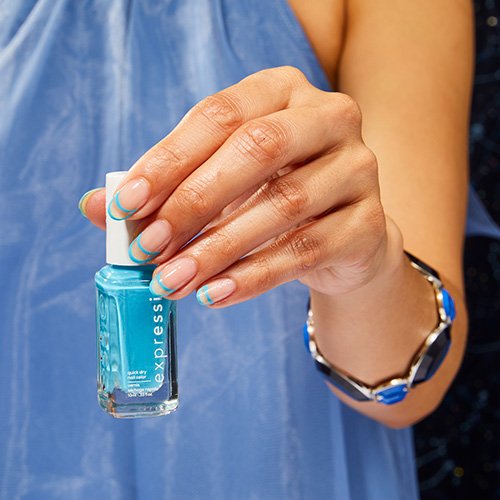 a micro french mani with a little ✨ pizzazz ✨ these french tip nails are minimalist to the max with understated élan. so count to trois, keep that brush steady and give this blue nail design a try!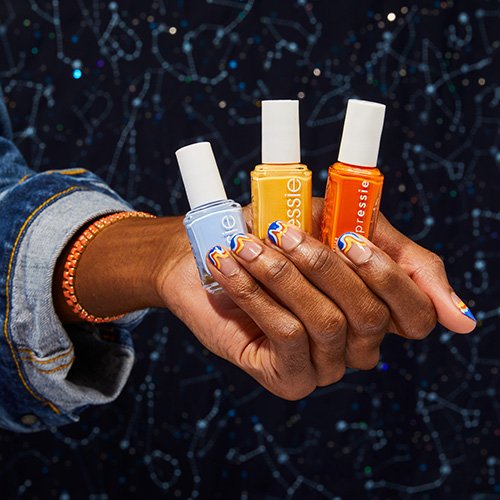 inspired by artistic murals, essie global mani educator rita remark came up with this wavy 4-color nail art! try it out and share your fab summer nails on instagram or tiktok with #essielove 🌊💙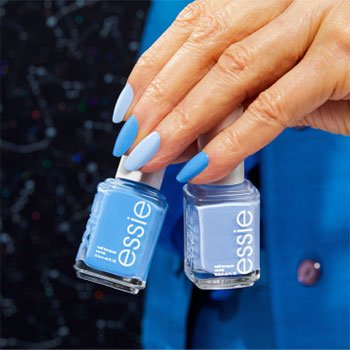 our manicurist and nail artist rita remark says this blue nail design was inspired by an all-denim fit! so slip into your jeans and get a-brushin' – this one is as easy as blueberry pie.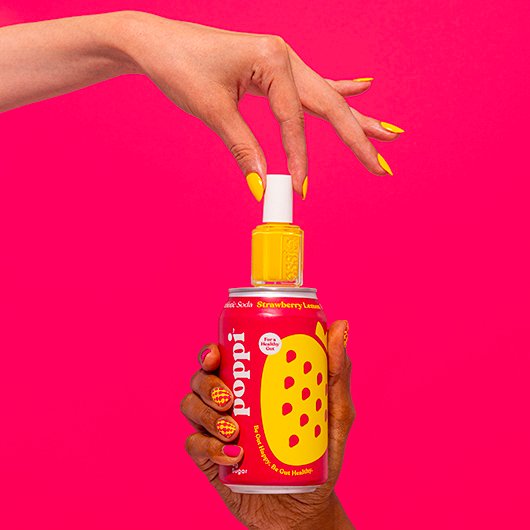 one sunny summer day, some sticky berry-stained fingers met a gang of tangy citrus fruits tumbling from a tree. they opened a strawberry lemonade stand and the rest is… nail art!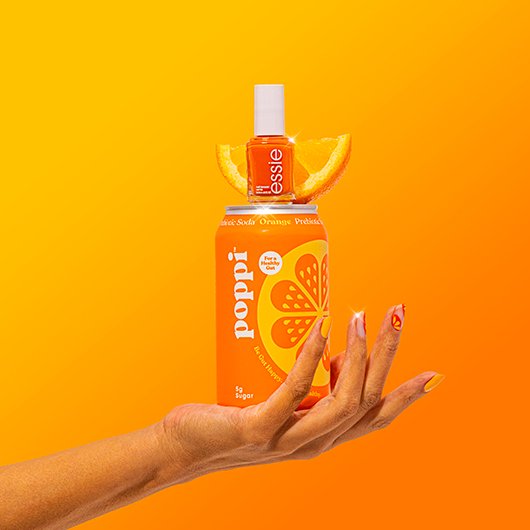 our latest pulp addiction is a summer nail design that's part lip-smacking still life, part pop(pi) art – and all juicy goodness.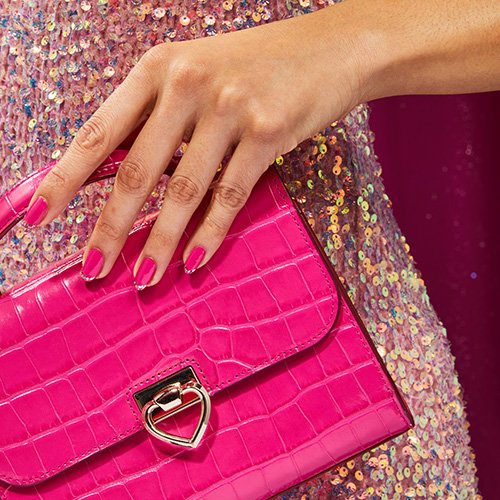 this bubblegum pink summer nail design is a sassy twist on the classic french manicure that never goes out of style. pink nails are rising on the trend-o-meter for summer 2023, and we couldn't be more tickled!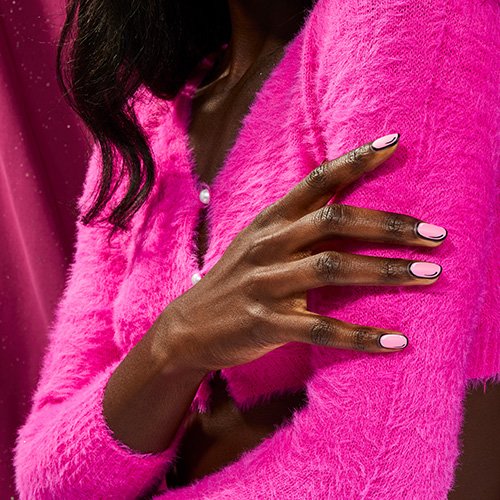 BOOM! WOW! this cartoon-style manicure takes comic book nails to a whole new level! follow our step-by-step tutorial to get the prettiest pink doll hands – just the cutest summer nail design we ever did see!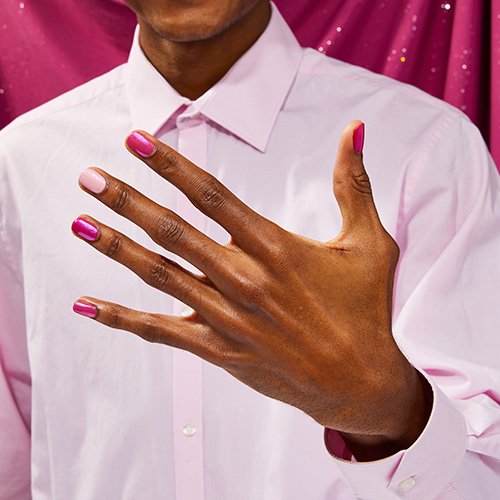 this multi-mani screams summer nails with a spectrum of pink shades harmonized to the max with iced-out FX nail polish! It's sassy, sparkly, and oh-so fun!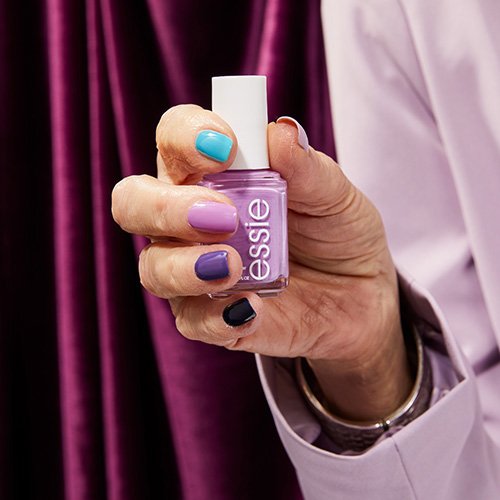 multi-manis don't always have to be crazy. they can be serene, incredibly versatile, and remember - neutral mani does not mean boring!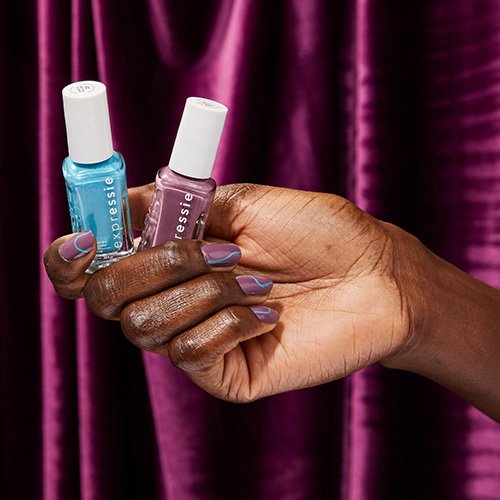 minimalistic with a pop of sky blue! follow along our nail art tutorial to achieve this beginner friendly abstract mani 💜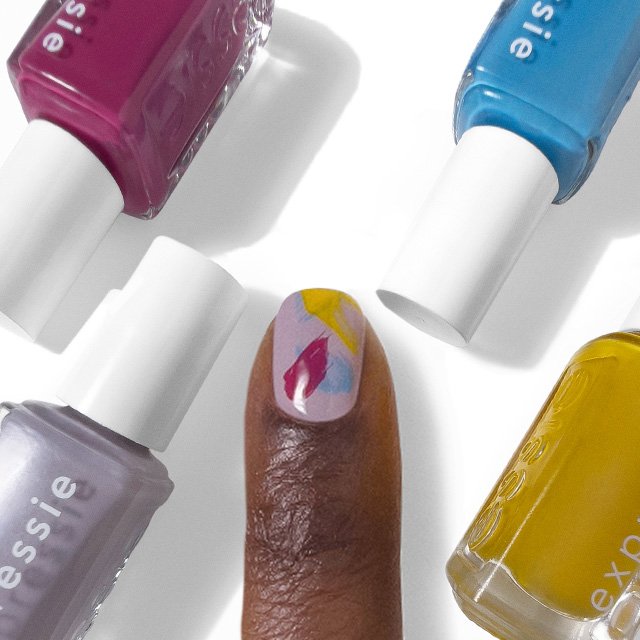 let your creativity shine through your nail art!
the orange and the two-toned purple colors perfectly complement each other!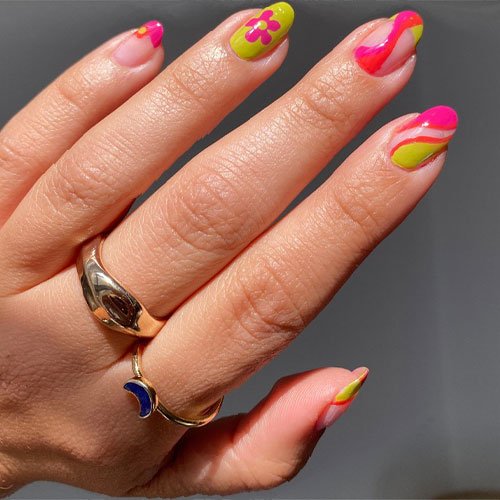 pinks, greens, & oranges - this nail art look combines all of the hot summer colors in to one cute and fun look! be a trendsetter! 😉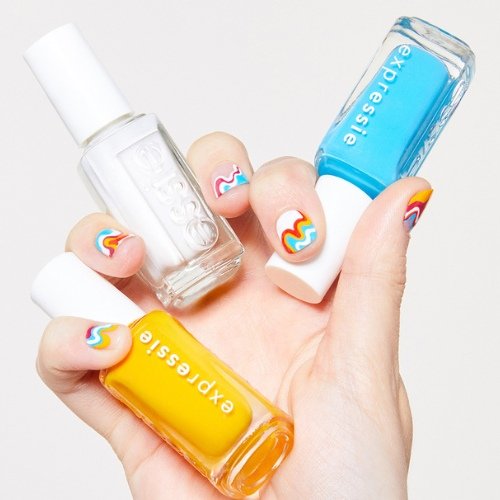 channel your inner artist! this look is up to your imagination. follow the guidelines below to recreate your own version of this spilled paint mani!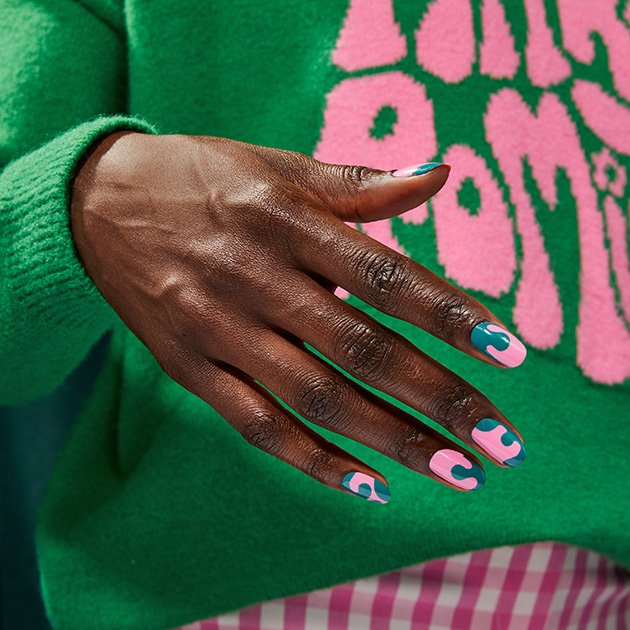 high contrast pop art and groovy 80's lava lamps inspired this epic nail art look!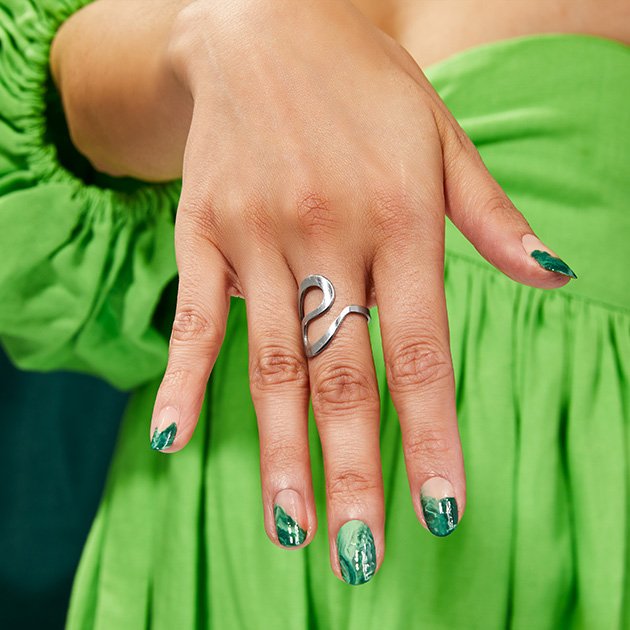 "this look is inspired by nature, gems, and the malachite crystal specifically. it is easier than it seems too, you have to give this technique a try!" - Rita Remark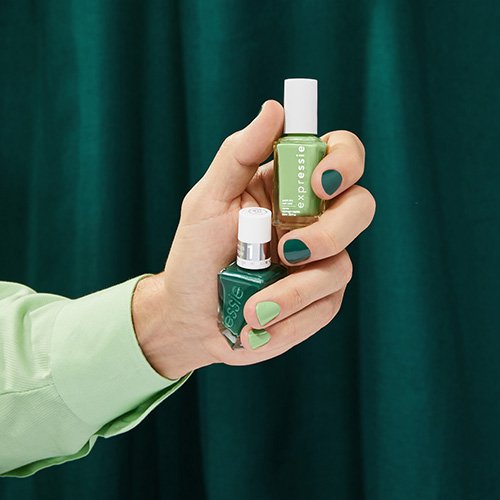 it's not always about having each finger a different color, sometimes we like to focus on accent colors in a random pattern across the nails to make a statement!
multi-manis don't always have to be crazy. they can be serene, incredibly versatile, and remember - neutral mani does not mean boring!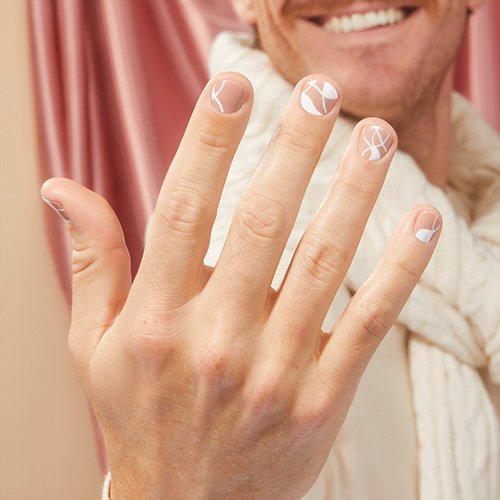 neutral & classy but still kooky and whimsical! hop on the neutral abstract nail trend by following these DIY nail art steps!!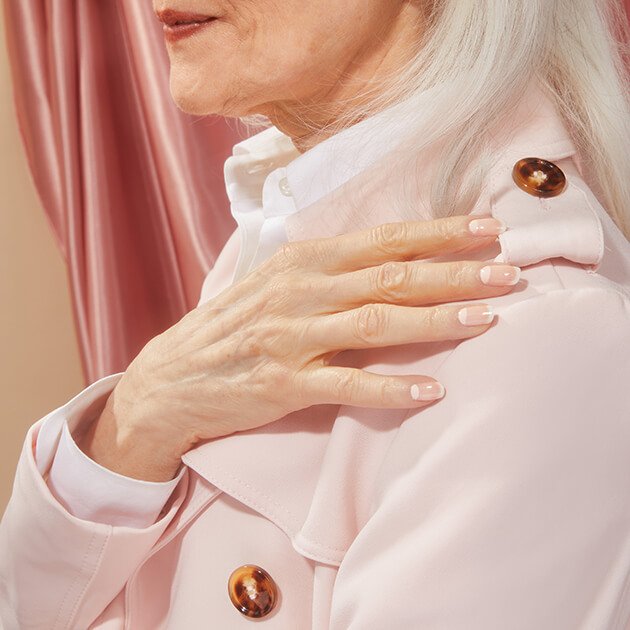 this noteworthy neutral half-moon mani comes together in just 2 steps - try it for yourself!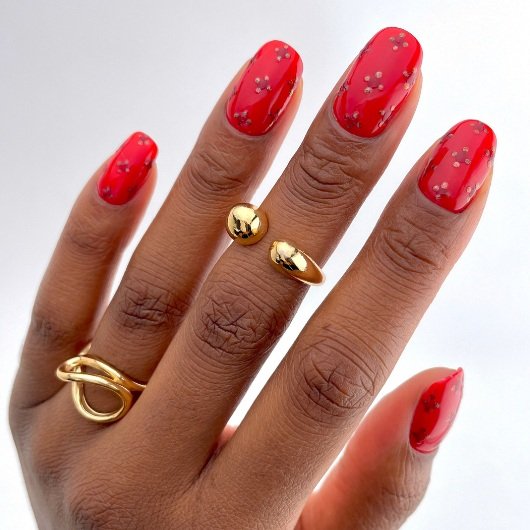 sparkle on the dance floor – inspired by the bedazzled nail art trend. look created using expressie, our quick-dry nail polish that dries in about a minute!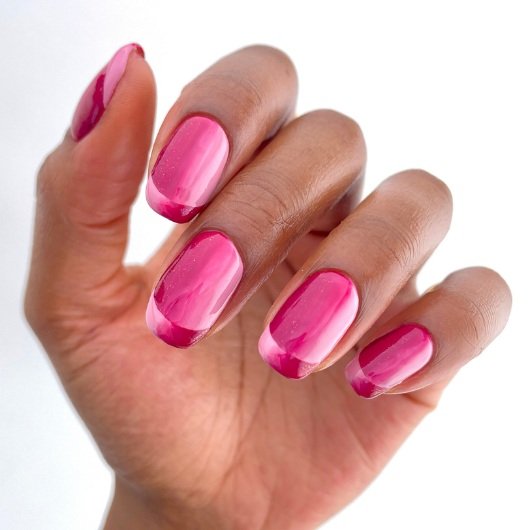 make this prom season one to remember with pink velvet nail art! look created using expressie, our quick-dry nail polish that dries in about a minute!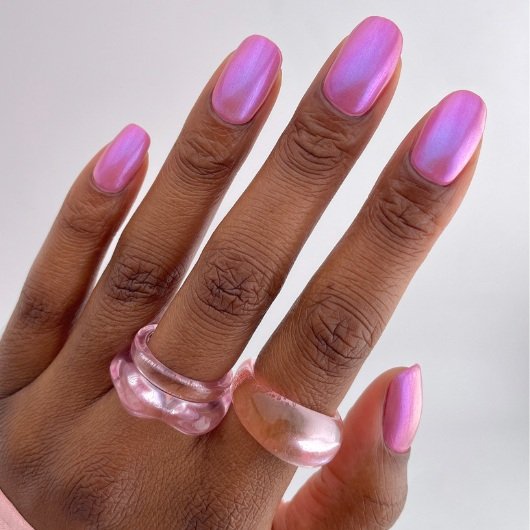 glazed donut's younger, trendy sister … introducing lip gloss nails, but a jelly chrome remix. this look was created using expressie, our quick-dry nail polish that dries in about a minute!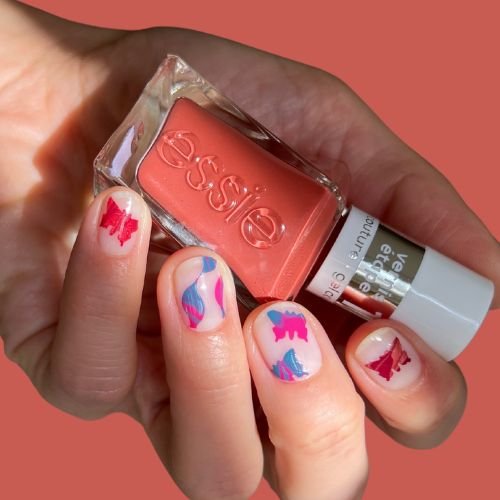 rock out in electric nail art inspired by a glam garage band jam session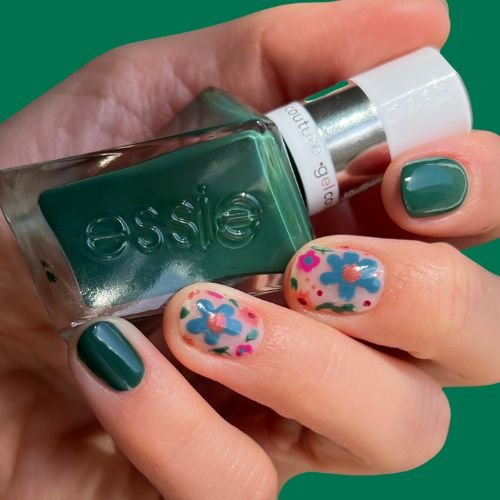 groovy 70s inspired florals, guaranteed to put you on the road to super-stardom!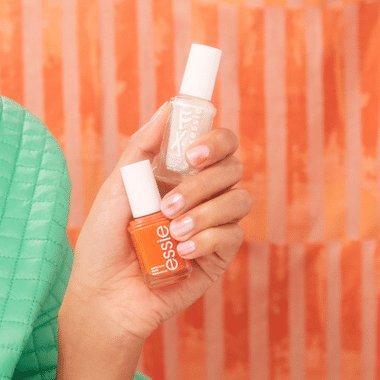 inspired by aura readings, this glowing and ethereal aura nail art look is sure to bring you good vibes – we're mani-festing it for you!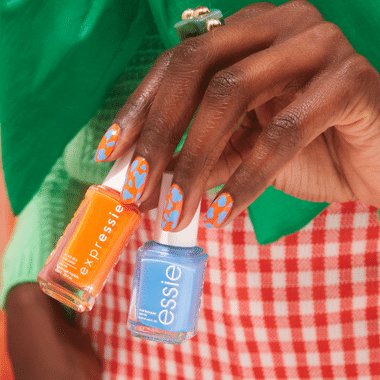 a cheerful and vivid twist on a fun cow print nail art.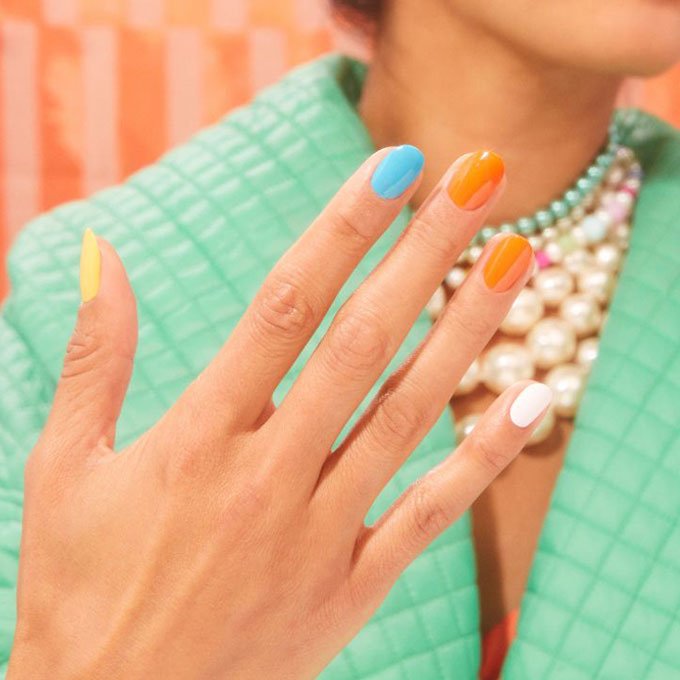 true blue, vibrant yellow, and warm orange create the perfect balance and one of our favorite multi-mani's!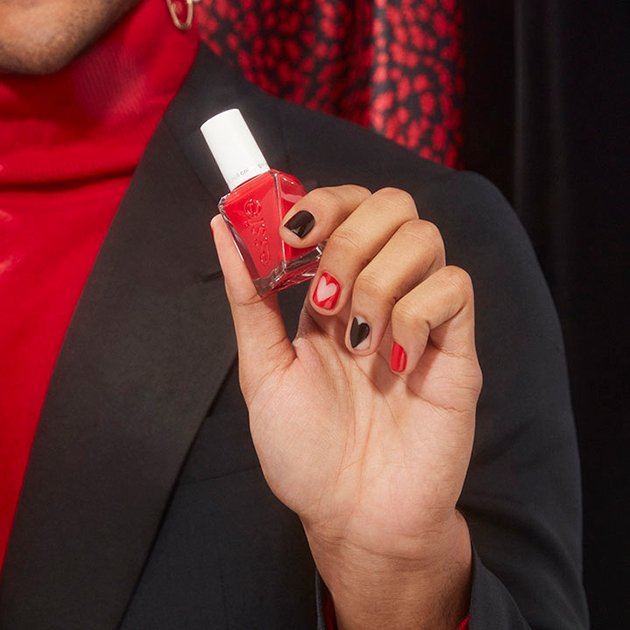 this 2 in 1 look is a fun play on love and heartbreak. is your heart red or black?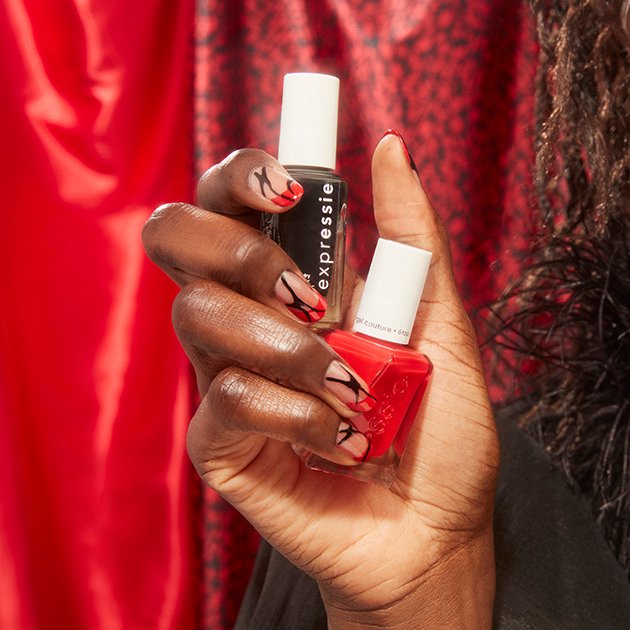 an edgy and fierce twist on the red french nail trend.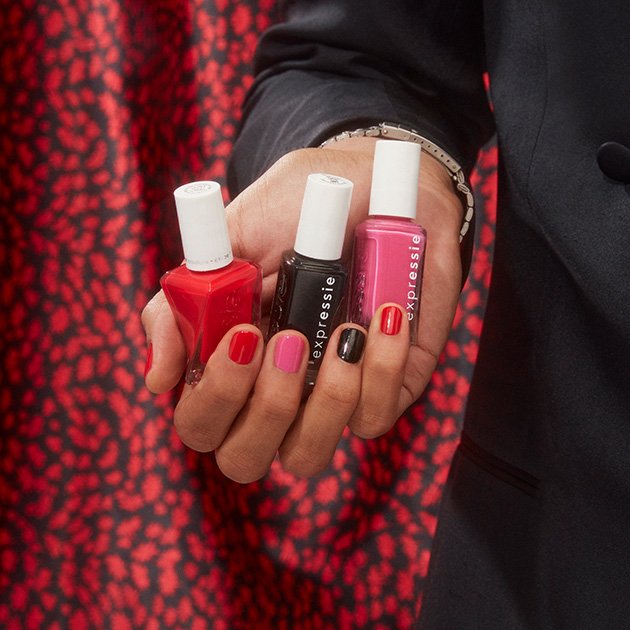 try this red multi-mani combo to take your solid polish look to the next level. even us newbies can spice up our mani game!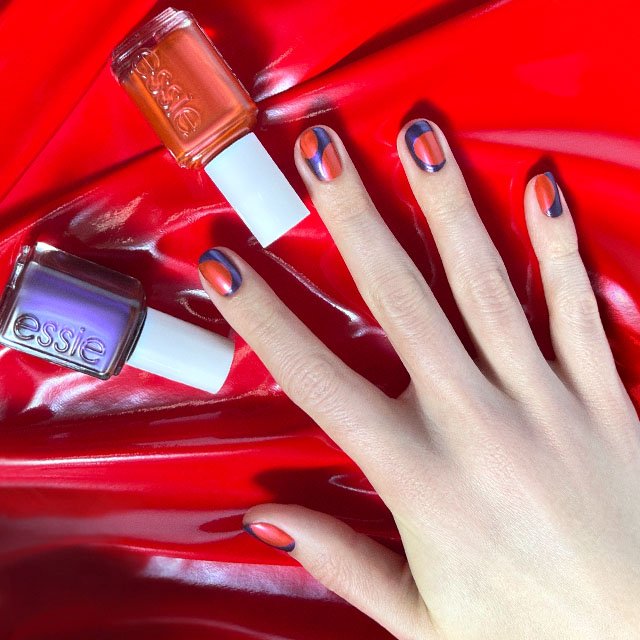 a unique valentine's day nail art to take your look and confidence to the next level!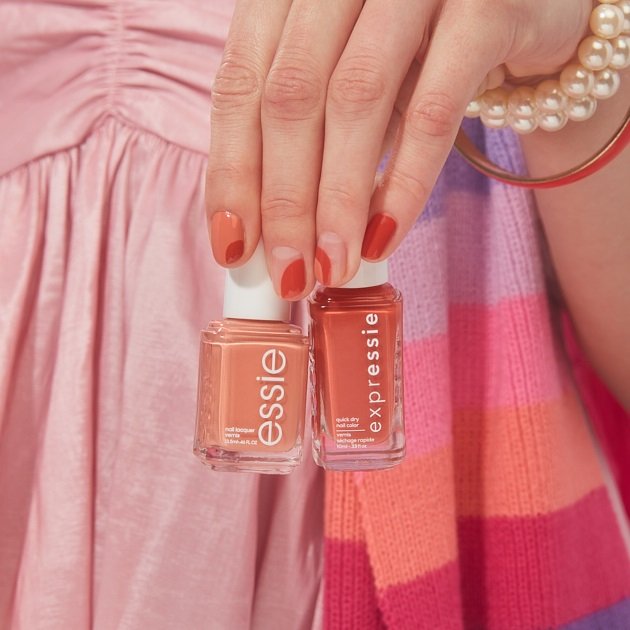 groovy, retro, curvy nail art featuring essies stunning muted coral shades.
are you a nail newbie? no problem! this is the perfect look for every level artist.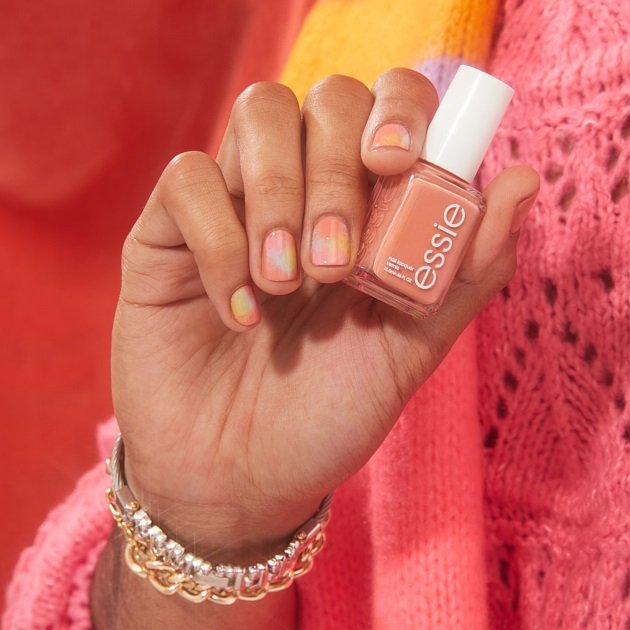 a hazy multicolor ombre featuring neutral and pastel essie shades.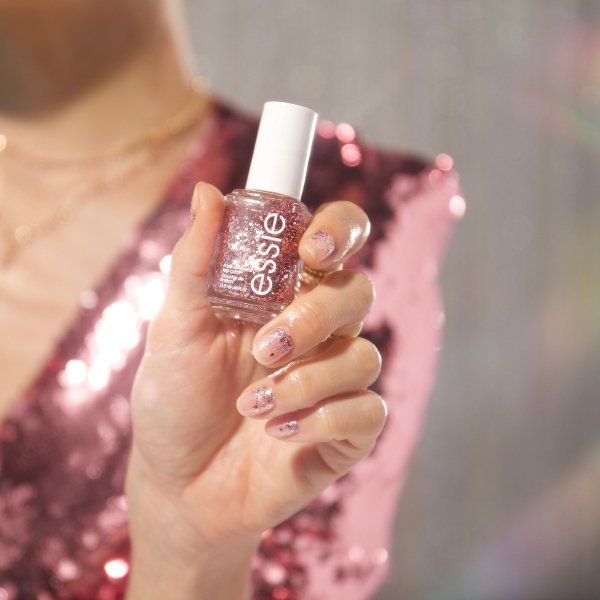 for easy nail art for beginners, this pink sparkle look is it. it's easy, pink-and-clear sparkle holiday nail perfection that mimics the falling confetti vibe of the stroke of midnight, and looks seriously impressive.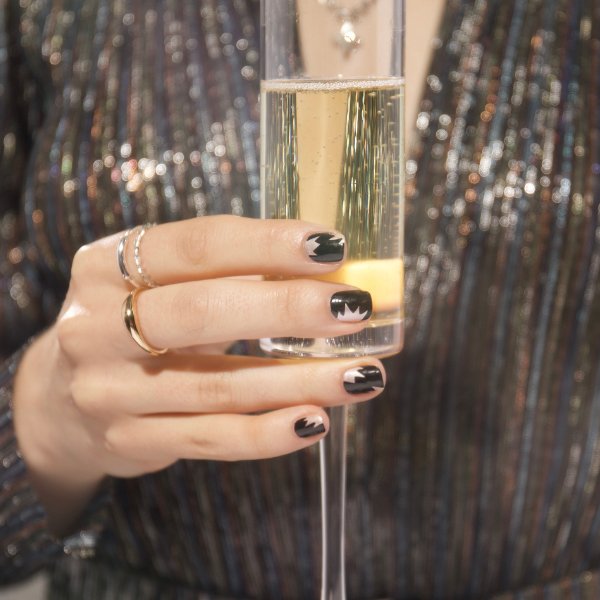 a glass of bubbly is de riguer on new year's eve night, be it in champagne form or with new year's eve nail looks. this shimmery, black, and pink nail art look perfectly capture the pop-of-champagne essence we all love.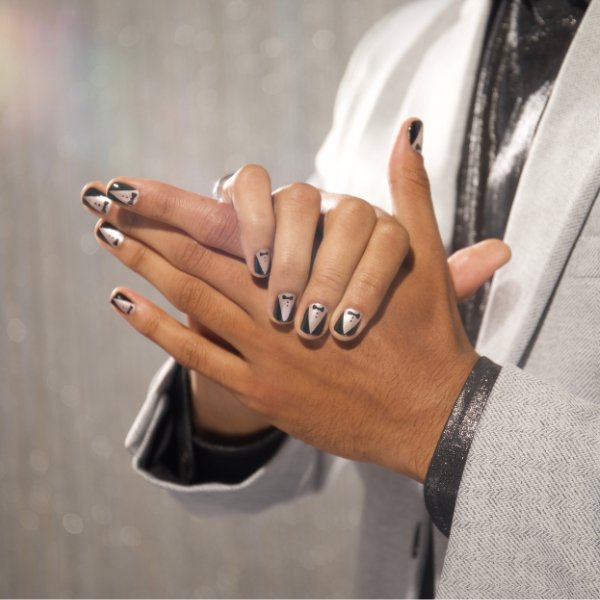 our timeless tuxedo Nails nail art is the ultimate party nail look. this look will never go out of fashion. here's how to get the ultimate new year's nail look at home.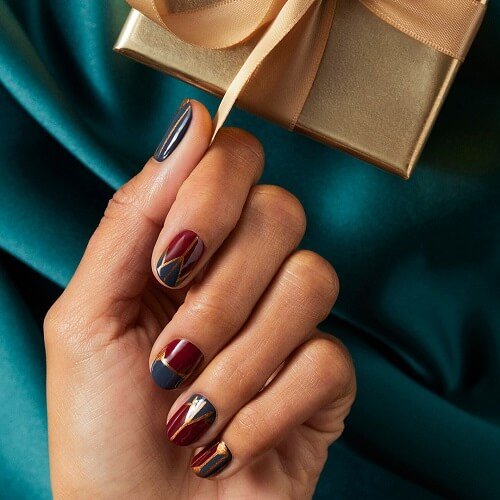 'tis the season to over-indulge in yourself!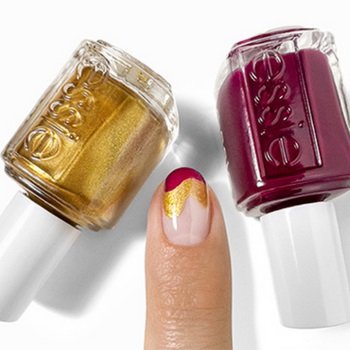 what's holiday complete without a little bling?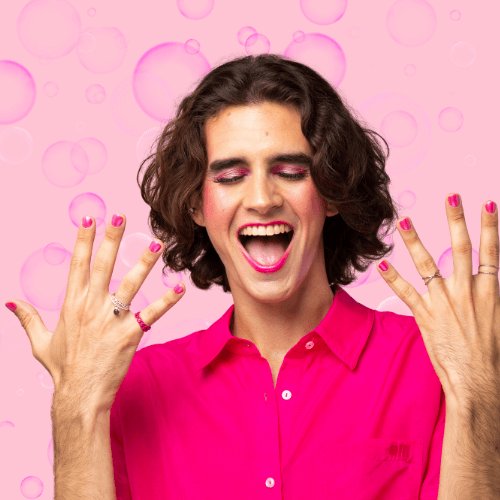 bubble gum pop-off this halloween season!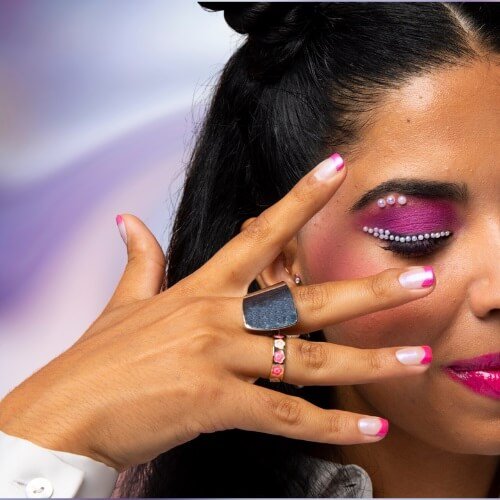 a whimsical pink twist to the classic french mani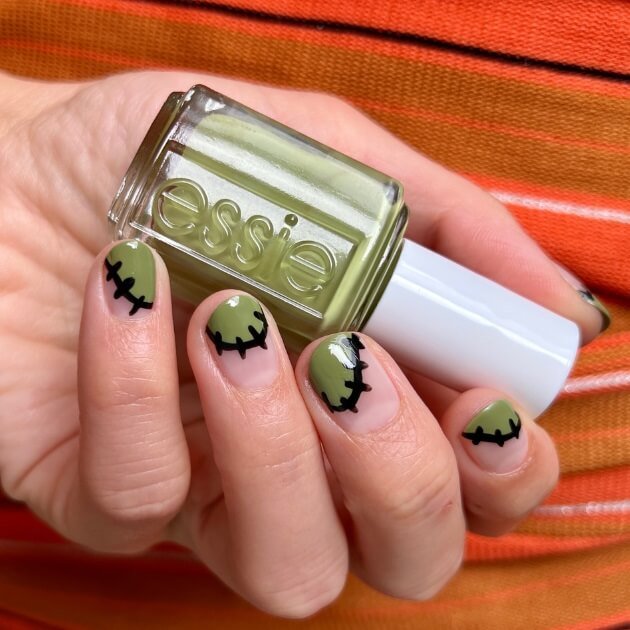 monster mash-up these shades to create a cute halloween nail art look!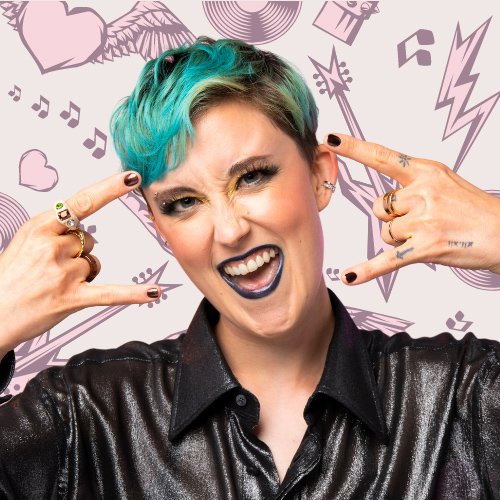 rock out with guitar-smashing nail art!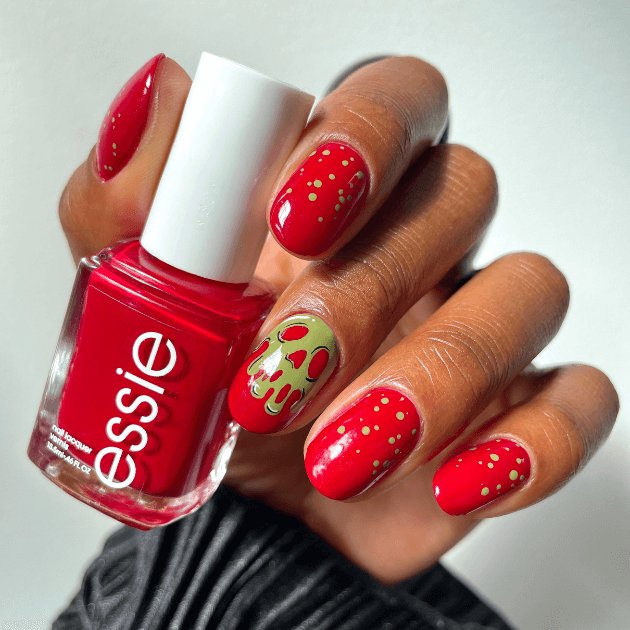 careful, one bite can change it all 🍎
(pumpkin) spice up your nails with this cute fall nail art look!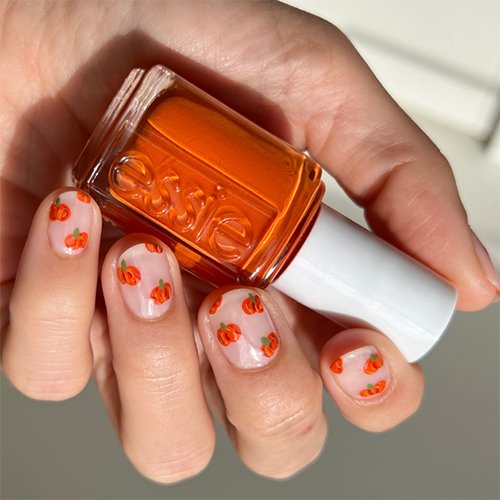 believe it or not, this look is as easy as (pumpkin) pie!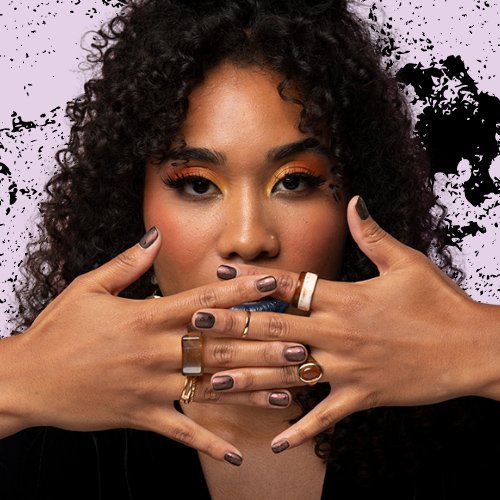 unleash your inner grunge queen this halloween with oil slick nail art!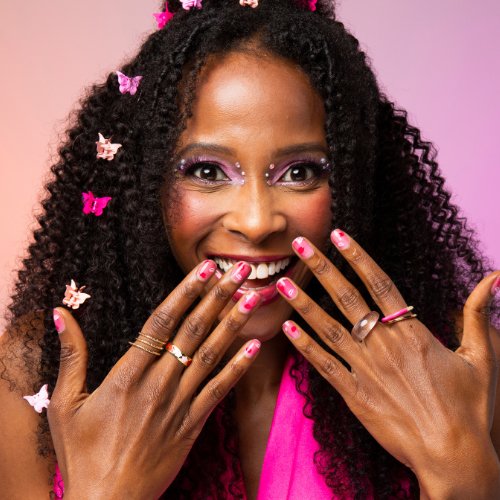 daydream away into your ultimate fairytale with this jelly manicure, sealed with a kiss 💋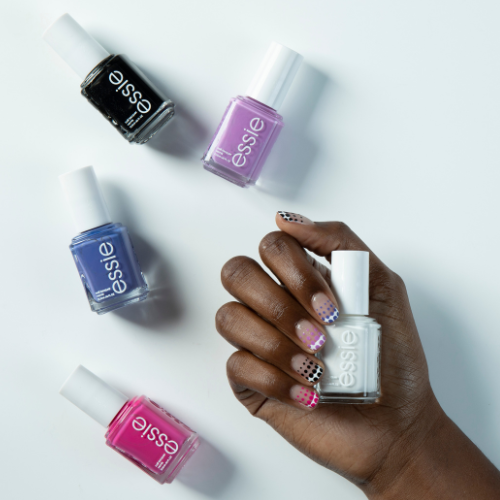 'POW'! your nails will be popping off with this a-dot-able french mani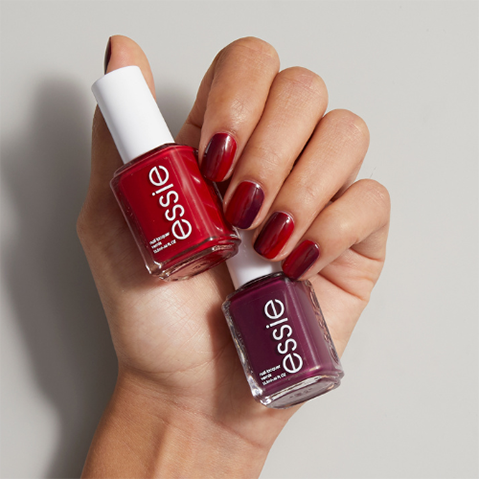 blend in these iconic shades to stand out with this bold nail look!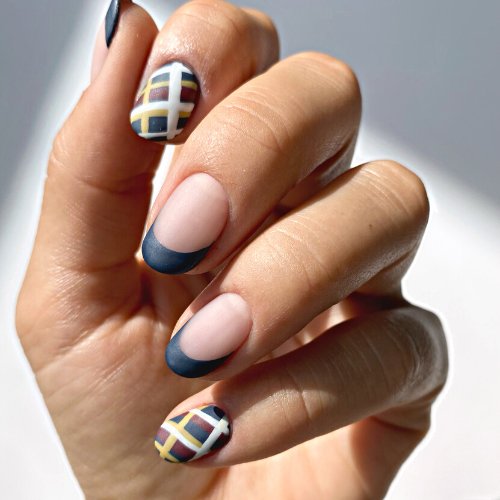 whether you're heading to history class or the library for a study date, this nail art is the finishing touch to your school uniform!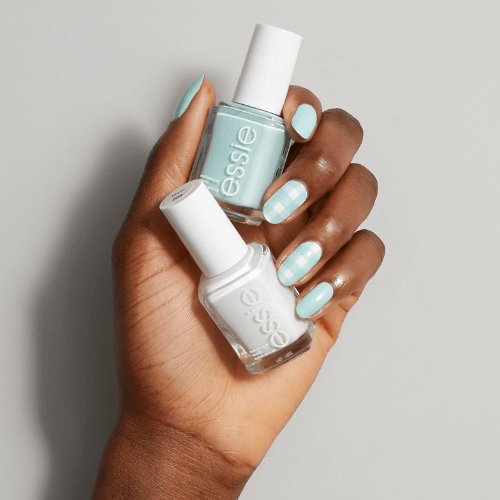 the sea and our classic shades are calling you to master the art of the coastal grandma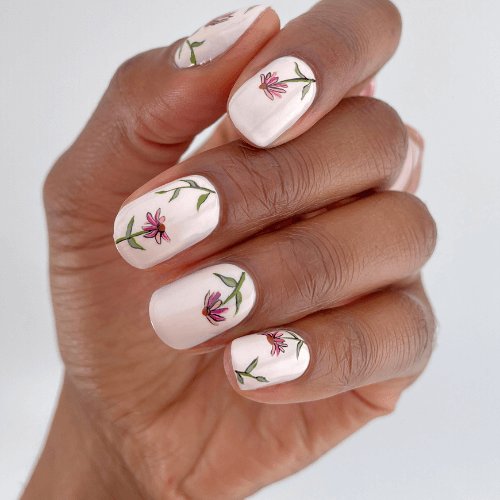 let your grand millennial vibes blossom and grow your nail art skills with this elegant look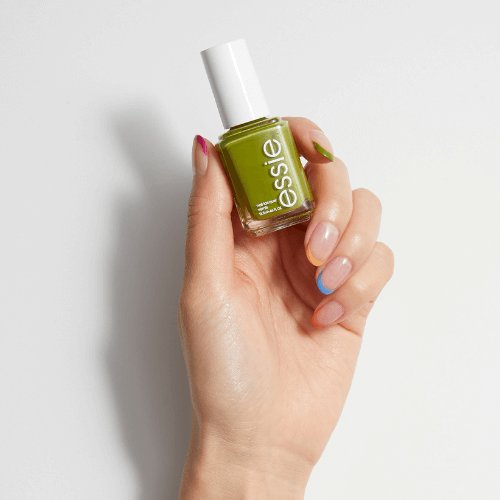 bring a chic pop of color to this classic nail look that will make everyone swoon!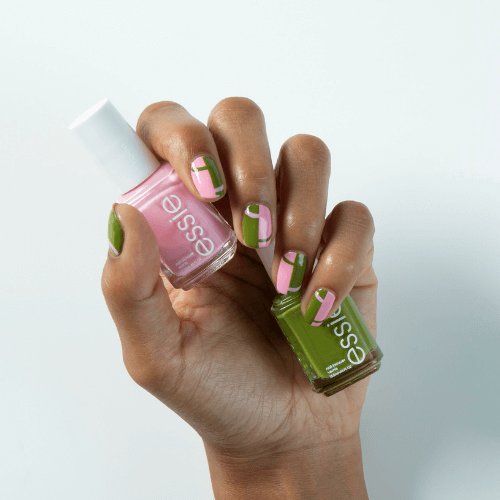 using our iconic shades, give your color block mani a style refresh with this abstract look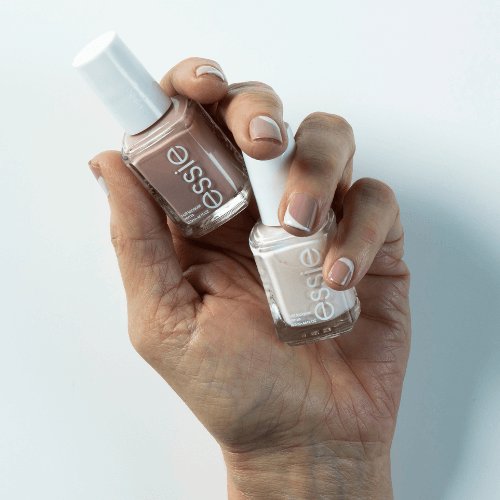 bring a new twist to your everyday neutrals with this sophisticated nail look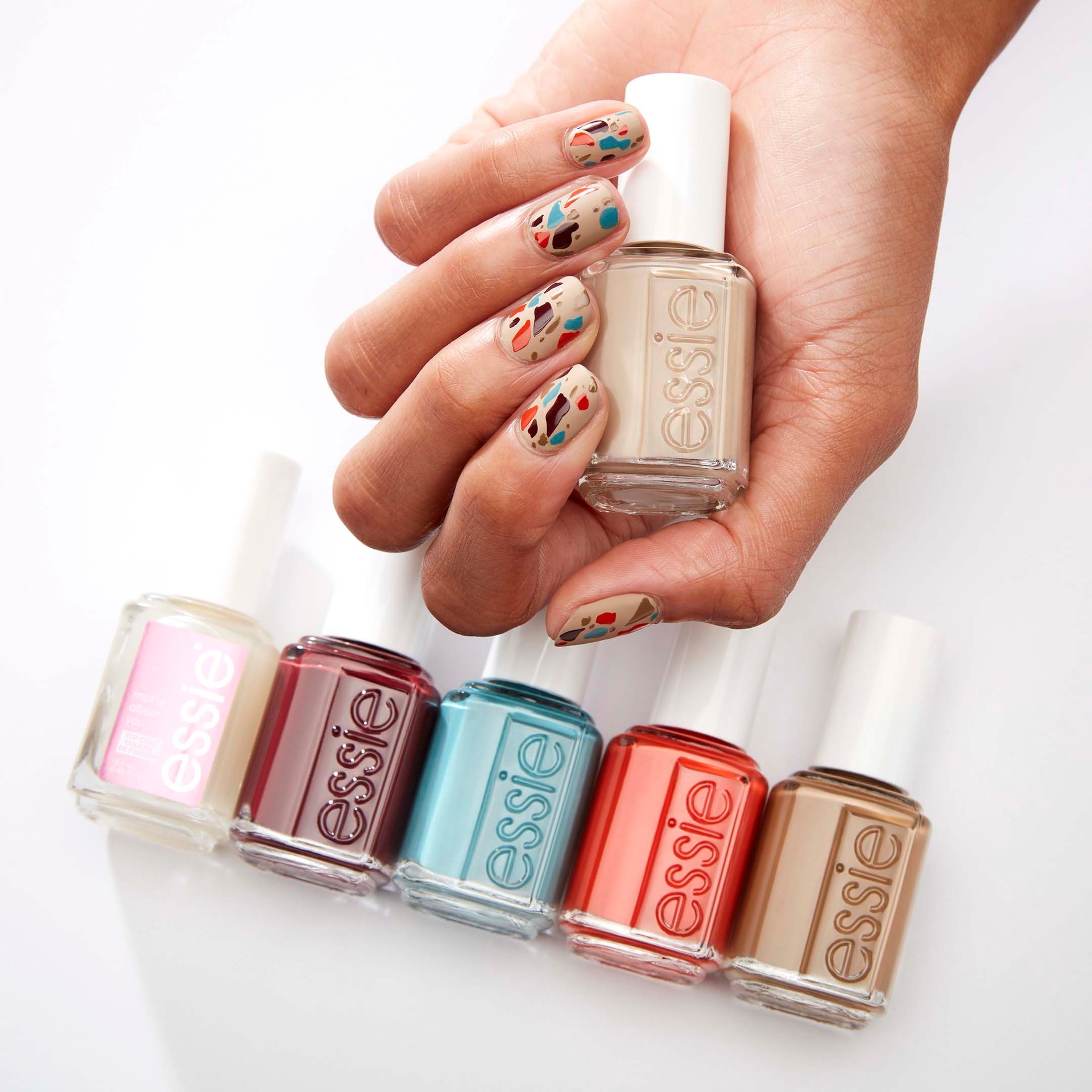 hit the fashion trail with this super bold print
this fall, hang up the heels and hike it up … you're going off the grid in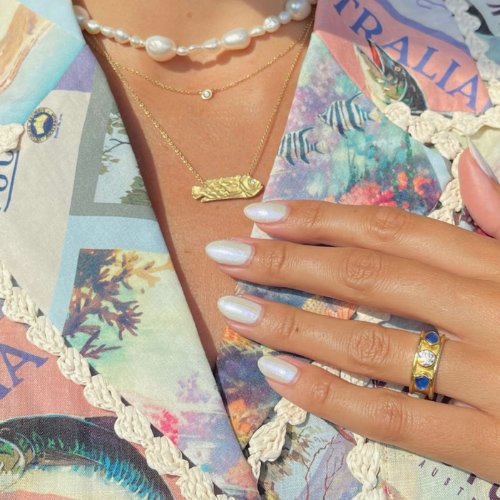 it's no surprise this trend went viral. this look is the perfect combination of elegance and glam!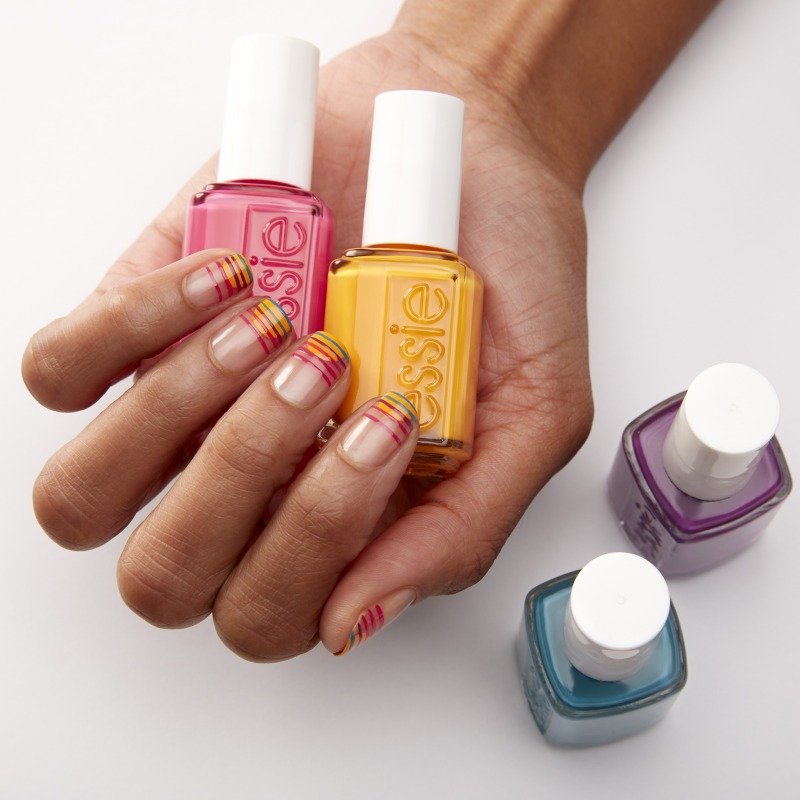 "this sunset inspired design packs a big pop of color! perfect on any nail length, it's a great balance of minimalist design and maximalist color." -Rita Remark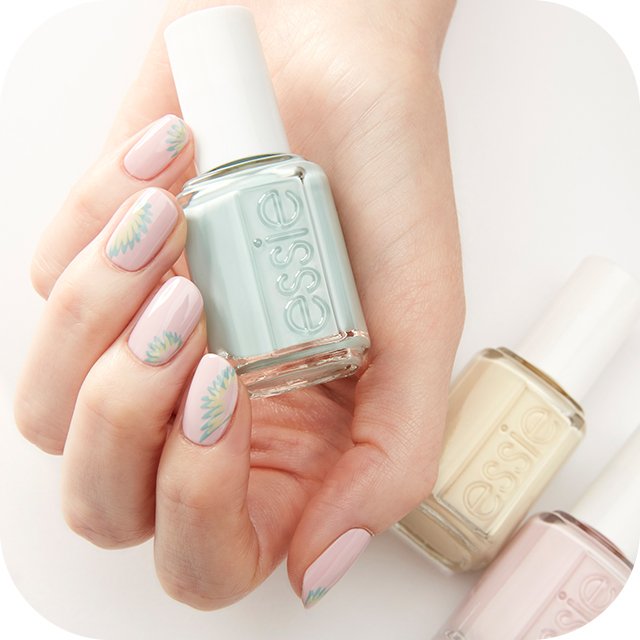 take your first flight of the year with that inspiring nail art: get the wings up to your nails!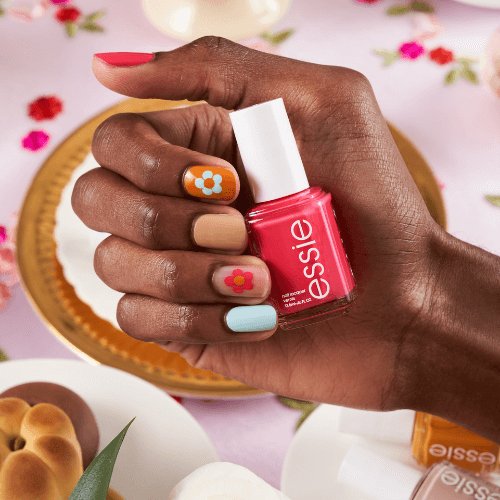 this look is a chance to mix and mingle. inspired by a kitschy garden gathering where you are the hostess with the mostess!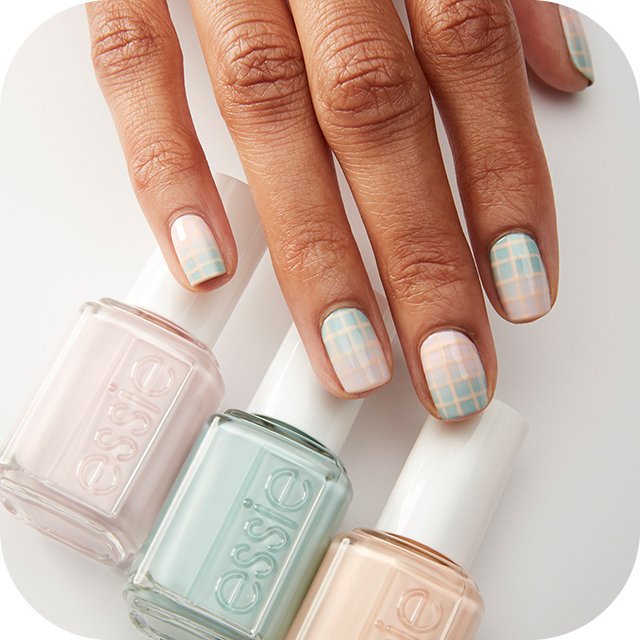 allow yourself to stretch your wings to take off on this flight of fantasy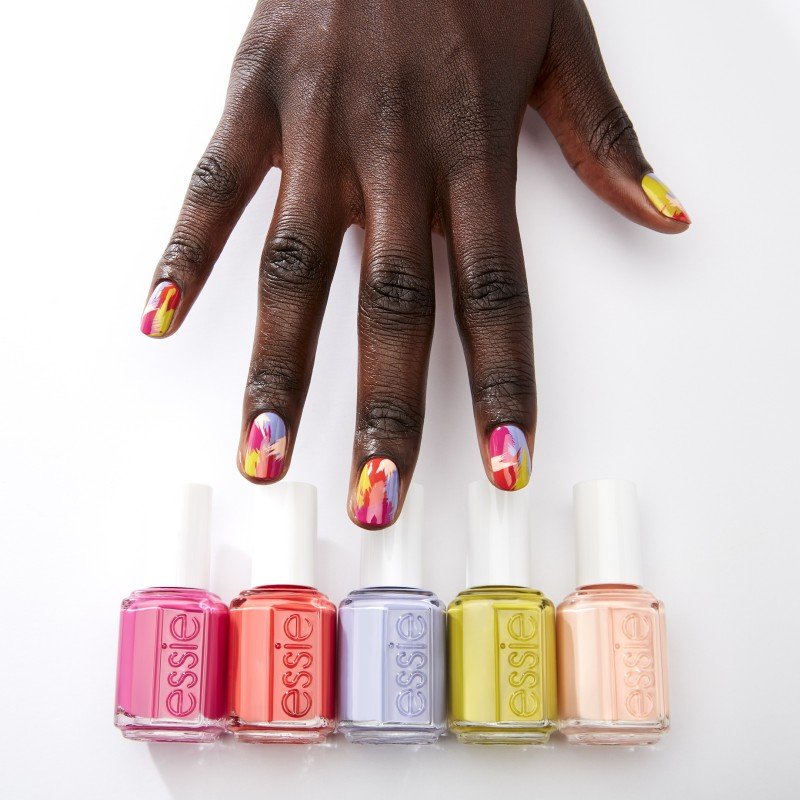 roll up your sleeves and dare to color outside the lines with these unique shades for your mani masterpiece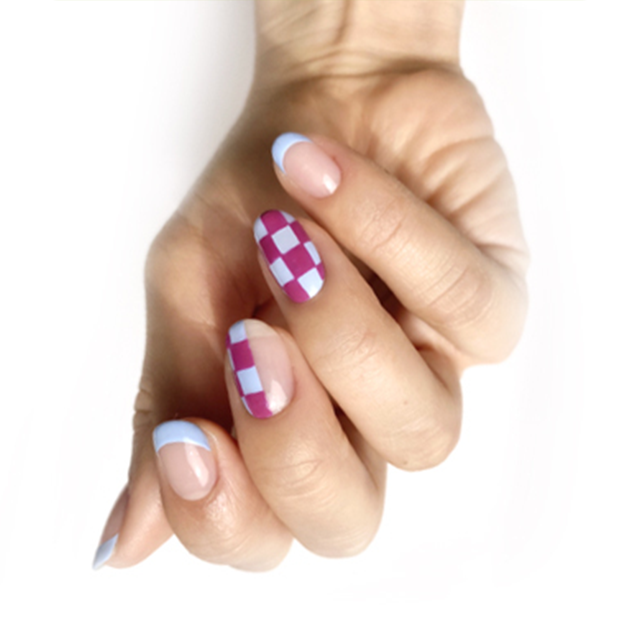 "bright high contrast color pairings make a big statement. i love varying the design on each nail; leaving some with a french tip and others with a checkerboard. it keeps it balanced, not busy." -Rita Remark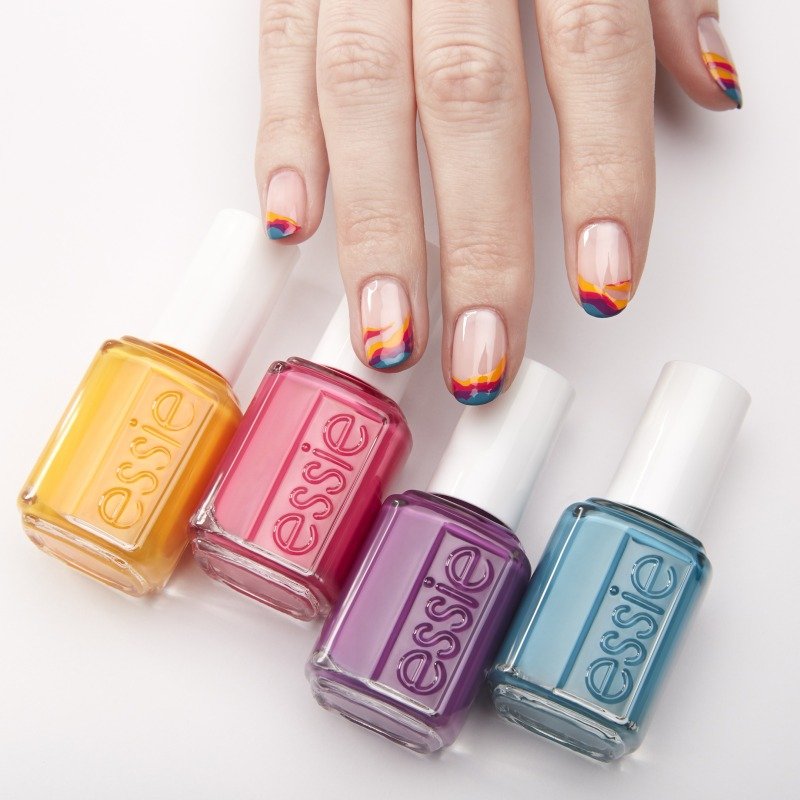 "i get a rush of joy just looking at these nails. inspired by a heat wave, this organic design can vary nail to nail." -Rita Remark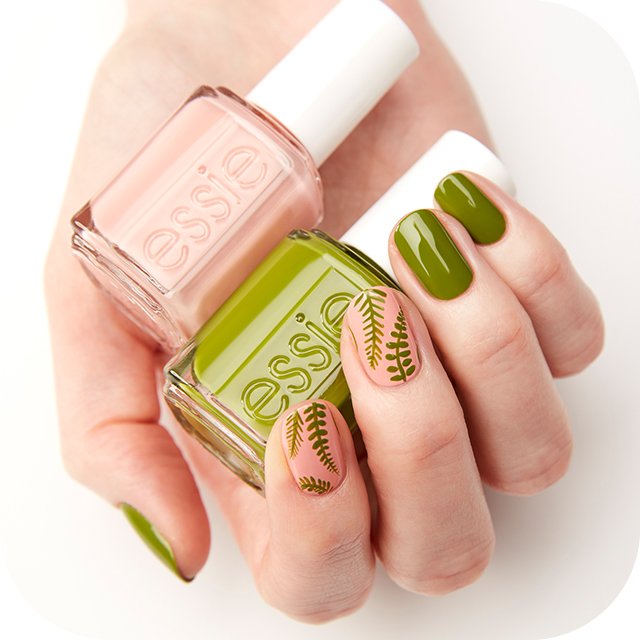 find joy in the little things, like the gentle sway of a willow in the wind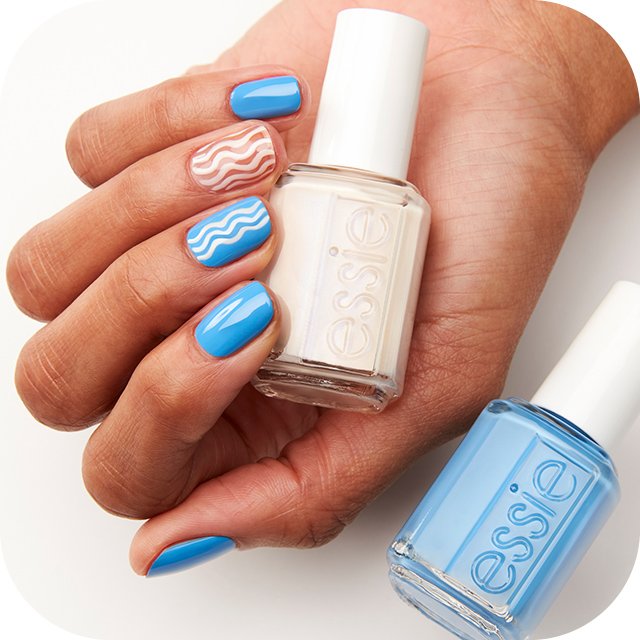 inspired by a dreamy first date in a romantic rowboat for two.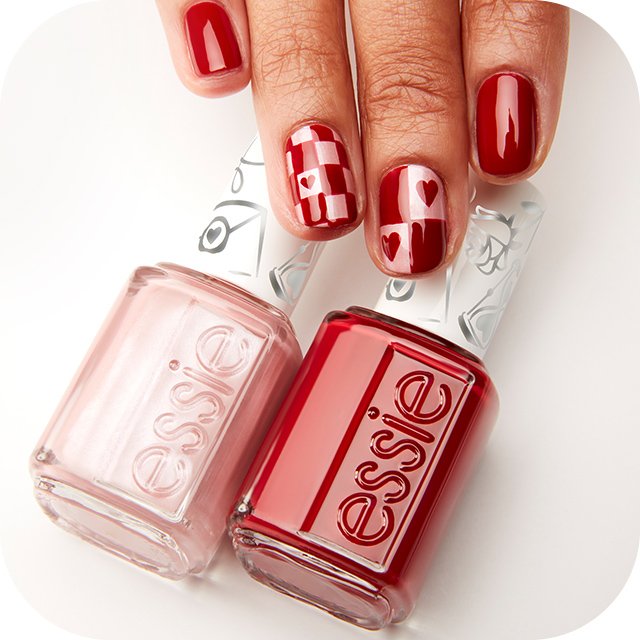 Inspired by a cheeky, secret love affair expressed through handwritten letters.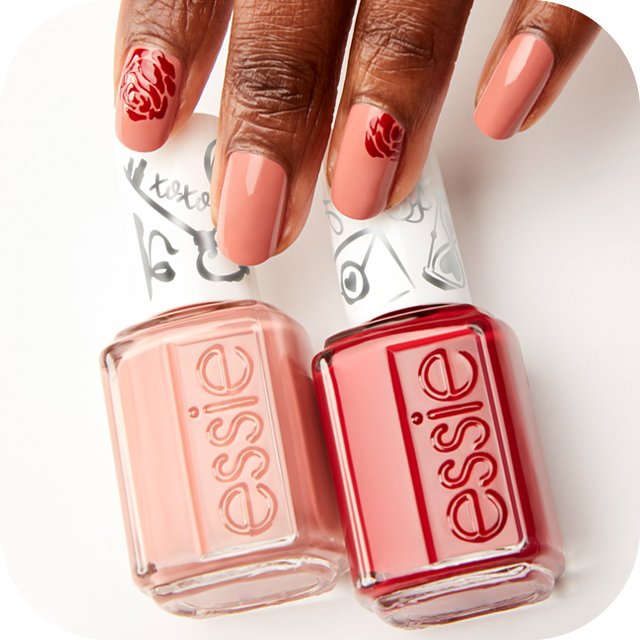 grab your quill and get to writing – you might just respond with a kiss!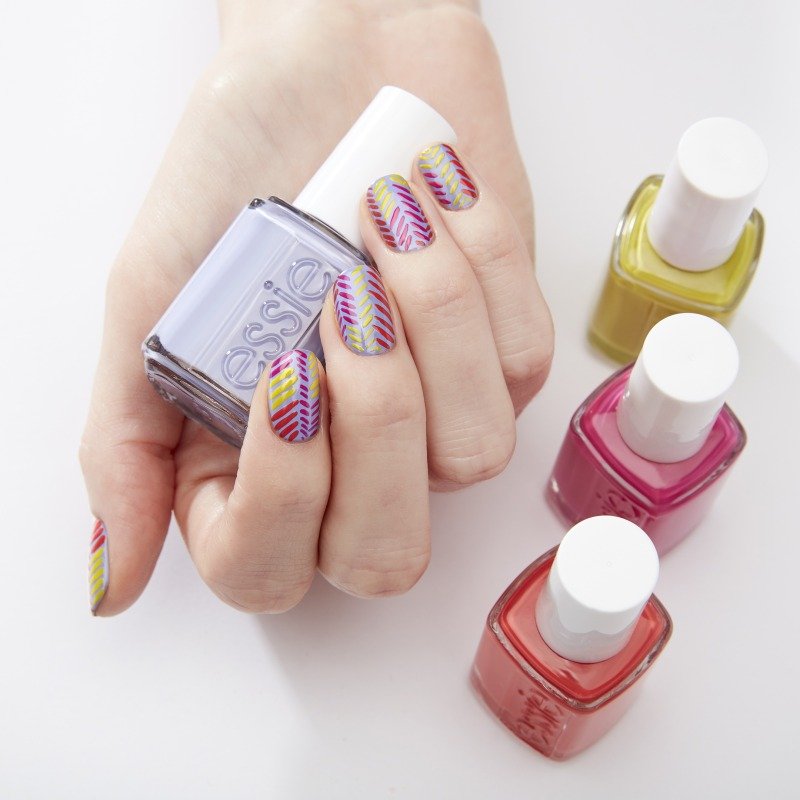 tap into your inner artist and let your imagination run free with mood-boosting colors.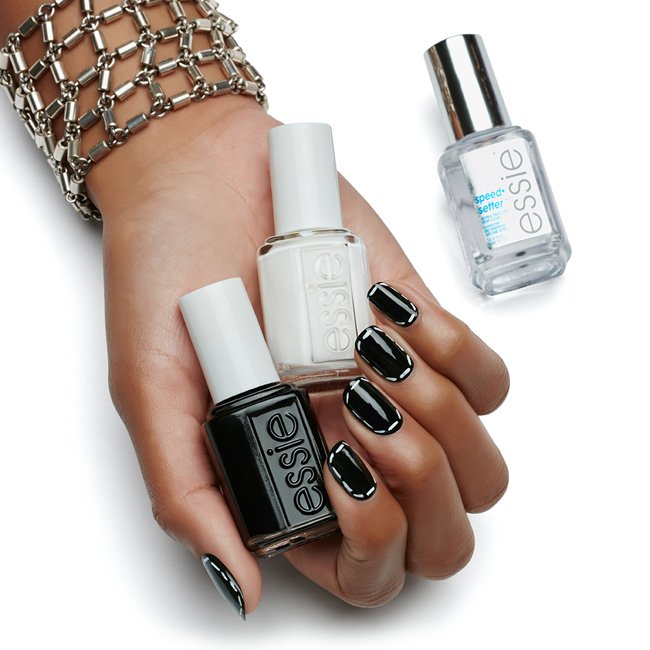 the final stitch to complete your halloween look!
"swirls have been leading the nail art trend for over a year now. i love how this look leans more psychedelic. it's a bit more playful and dizzy than its wavy counterparts." -Rita Remark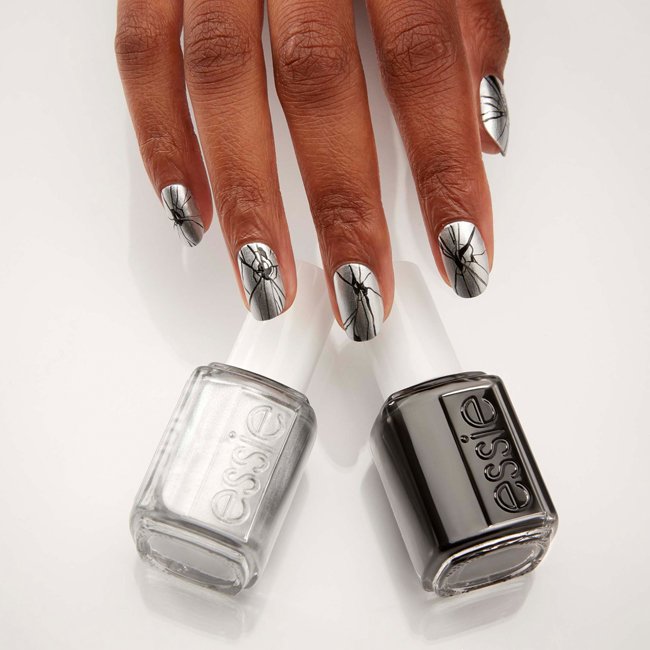 try this spooooky nail art to complete your halloween look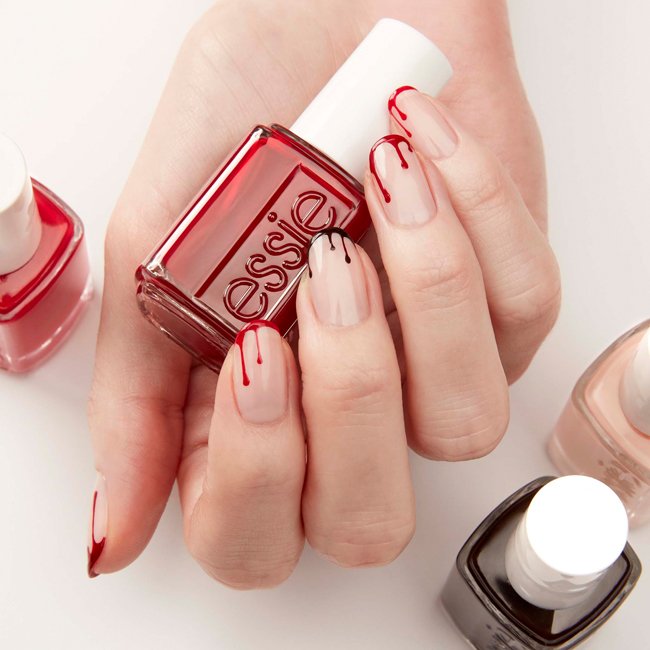 is this the missing piece of your halloween look? yes. yes it is.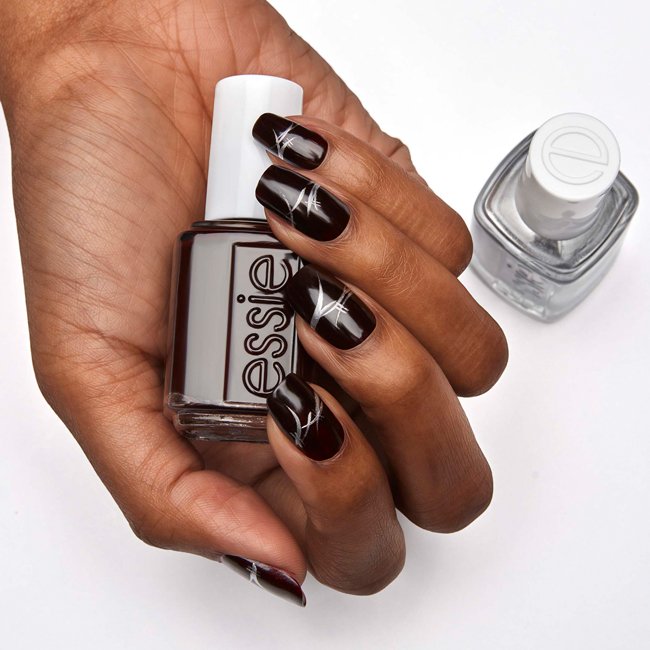 when in doubt, spike it out this spooky season.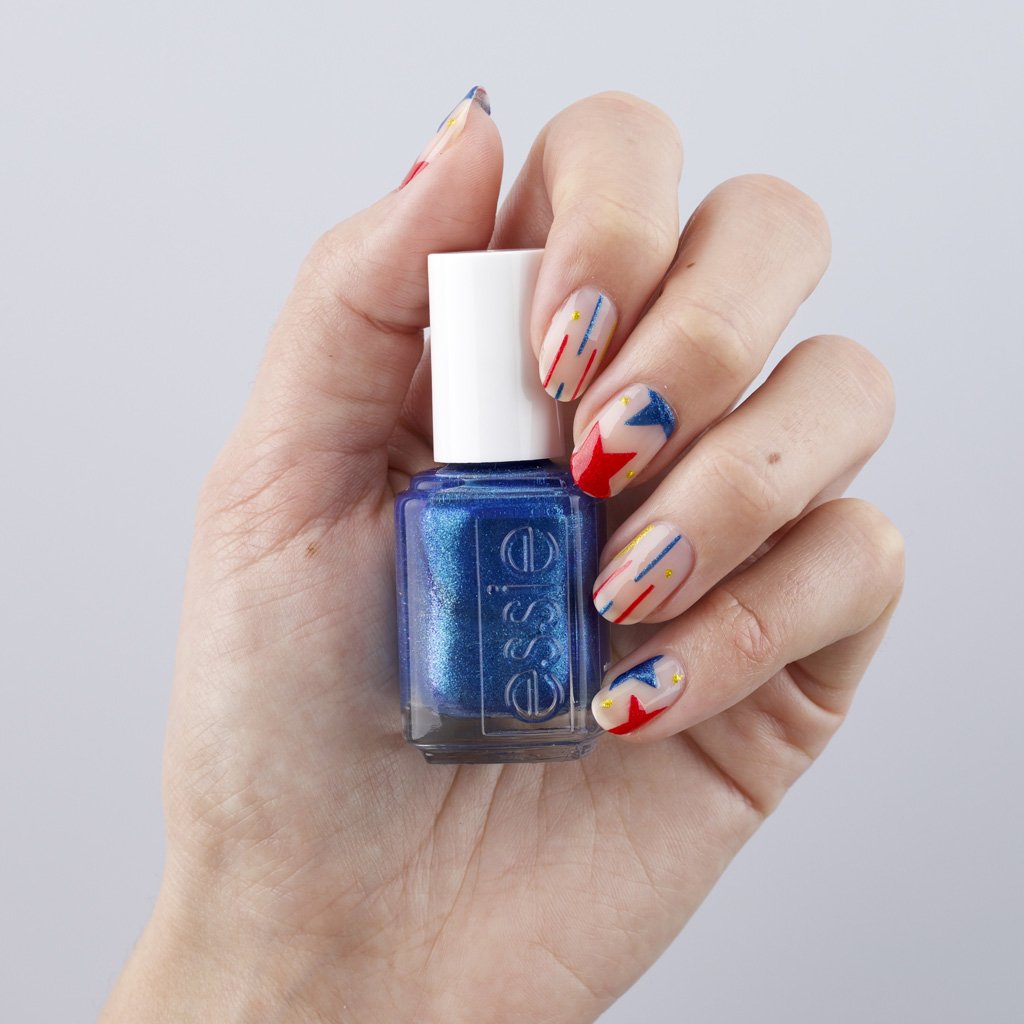 summer-sault into #1 with this whimsical mani.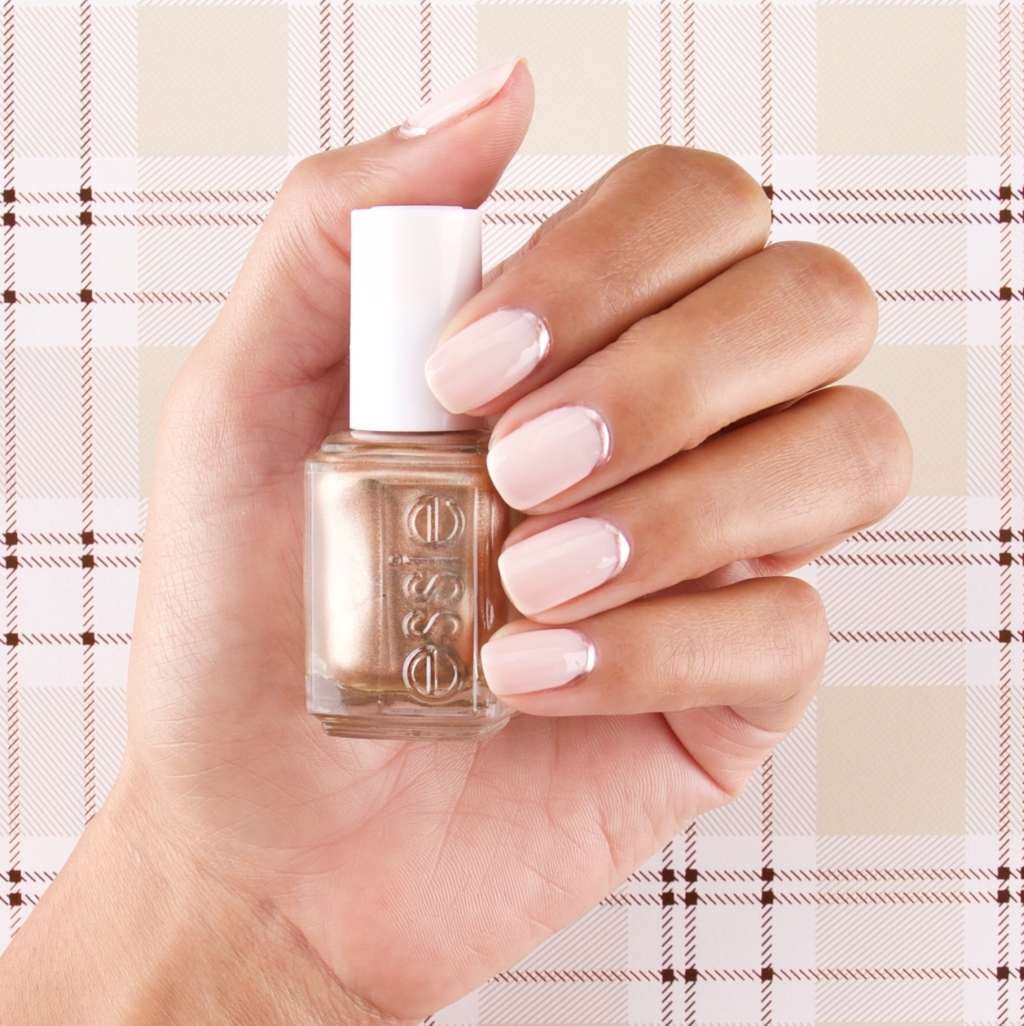 a classic french mani with a rose-gold twist
live out your wild side with this trendy animal print design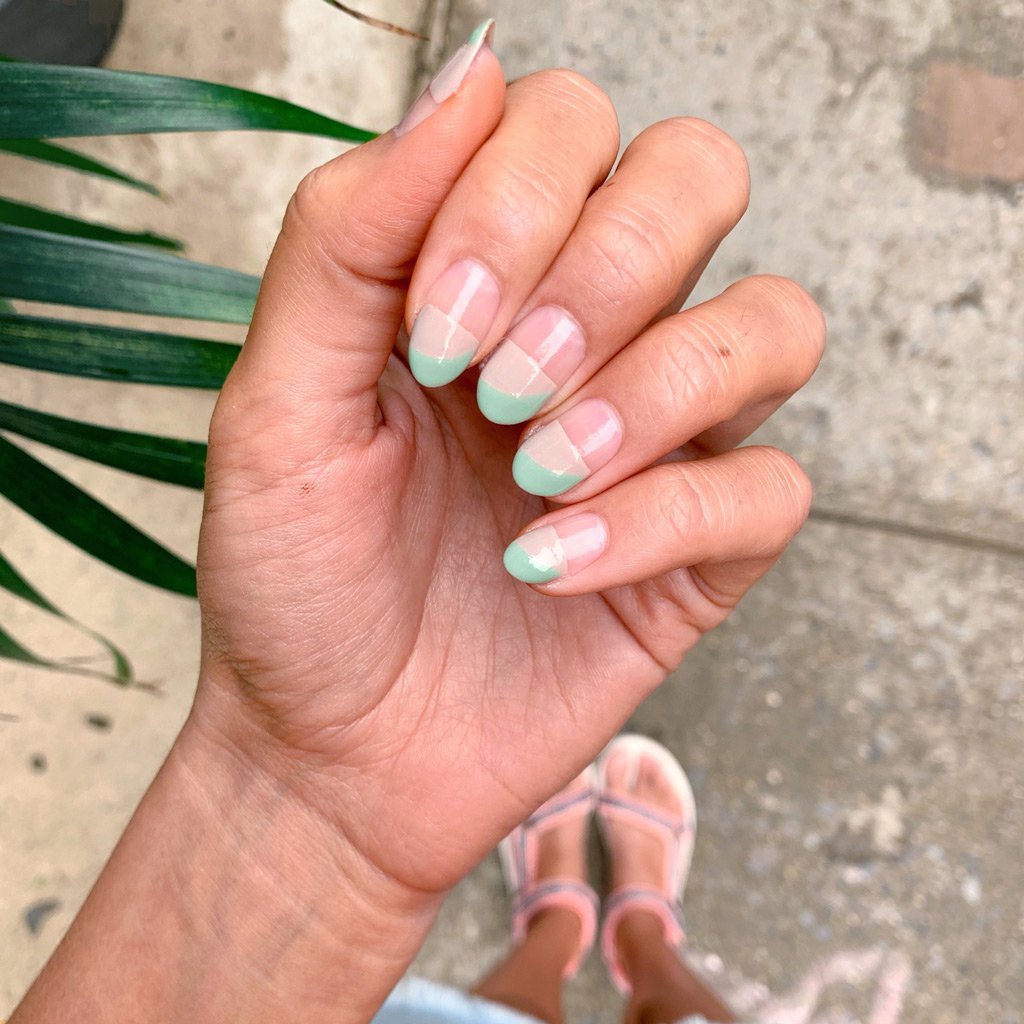 this modern, summery nail art channels beach vibes even if you're indoors!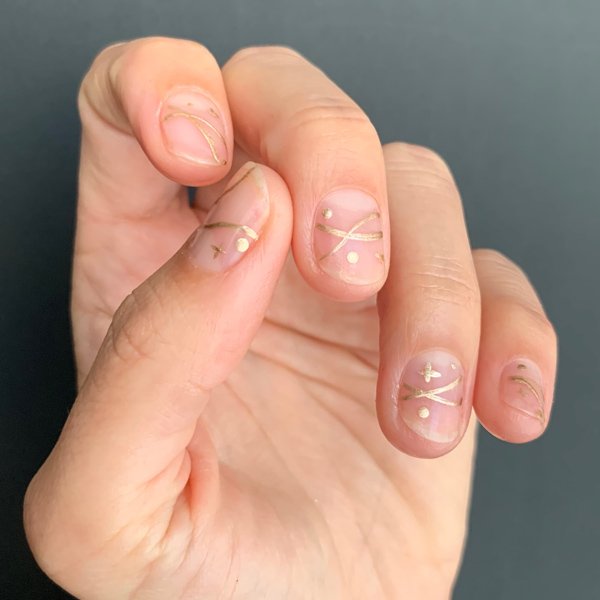 inspired by the bottle cap's design, this cosmic creation is simply stunning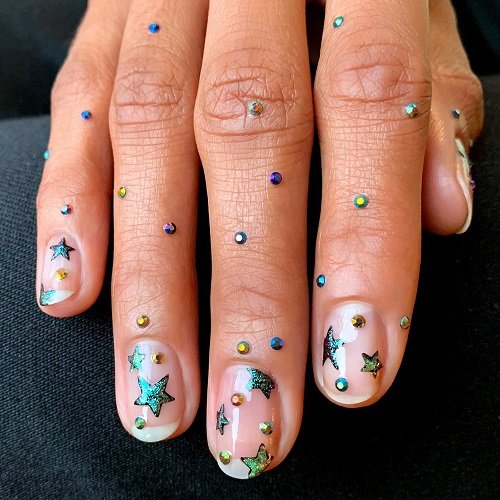 mercury manis are best in retrograde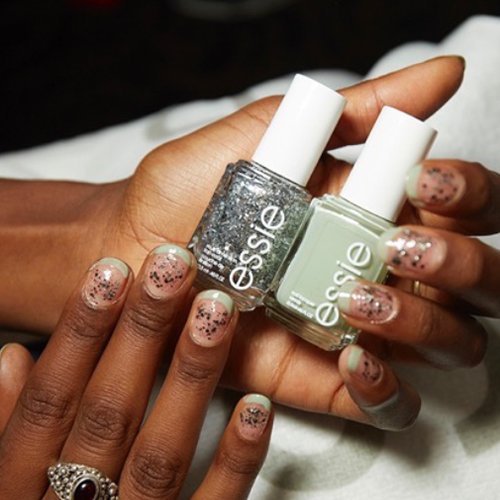 manicure by Julie Kandalec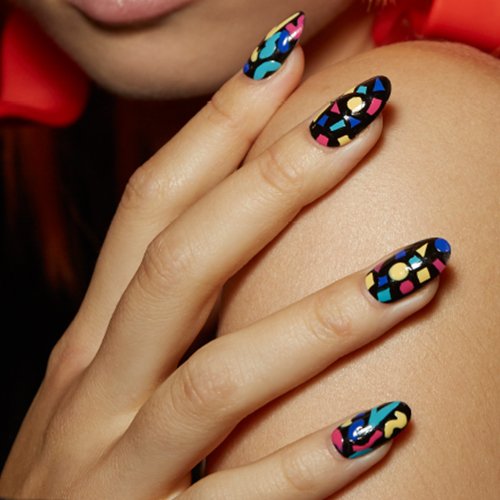 manicure by Miss Pop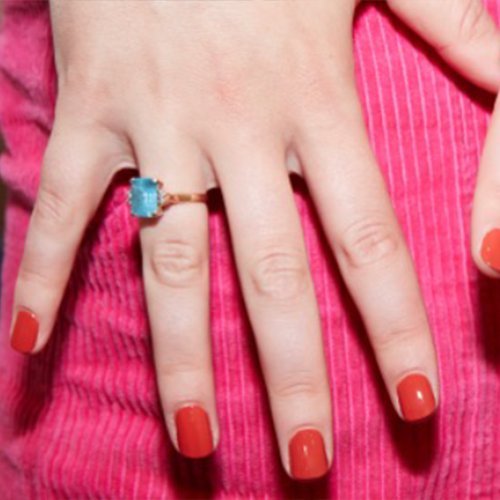 manicure by Rita Remark
manicure by Naomi Yasuda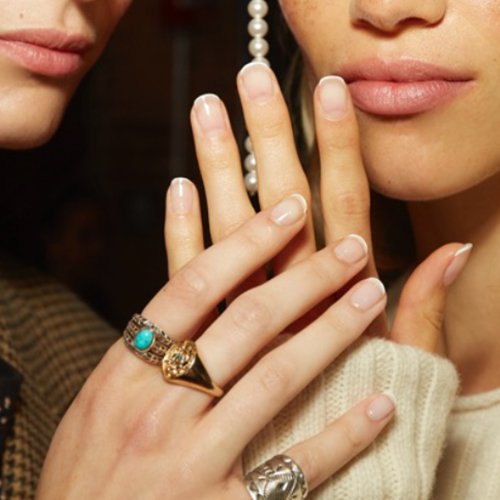 manicure by Betina Goldstein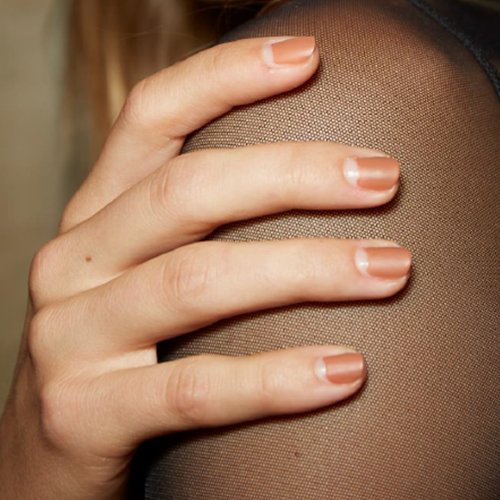 manicure by Betina Goldstein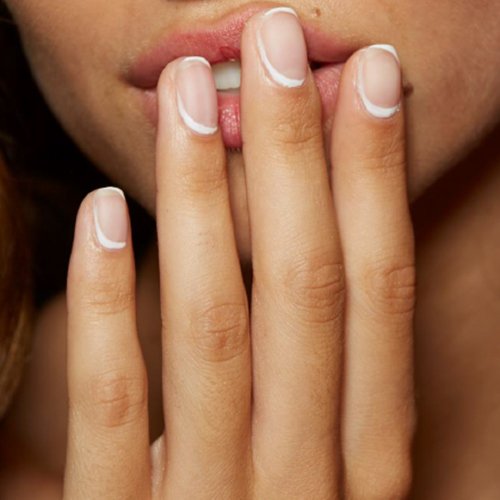 manicure by Betina Goldstein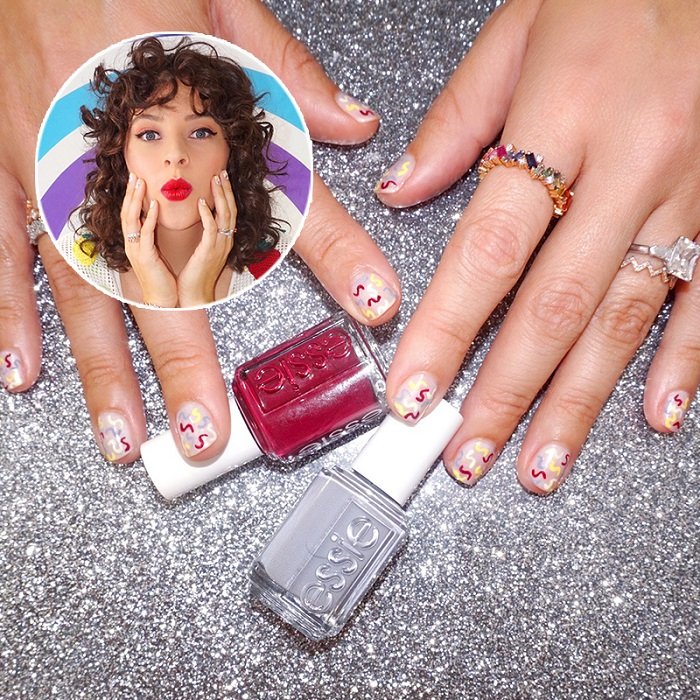 use our #essielove moments collection to recreate this look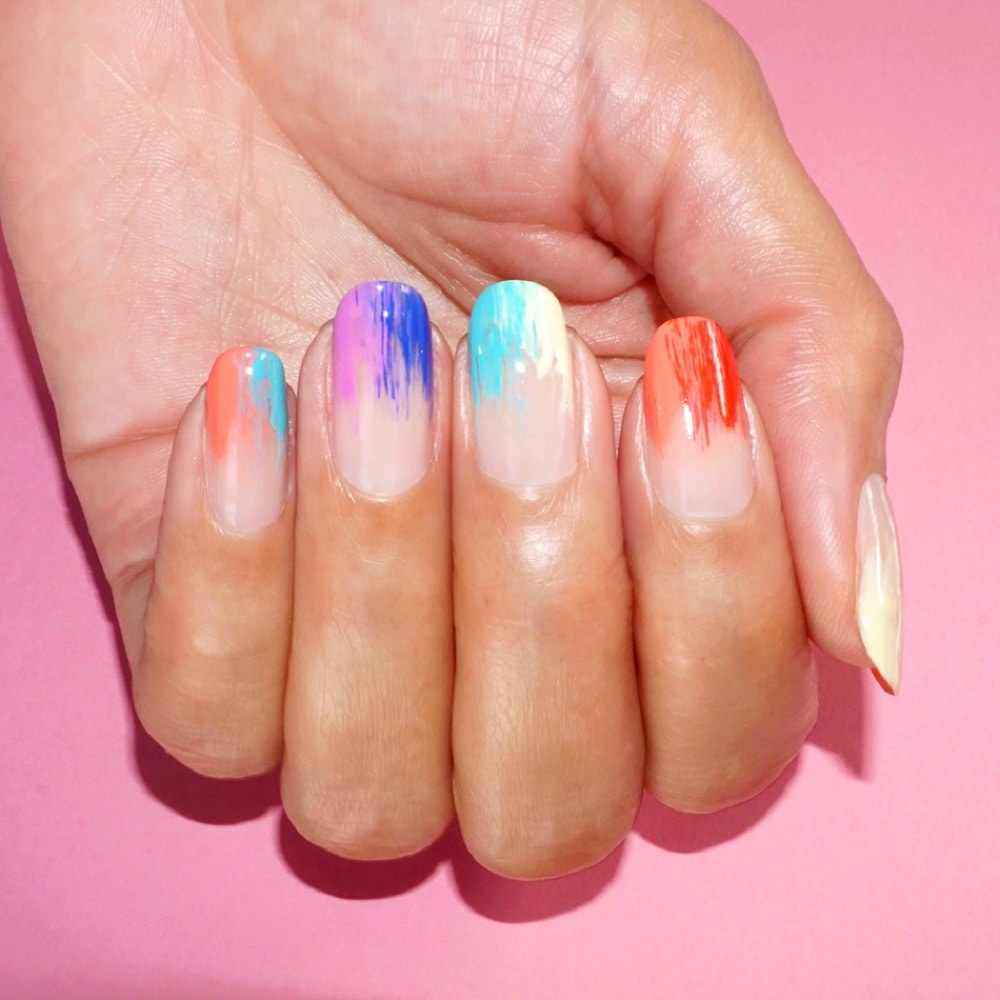 use a 'dry brush' technique for this colorful ombré mani.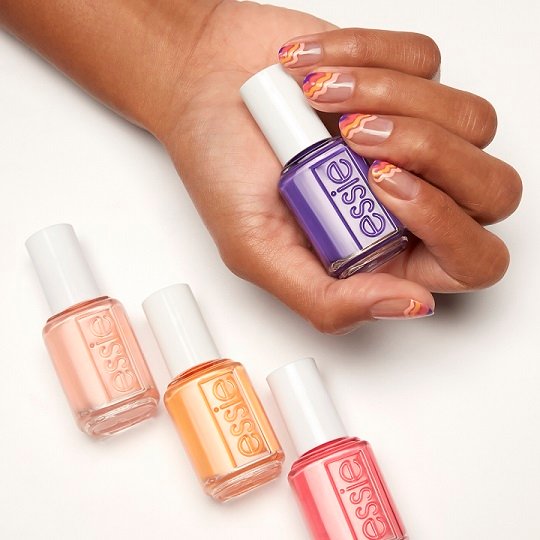 flowing stripes of summer color sure to start a buzz.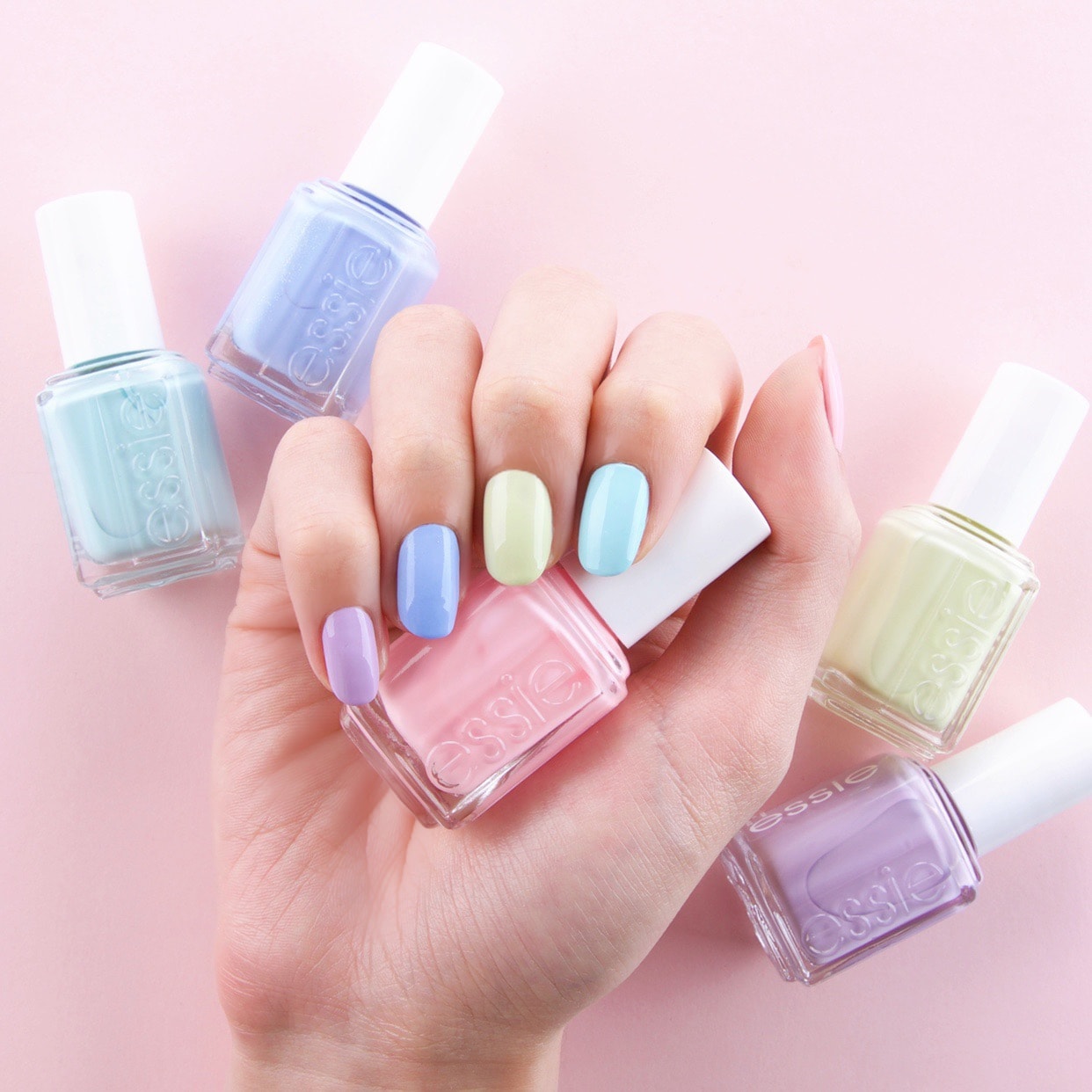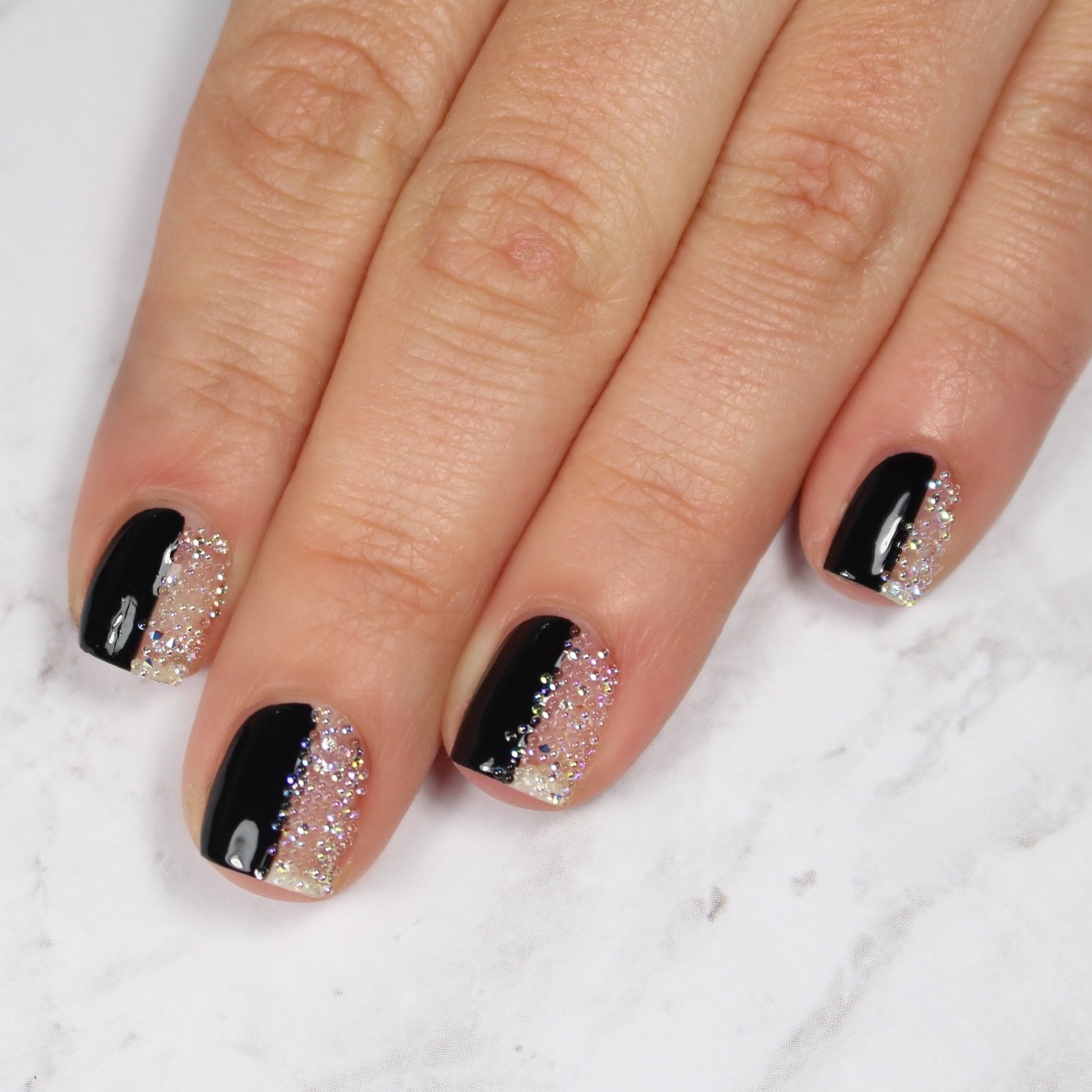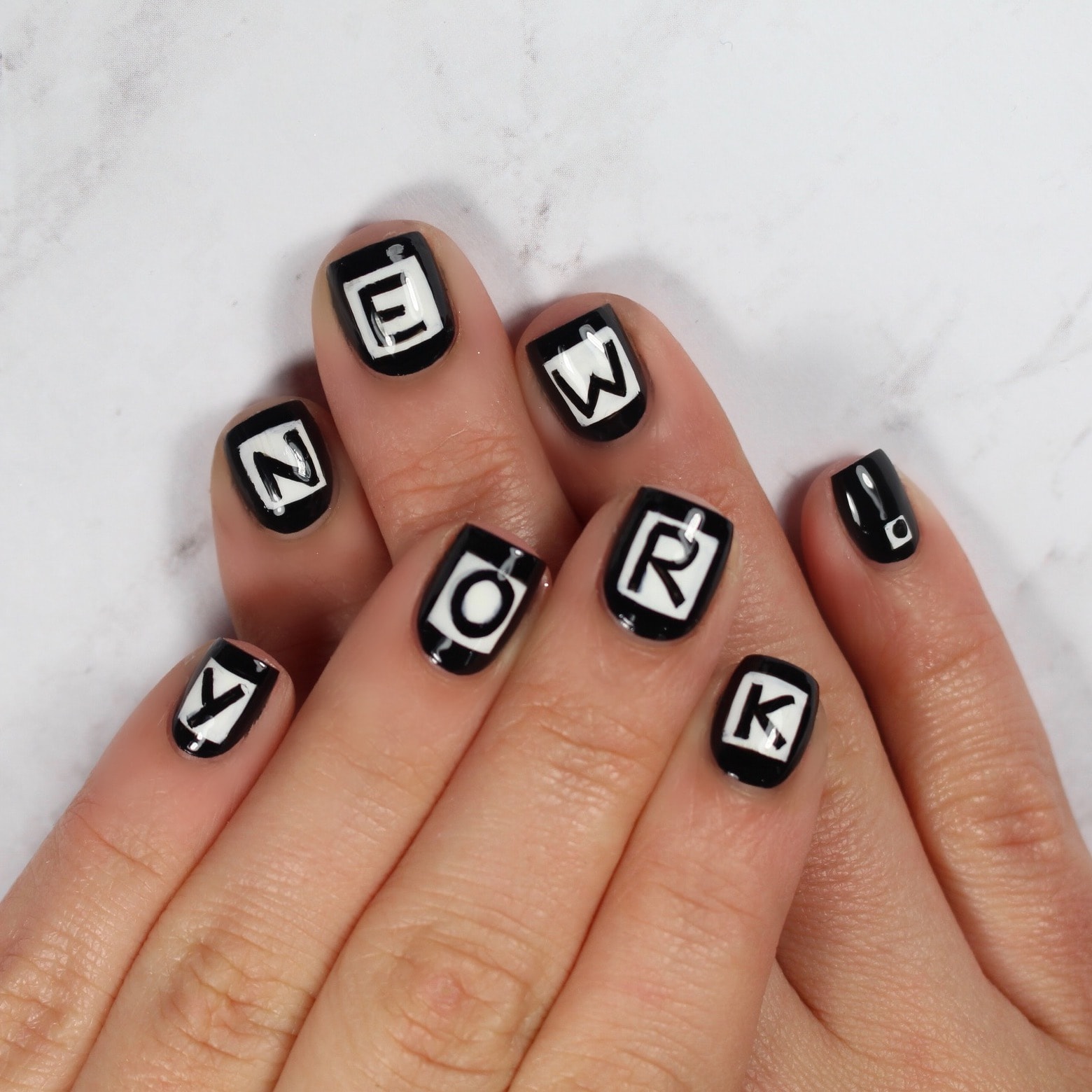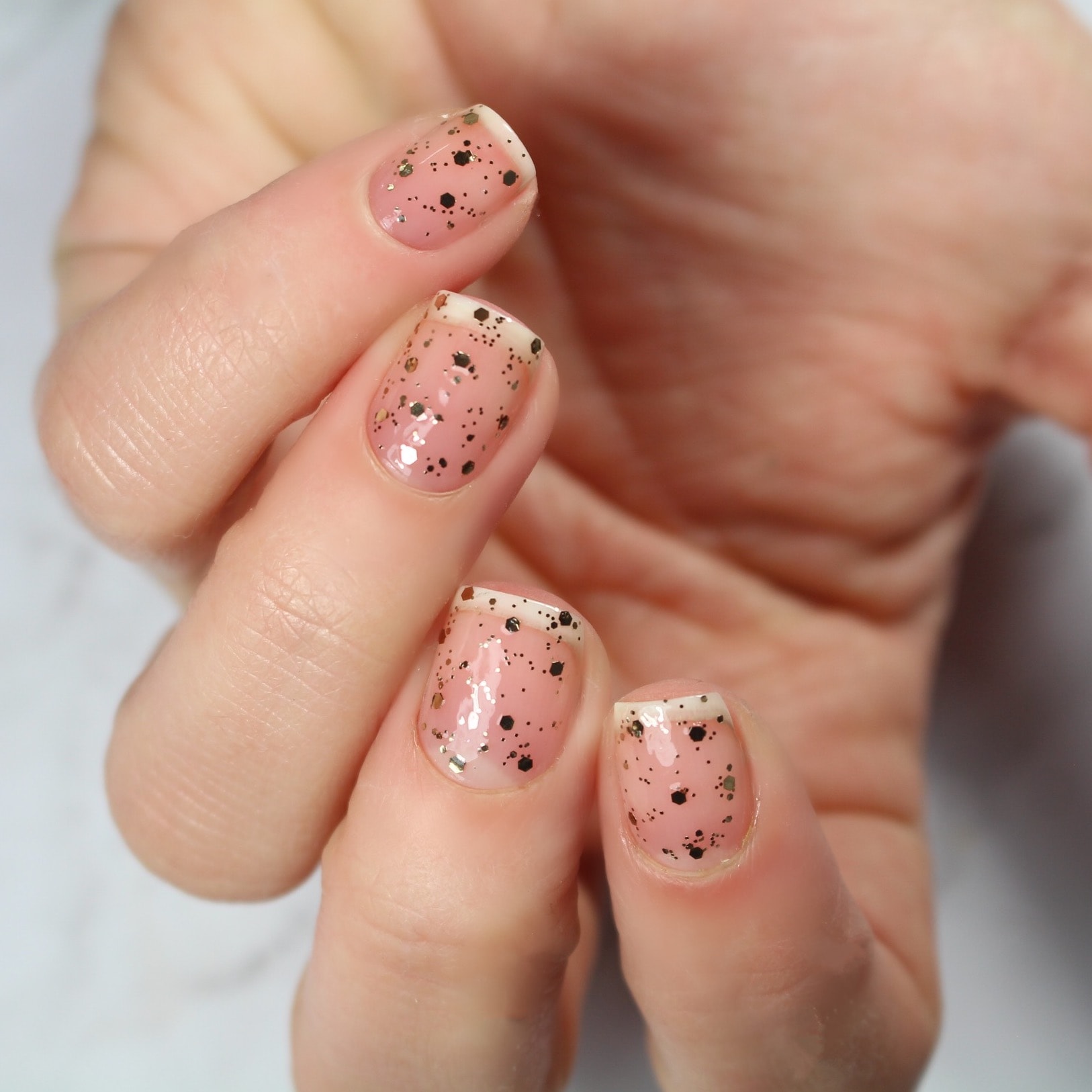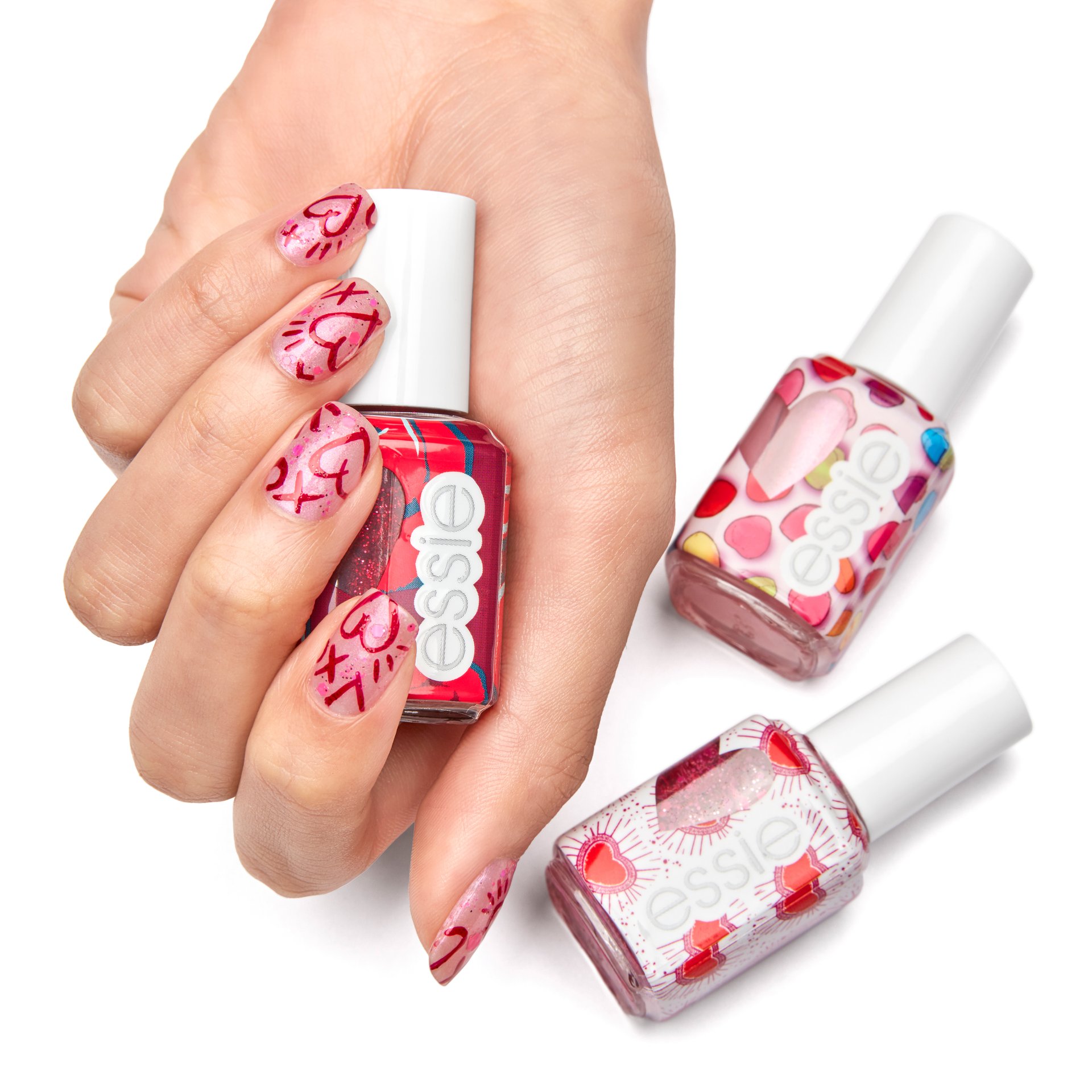 create this perfect valentine's day mani and let the sparkles fly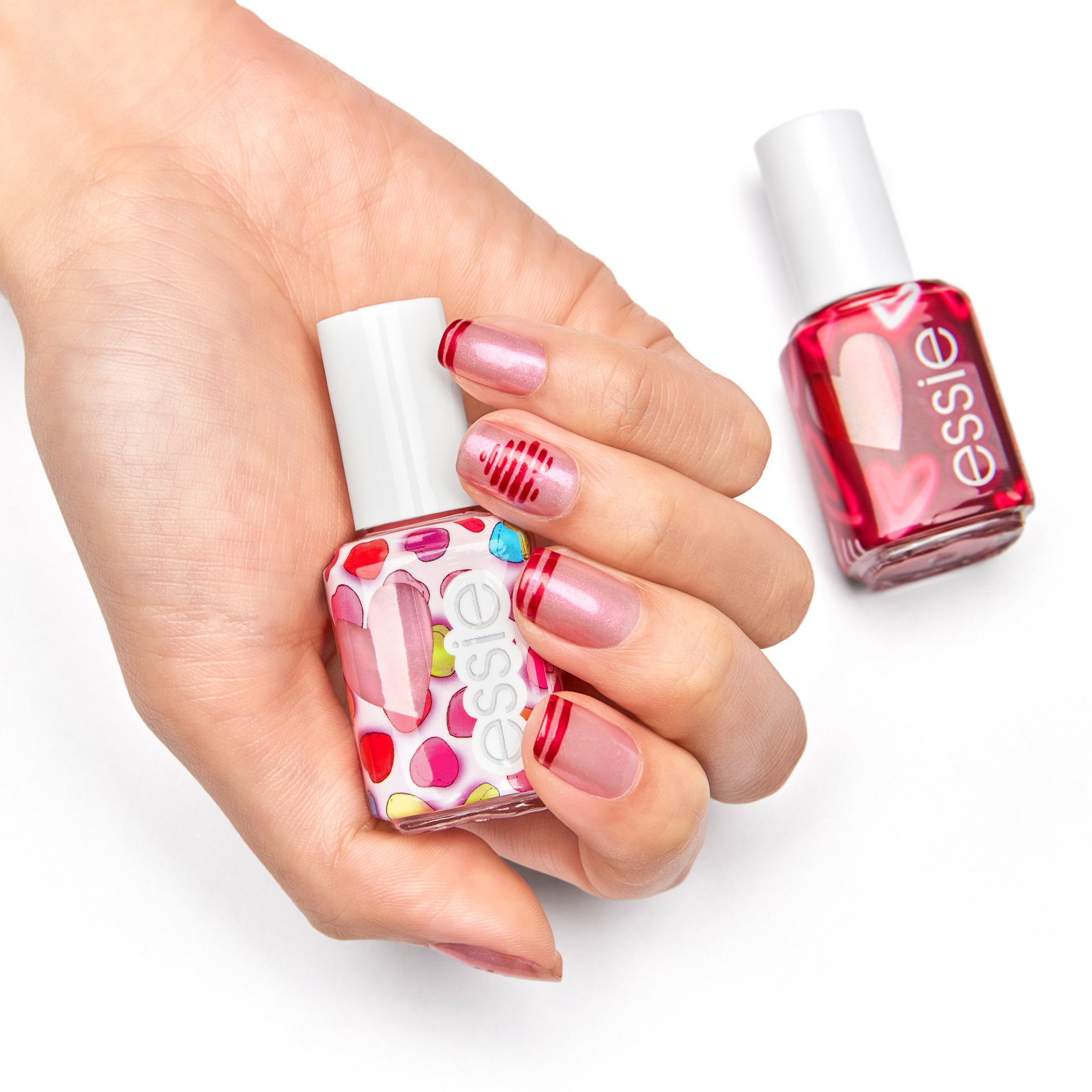 it's time to spread the #essielove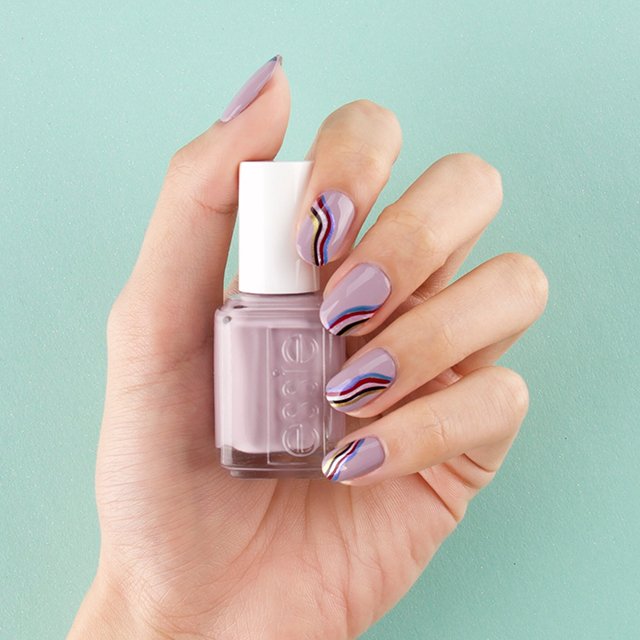 see the northern lights this season with a version right on your nails.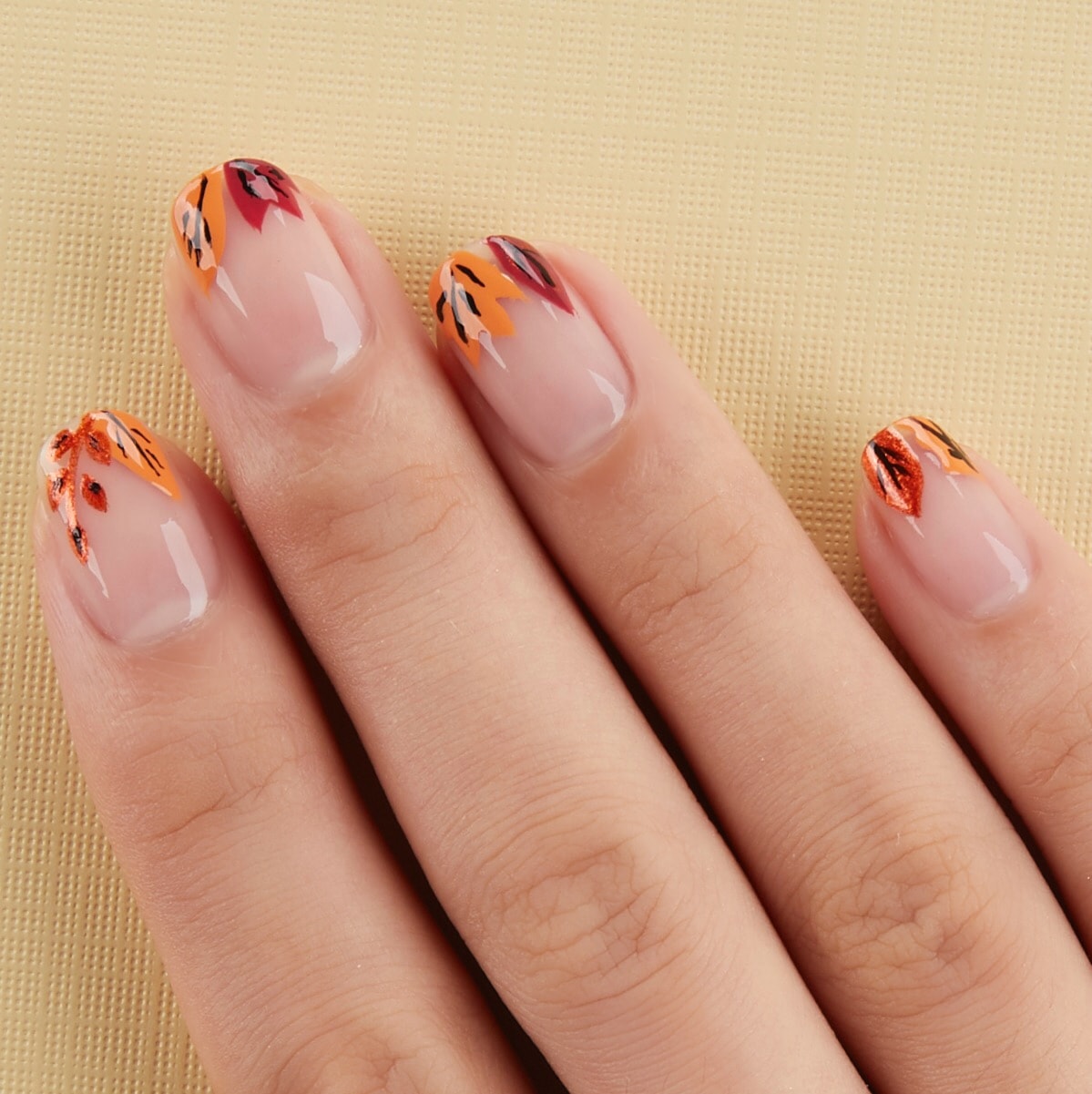 stay on trend with this fall look. perfect for leaf-peeping season.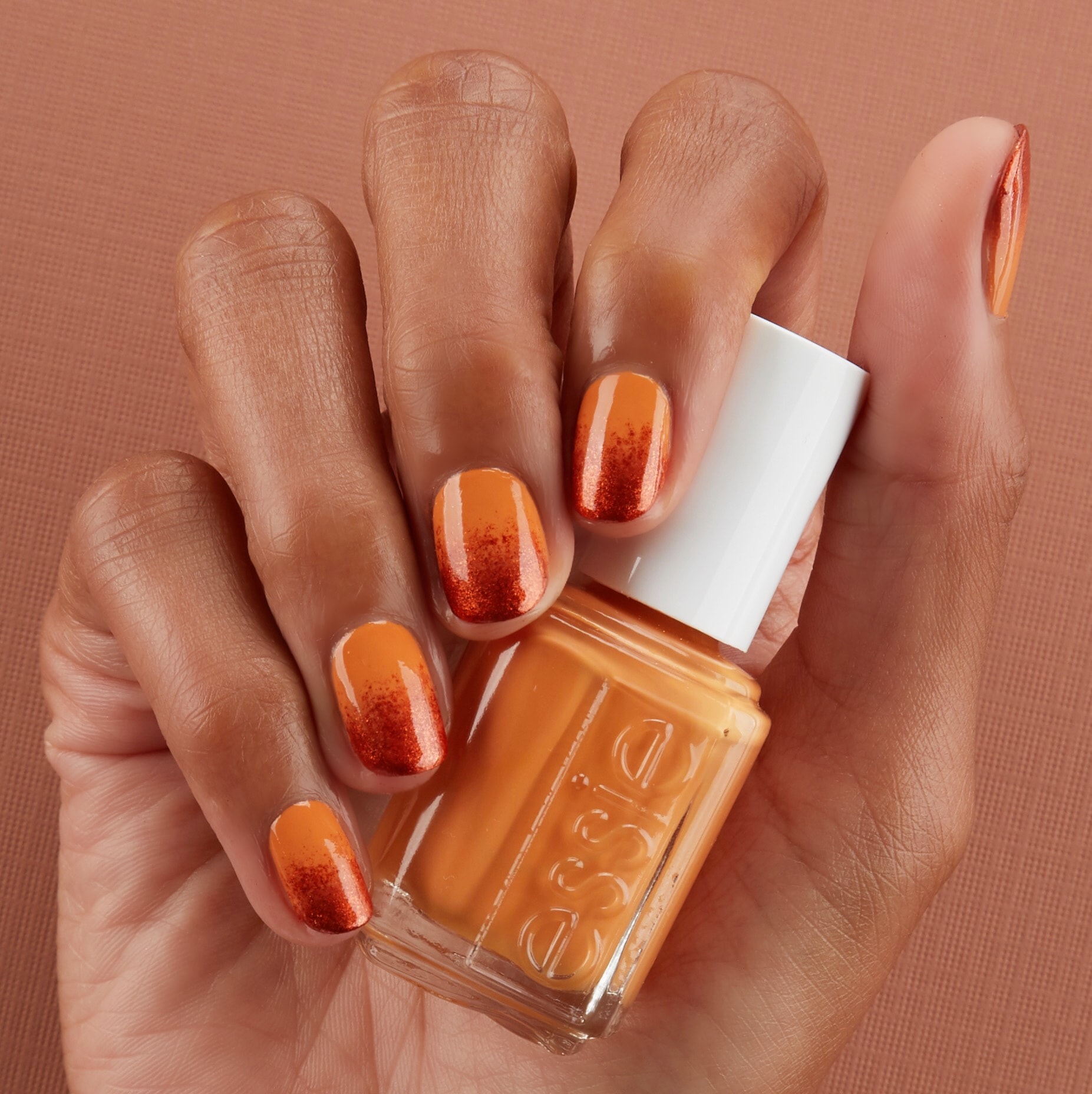 try this on-trend ombre nail look for the fall season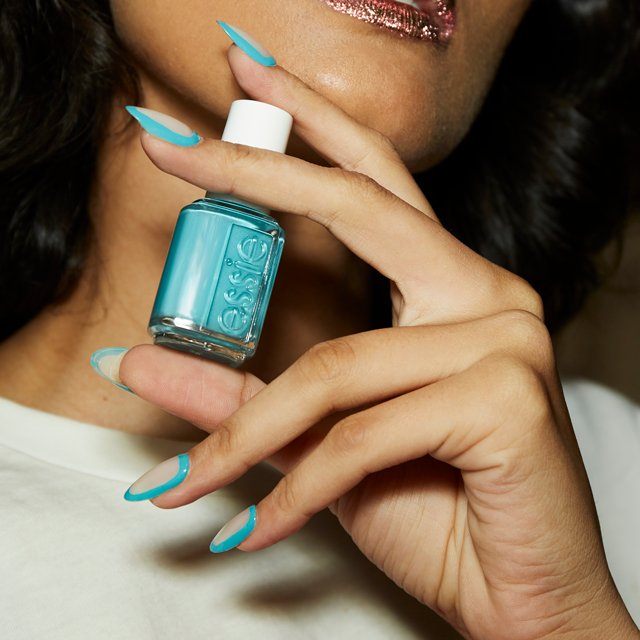 recreate the orbit look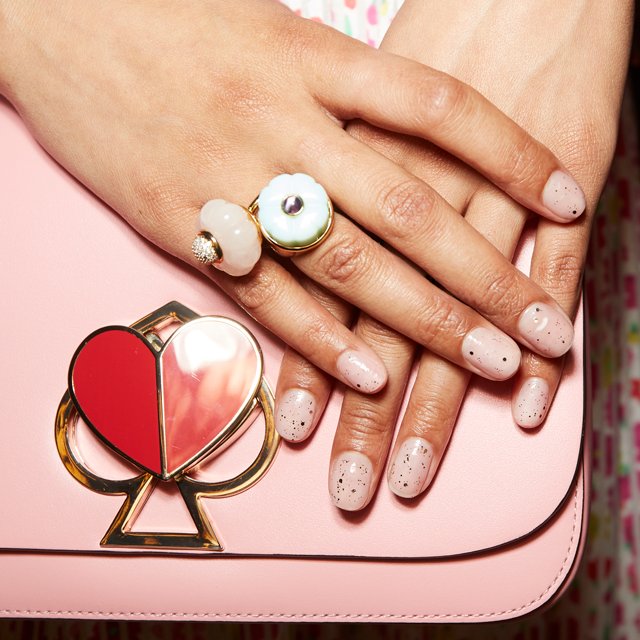 recreate the "trail of sparkle" from Kate Spade's fall fashion look
choose 'forever yummy' and 'booties on broadway' for collegiate cool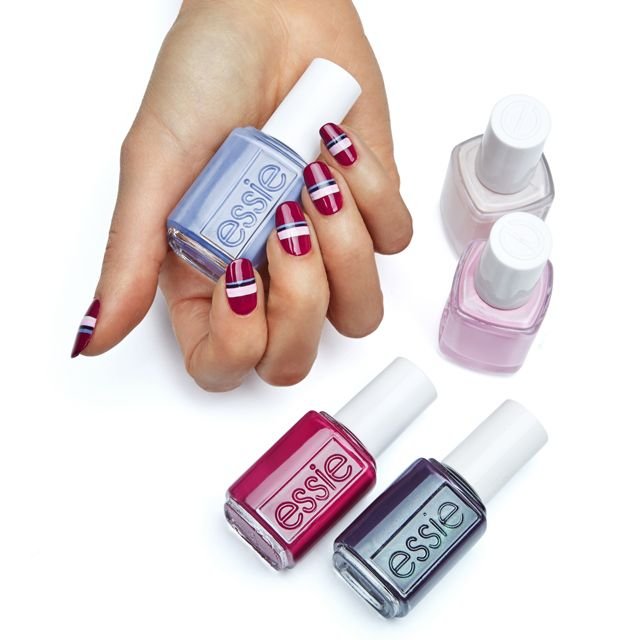 this graphic nail art design makes stripes oh so right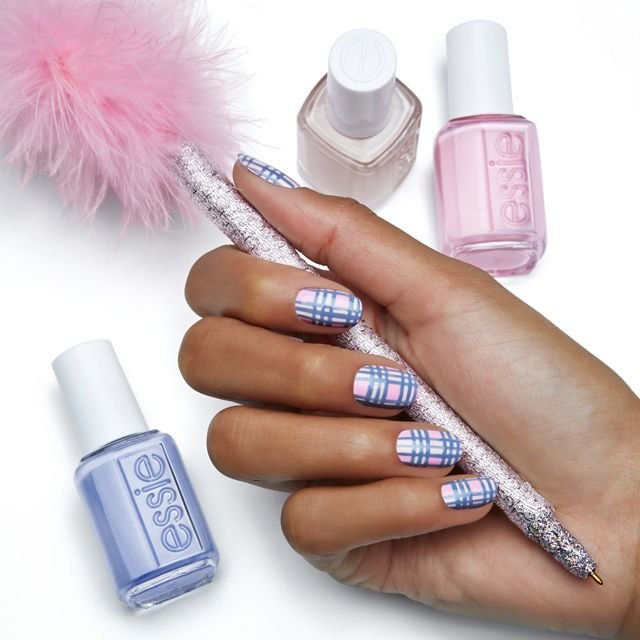 dress your nails in this plaid nail art design that is so totally on-trend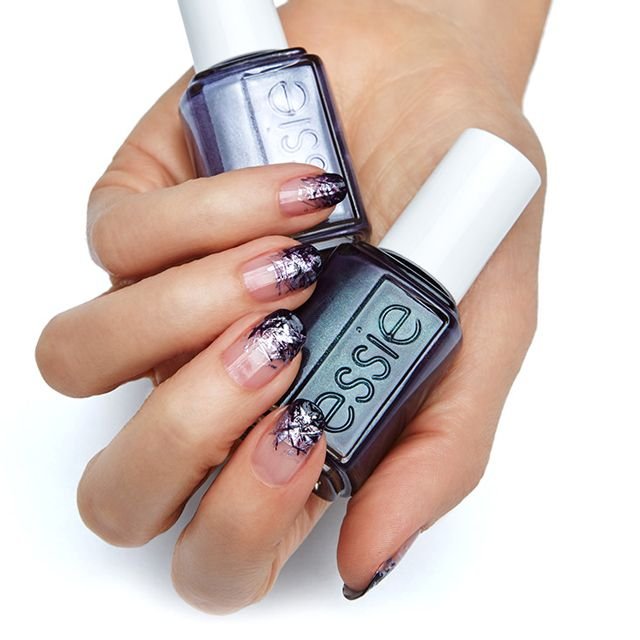 don't be afraid to rock out in this metallic nail art design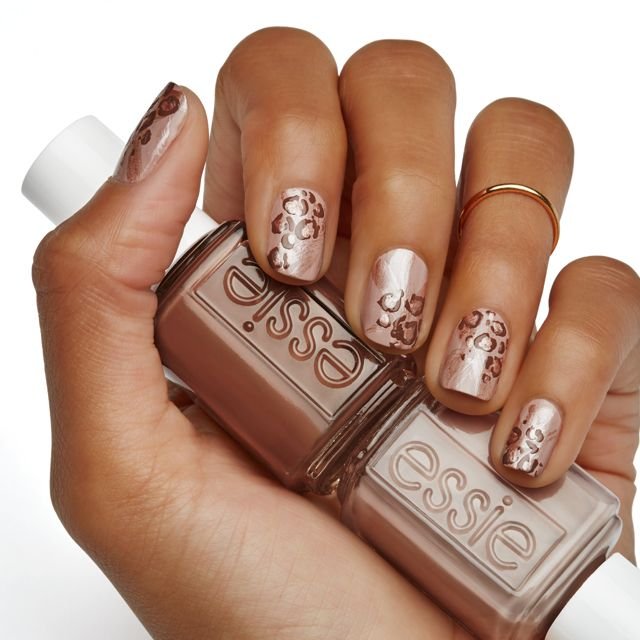 take a walk on the wild side and embrace your inner nudist with this graphic nail art design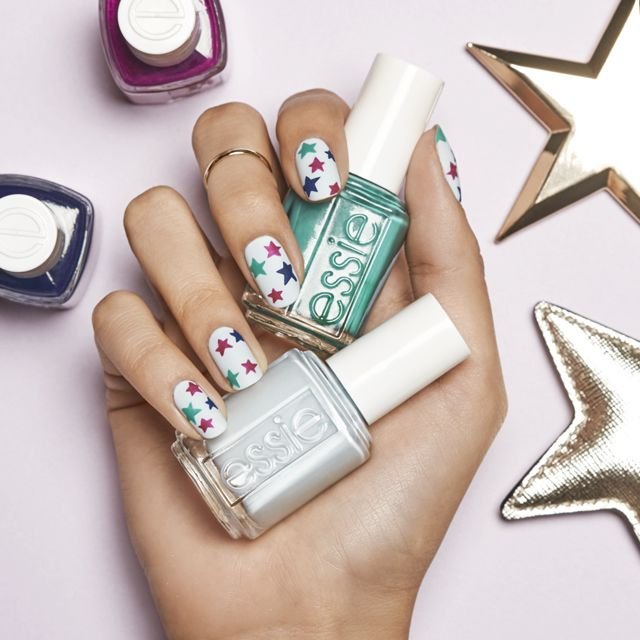 party with the stars in this bright, bold nail art design.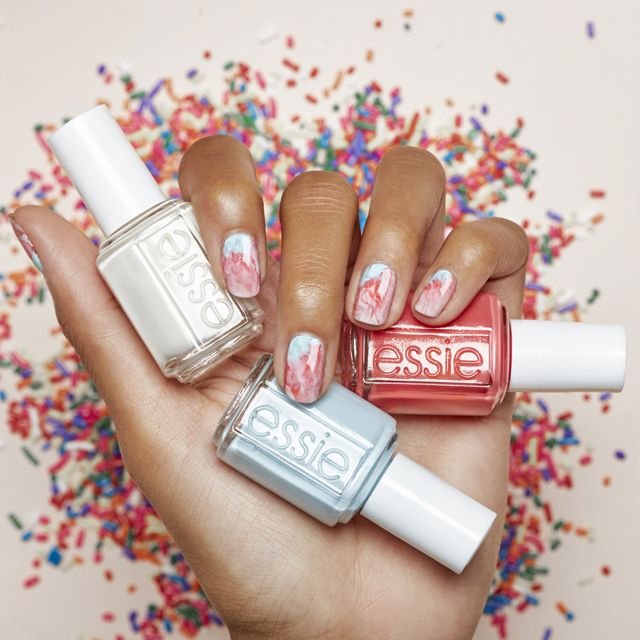 sugary sweet nail art with a watercolor marble effect. this ombre design in playful pastels is a cute touch for anyone's spring style.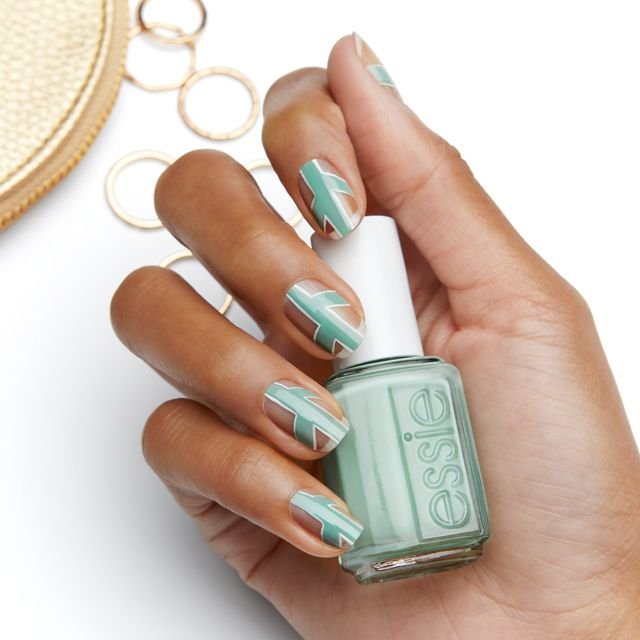 take your nails on a desert escape with this negative space cactus nail art design featuring white and turquiose shades.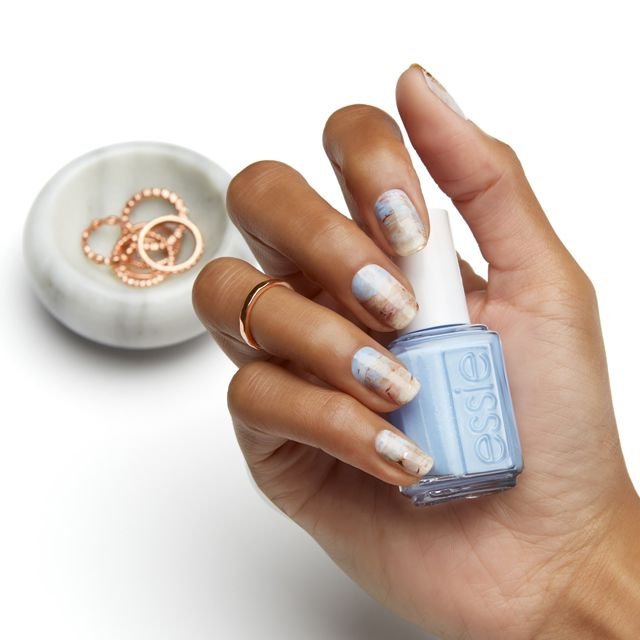 mix things up with this marble nail art design featuring neutral shades with a hint of metallic.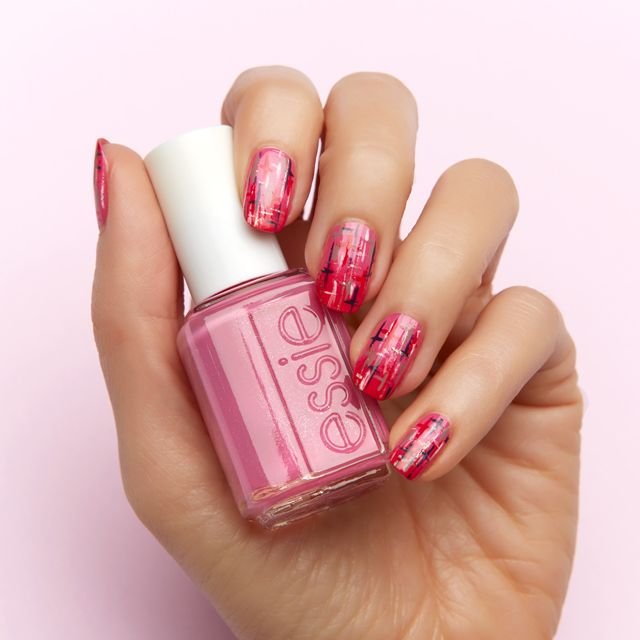 cozy up to this graphic tweed nail art design featuring a rainbow of pink, purple, nude, and green shades.
go graffiti chic with this street art inspired nail art design. the blue ombre texture with abstract wave accents adds a touch of fun to any look.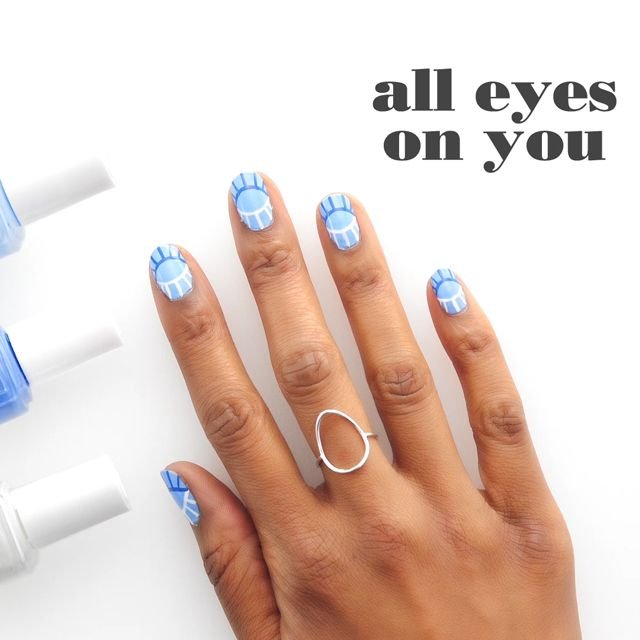 embrace this trendy evil eye nail art design and have all eyes on you in chic shades of blue.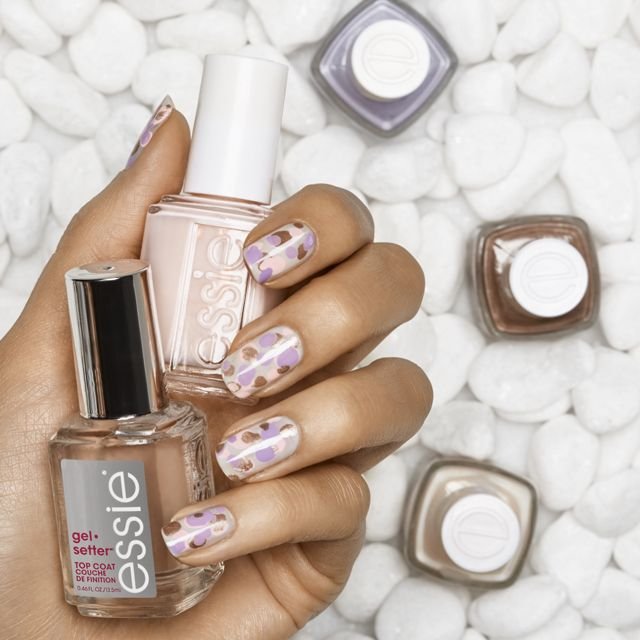 spotted! simple pastel polka dot nail art that's always on point.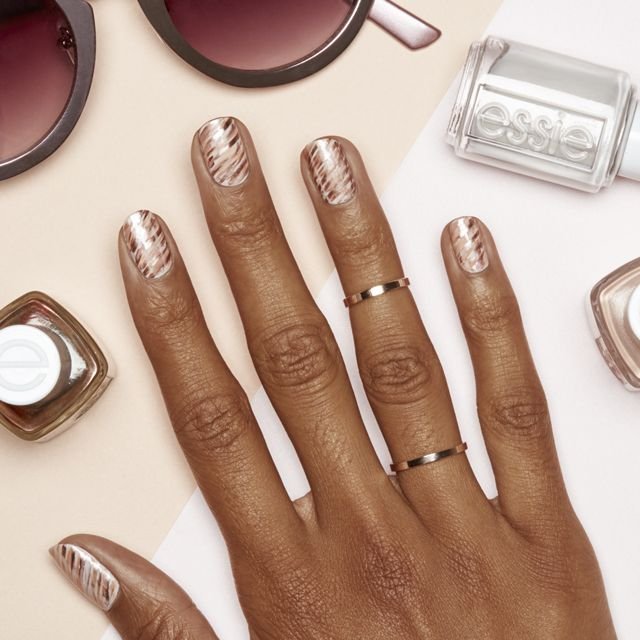 take a strut on the wild side with this animal print nail art design in elegant neutral and metallic nail polish shades.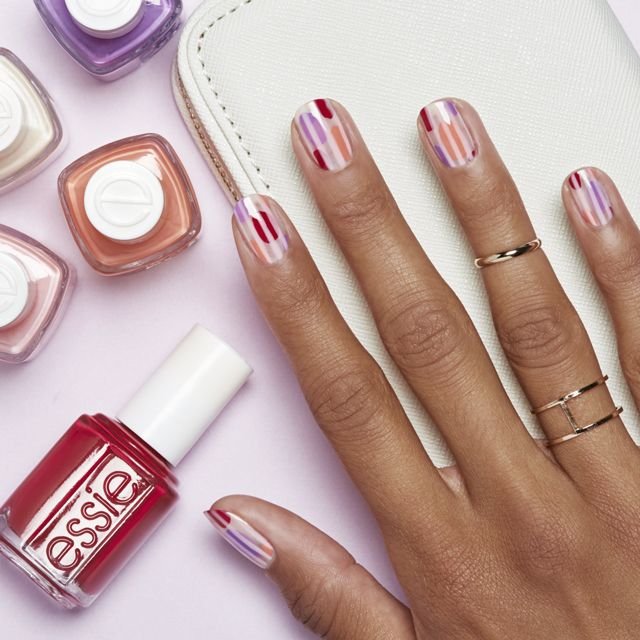 pretty, playful, pastel. this graphic linear nail art design accented with ovals is simple and cute for spring or summer.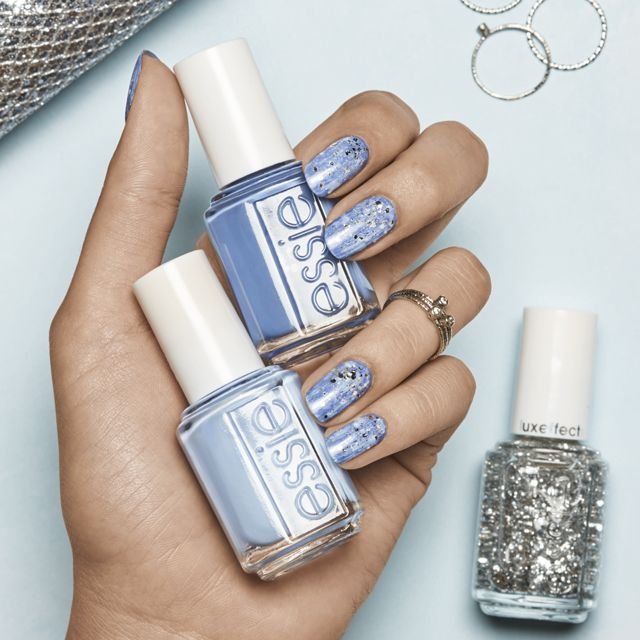 glam up your holiday nail art design.
get graphic in this nude nail art design. simple silver stripes add an elegant metallic touch to this on-trend look.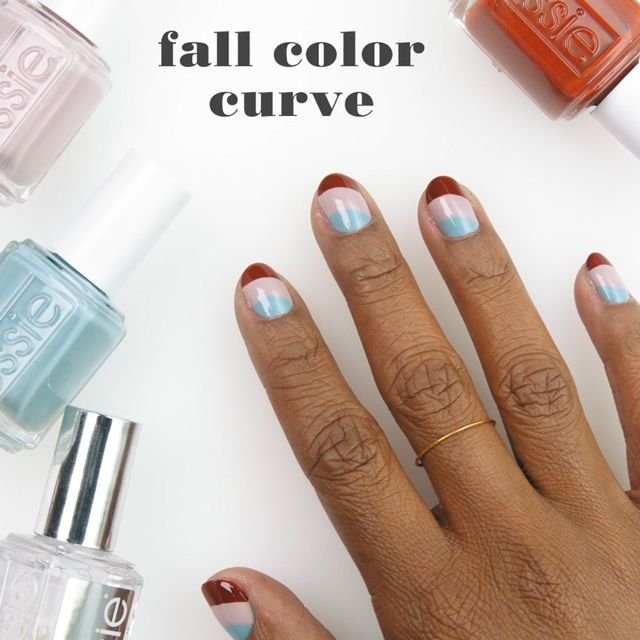 kimono over and try this fall nail art design by essie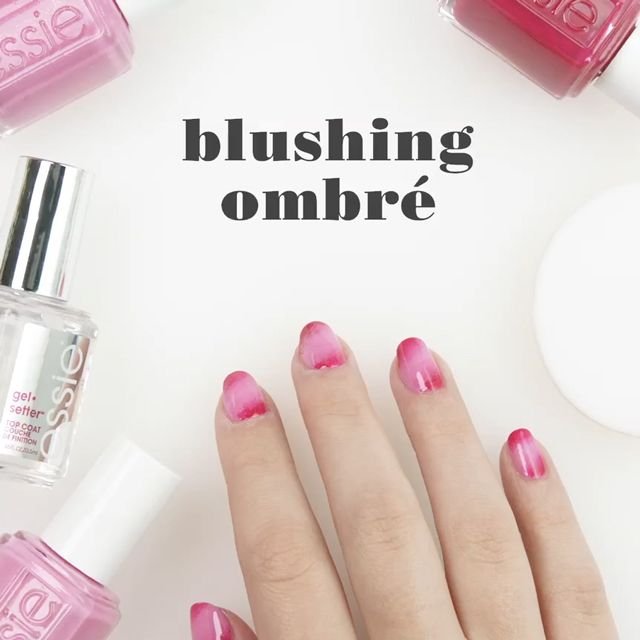 you'll feel pretty in pink with this bright ombré nail art design perfect for short nail lengths..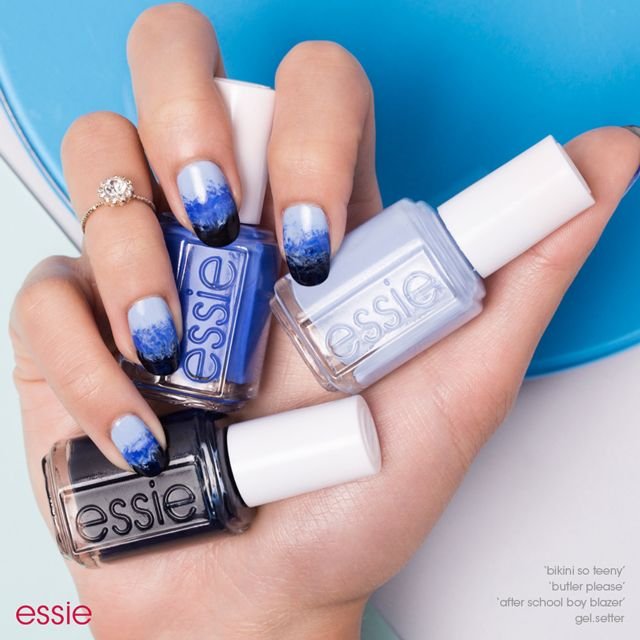 embrace your creativity and sponge on this pretty inky blue ombre nail art design.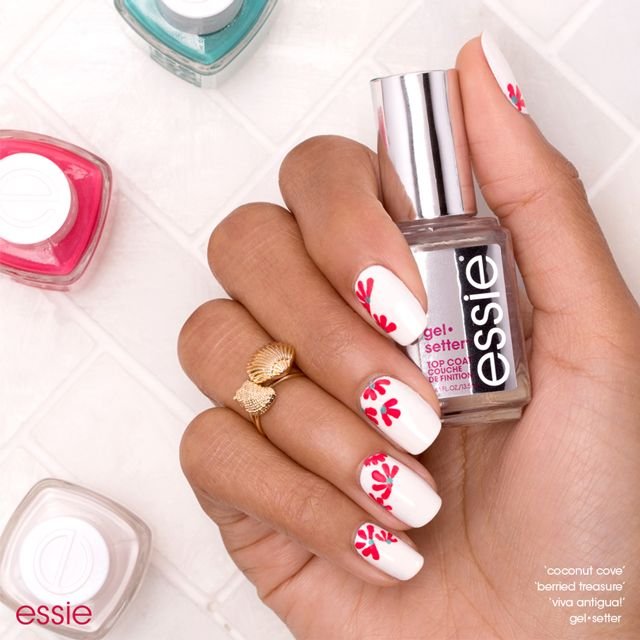 summer is in full bloom with this pretty floral nail art design. flowers at your fingertips have never been so chic!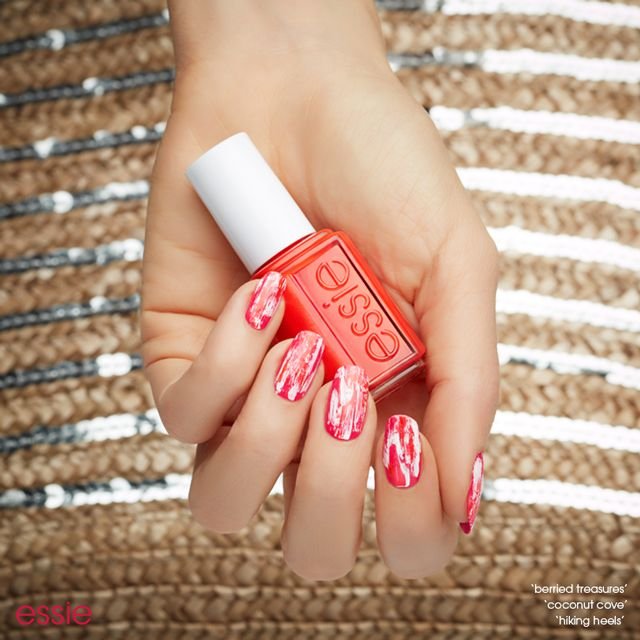 rock this perfect summer marble nail art design.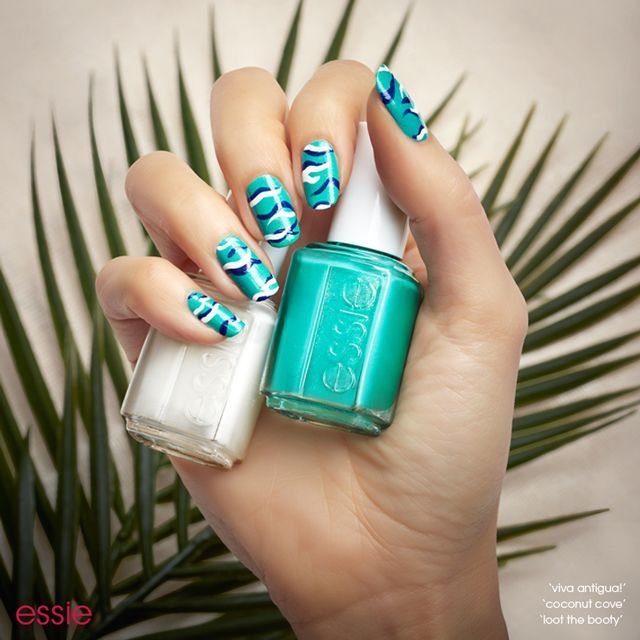 this cute camoflage inspired look is a perfect summer nail art design.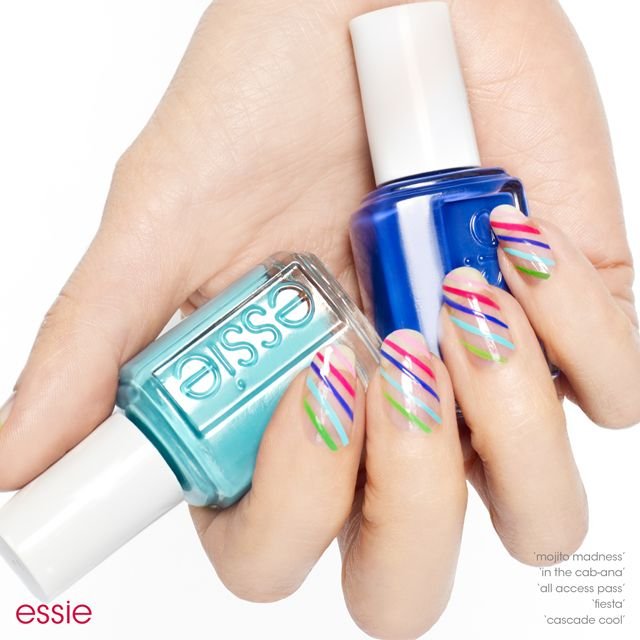 ribbons of rainbow stripes grab attention in this negative space nail art patterned design.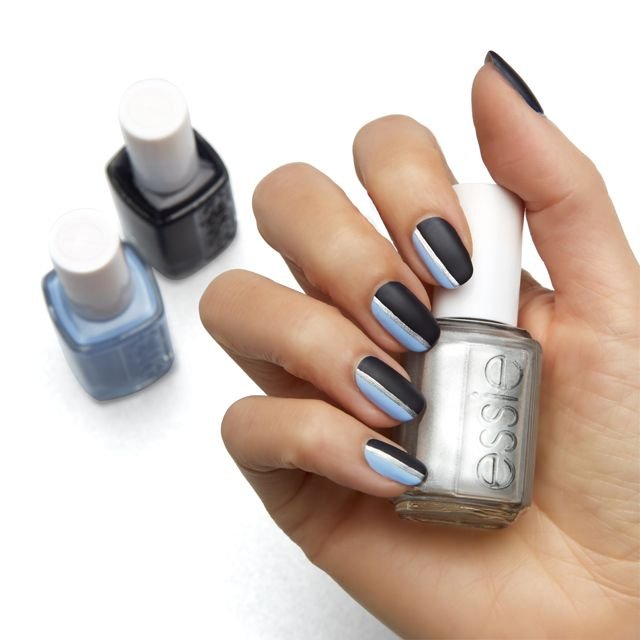 swipes of rainbow stripes from purple to teal come together to form a pretty nail art design of many colors perfect for any season.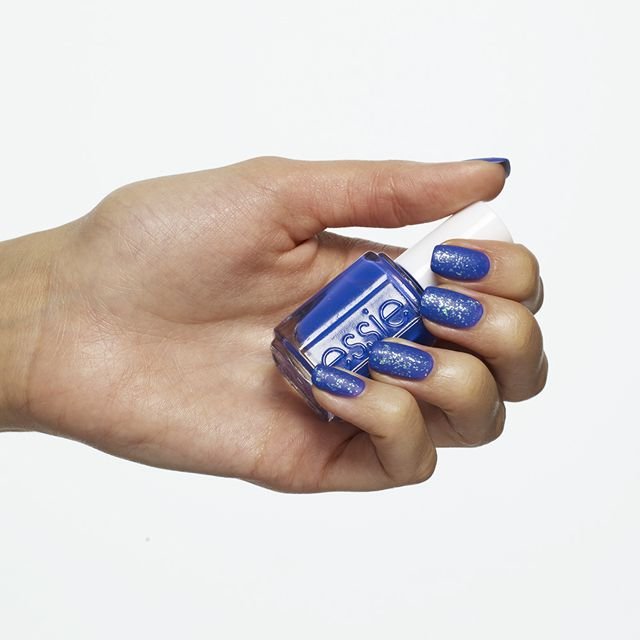 top matte indigo blue with a glint of sparkle topcoat to achieve a cool celestial nail art design that reaches the stars.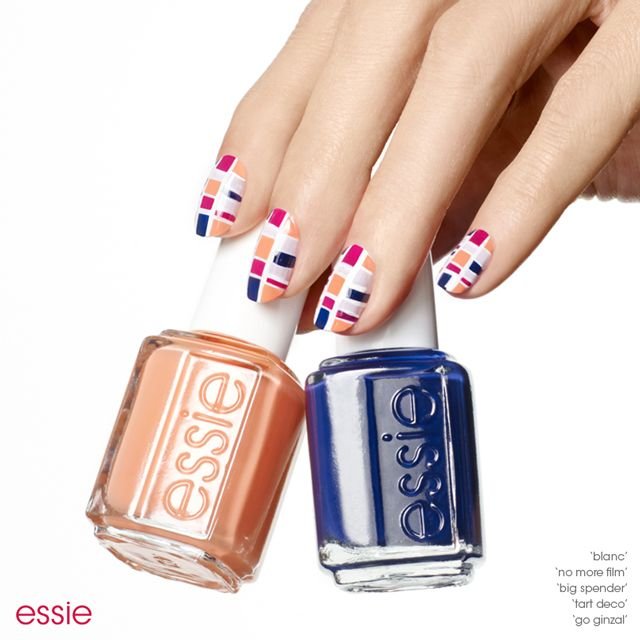 deco your fingertips in contrasting shades of pink, purple, red and deep violet for a party worthy nail art design perfect for any celebration.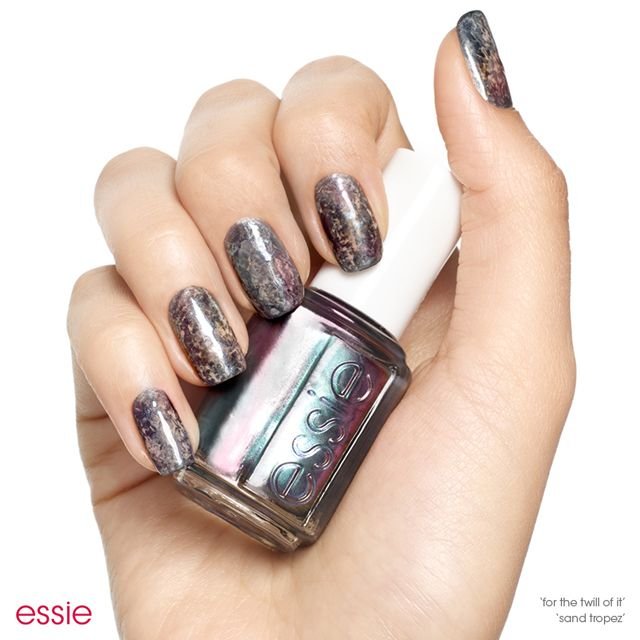 turn nude nails into works of nail art with a pearly, shade-shifting marble mani that creates a stone finish.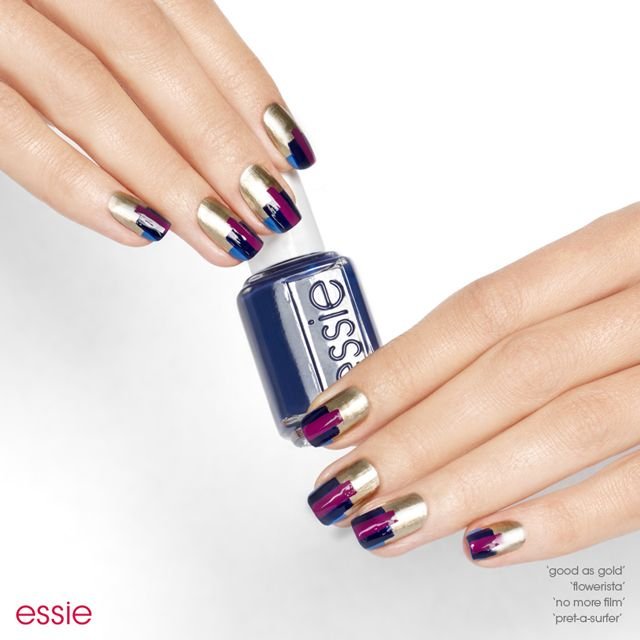 navy, light blue, and magenta pink city skyscrapers rise high across a metallic golden nail art design.
make a hot coral shade sizzle with bursts of metallic gold for a july 4th fireworks-inspired nail art design.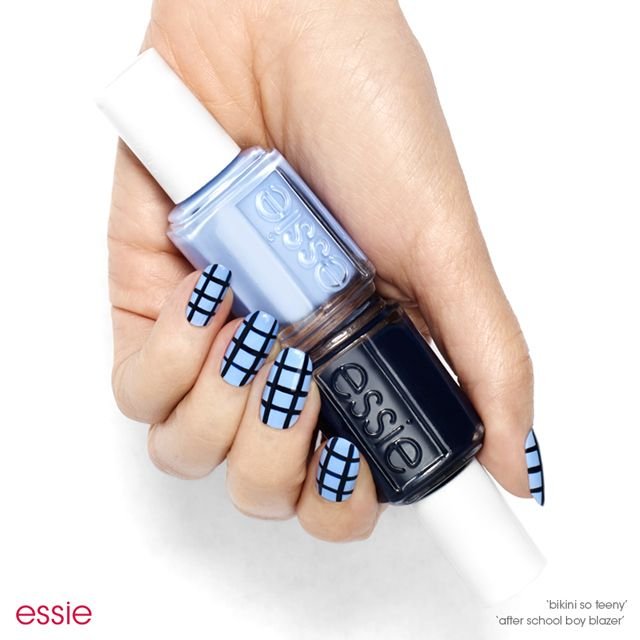 you'll rack up plenty of likes in this contrasting light and navy blue hashtag-inspired nail art pattern.