go to content
register

sign in

sign up

sign up

sign in

sign out
nail art
dark academia
whether you're heading to history class or the library for a study date, this nail art is the finishing touch to your school uniform!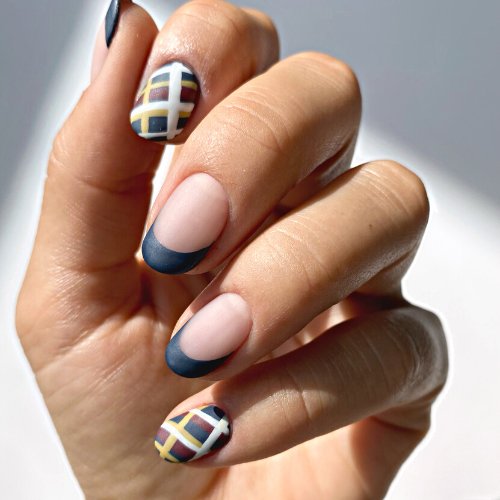 exclusively at target! click to shop
step one: apply one thin basecoat to all nails
step two: polish two coats of 'study tips' to the pinky and index finger. with a thin detail brush dipped in the same shade, polish a curved french tip to the other nails.
step three: with a detail brush dipped in 'nail the grade', polish 1-2 thick angled lines on the pinky and index nails.
step four: same brush dipped in 'homework it', polish 3 angled lines in two directions on the same nails
step five: same brush dipped in 'doodle the minimum', polish 2-3 angled lines in two directions on the same nails
step six: finish with 'gel couture matte topcoat'
---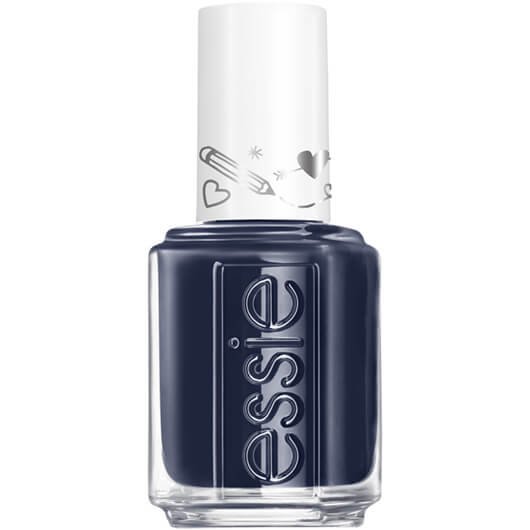 essie
study tips
$9.00
<p>for a mani that&rsquo;s guaranteed to make the honor roll, opt for this navy blue nail polish with red undertones (cream)</p> <p>&bull; school is now in session with the new essie study tips collection. hitting the books has never looked better thanks to six statement-making shades that always nail the grade. inspired by freshly sharpened pencils and crisp fall days, these preppy colors guarantee you&rsquo;ll go straight to the head of the class.</p> <p>&bull; salon quality formula for flawless coverage</p> <p>&bull; our exclusive easy glide brush for quick, even professional application on nails</p> <p>&bull; from the essie collection, which has produced more than 1,000 shades and counting</p> <p>&bull; to use: apply one coat of any of our essie base coats on nails. follow with two coats of essie original color. finish with any one of our essie top coats.</p> <p>&bull; over&nbsp;a thousand nuanced colors, essie original nail polish takes from the latest fashion and cultural trends to make your manicure possibilities endless, with a wink and story always on hand. your partner for playful inspiration.</p> <p> </p> <center></center> <p>&nbsp;</p> <p>&nbsp;</p> <center><a href="/nail-polish/whats-new/study-tips">see the collection</a></center> <p>&nbsp;</p>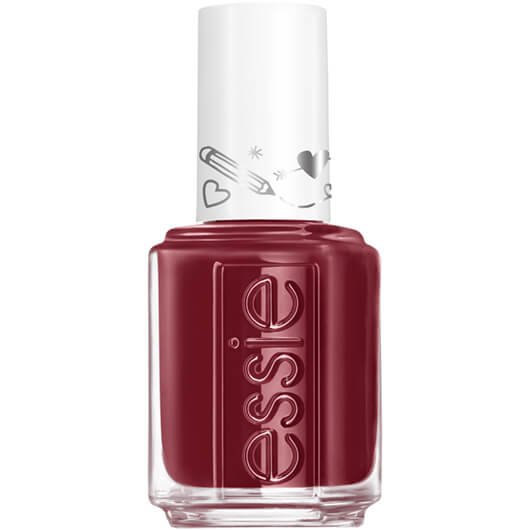 essie
nail the grade
$9.00
<p>pencils down, polish brushes up! this deep, burgundy-red nail polish with blue undertones passes any test with flying colors (cream)</p> <p>&bull; school is now in session with the new essie study tips collection. hitting the books has never looked better thanks to six statement-making shades that always nail the grade. inspired by freshly sharpened pencils and crisp fall days, these preppy colors guarantee you&rsquo;ll go straight to the head of the class.</p> <p>&bull; salon quality formula for flawless coverage</p> <p>&bull; our exclusive easy glide brush for quick, even professional application on nails</p> <p>&bull; from the essie collection, which has produced more than 1,000 shades and counting</p> <p>&bull; to use: apply one coat of any of our essie base coats on nails. follow with two coats of essie original color. finish with any one of our essie top coats.</p> <p>&bull; over&nbsp;a thousand nuanced colors, essie original nail polish takes from the latest fashion and cultural trends to make your manicure possibilities endless, with a wink and story always on hand. your partner for playful inspiration.</p> <p> </p> <center></center> <p>&nbsp;</p> <p>&nbsp;</p> <center><a href="/nail-polish/whats-new/study-tips">see the collection</a></center> <p>&nbsp;</p>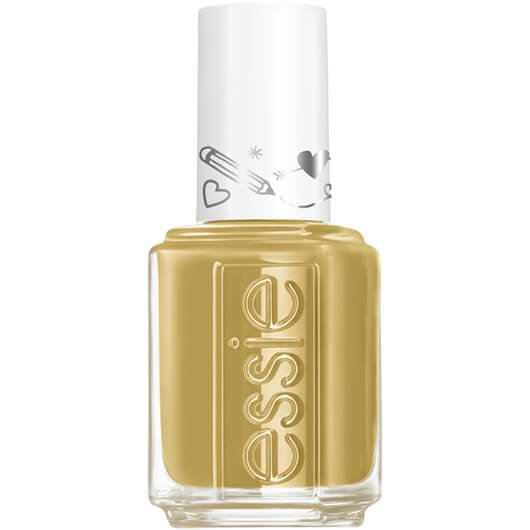 essie
homework it
$9.00
<p>taking notes is more fun when you&rsquo;re wearing this muted, asparagus-green nail polish with yellow undertones makes (cream)</p> <p>&bull; school is now in session with the new essie study tips collection. hitting the books has never looked better thanks to six statement-making shades that always nail the grade. inspired by freshly sharpened pencils and crisp fall days, these preppy colors guarantee you&rsquo;ll go straight to the head of the class.</p> <p>&bull; salon quality formula for flawless coverage</p> <p>&bull; our exclusive easy glide brush for quick, even professional application on nails</p> <p>&bull; from the essie collection, which has produced more than 1,000 shades and counting</p> <p>&bull; to use: apply one coat of any of our essie base coats on nails. follow with two coats of essie original color. finish with any one of our essie top coats.</p> <p>&bull; over&nbsp;a thousand nuanced colors, essie original nail polish takes from the latest fashion and cultural trends to make your manicure possibilities endless, with a wink and story always on hand. your partner for playful inspiration.</p> <p> </p> <center></center> <p>&nbsp;</p> <p>&nbsp;</p> <center><a href="/nail-polish/whats-new/study-tips">see the collection</a></center> <p>&nbsp;</p>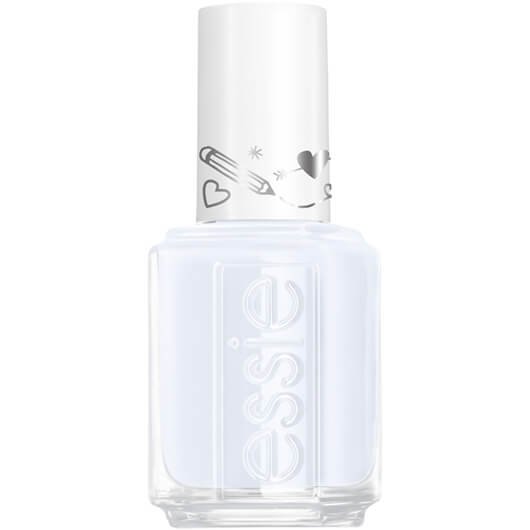 essie
doodle the minimum
$9.00
<p>take a break from the books and reach for this white-based, light gray nail polish with blue undertones during study hall (cream)</p> <p>&bull; school is now in session with the new essie study tips collection. hitting the books has never looked better thanks to six statement-making shades that always nail the grade. inspired by freshly sharpened pencils and crisp fall days, these preppy colors guarantee you&rsquo;ll go straight to the head of the class.</p> <p>&bull; salon quality formula for flawless coverage</p> <p>&bull; our exclusive easy glide brush for quick, even professional application on nails</p> <p>&bull; from the essie collection, which has produced more than 1,000 shades and counting</p> <p>&bull; to use: apply one coat of any of our essie base coats on nails. follow with two coats of essie original color. finish with any one of our essie top coats.</p> <p>&bull; over&nbsp;a thousand nuanced colors, essie original nail polish takes from the latest fashion and cultural trends to make your manicure possibilities endless, with a wink and story always on hand. your partner for playful inspiration.</p> <p> </p> <center></center> <p>&nbsp;</p> <p>&nbsp;</p> <center><a href="/nail-polish/whats-new/study-tips">see the collection</a></center> <p>&nbsp;</p>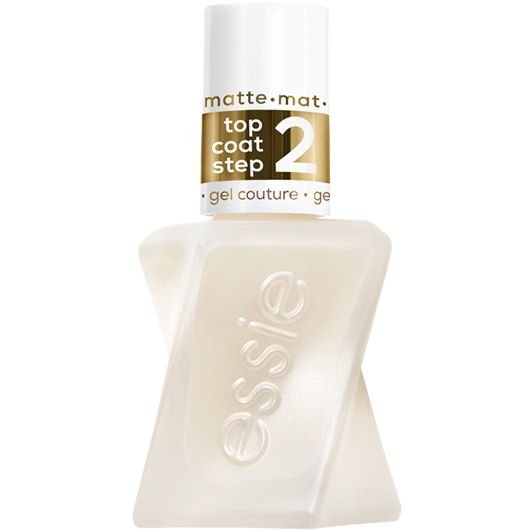 top coat
gel couture matte top coat
$11.00
<p>like a buttery suede jacket for your fingertips, this clear top coat locks in color and locks out shine for a velvety soft finish that lasts (matte) </p> <ul> <li>patent meets its match with the essie&reg; gel couture matte top coat. inspired by the timeless look of suede, this new formula seals in gel couture color with a luxurious, soft-matte finish that makes a long-lasting statement.</li> <li>salon quality &amp; longwear without the UV lamp. chip and fade-resistant color meets suede-like matte finish.</li> <li>no base coat needed.</li> <li>color must be used with exclusive gel couture top coat.</li> <li>to remove:&nbsp; remove gel couture nail polish with any acetone or non-acetone nail polish remover; no harsh soaking, scrubbing or scraping needed. removes just like regular polish.</li> <li>patented swirl-stem and curve-hugging brush for even color coverage and precise application.</li> <li> rich, opulent color with a touch of brilliance, available in more than 100 couture shades.</li> <li>essie is the go-to nail brand for salon professionals, beauty junkies, industry insiders, celebrities and fashion icons around the world. America's nail salon expert, essie makes life colorful.</li> </ul>
---