go to content
register
lagoon of love
by essie global lead educator, Rita Remark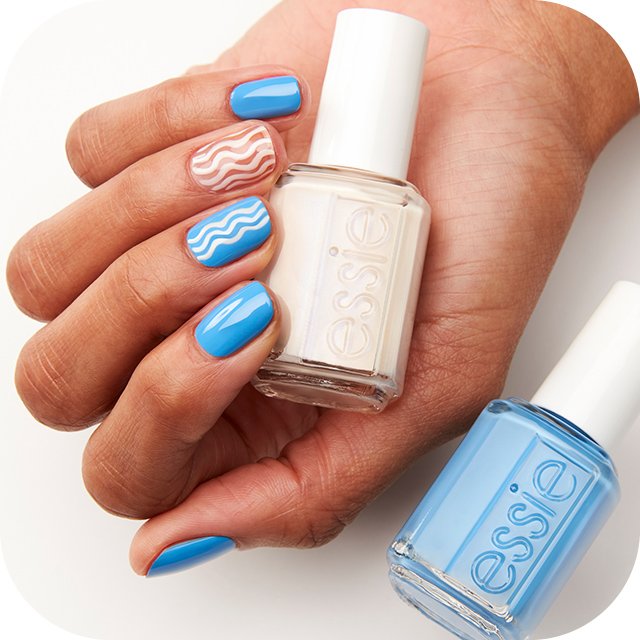 step 1: apply a thin coat of your preferred essie base coat.
step 2: apply two coats of ripple reflect to every nail except the index.
step 3: with a detail brush dipped in boatloads of love, polish wavy lines vertically across the index finger. next apply three wavy lines vertically down the middle finger.
step 4: finish with gel setter top coat.
---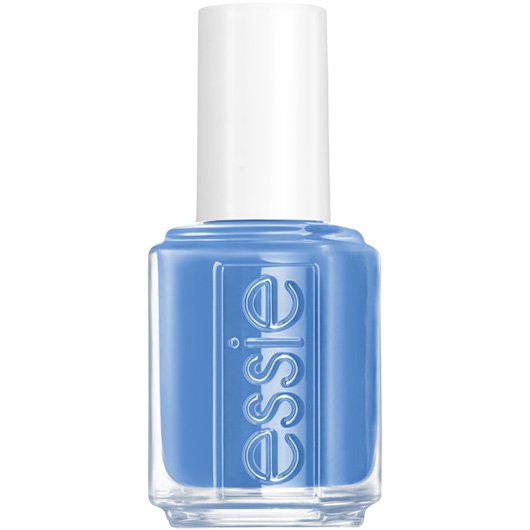 essie
ripple reflect
$9.00
a flawless manicure always has a positive influence and this cornflower blue nail polish with red undertones radiates confidence over and over and over again (cream) <ul style="list-style-type: disc;"> <li>inspired by a dreamy first date in a romantic rowboat for two, essie proudly introduces the permanent swoon in the lagoon 2022 collection. this nine-shade range offers a calming balance of natural tones and mood-boosting brights that allow you to day drift away effortlessly. so, row with the flow and see where this lagoon of love takes you! </li> <li>salon quality formula for flawless coverage</li> <li>our exclusive easy glide brush for quick, even professional application on nails</li> <li>from the essie collection, which has produced more than 1,000 shades and counting</li> <li>over&nbsp;a thousand nuanced colors, essie original nail polish takes from the latest fashion and cultural trends to make your manicure possibilities endless, with a wink and story always on hand.&nbsp;&nbsp;your partner for playful inspiration.</li> </ul> <center><a href="https://www.essie.com/nail-polish/whats-new/swoon-in-the-lagoon" target="_self">see the collection</a></center>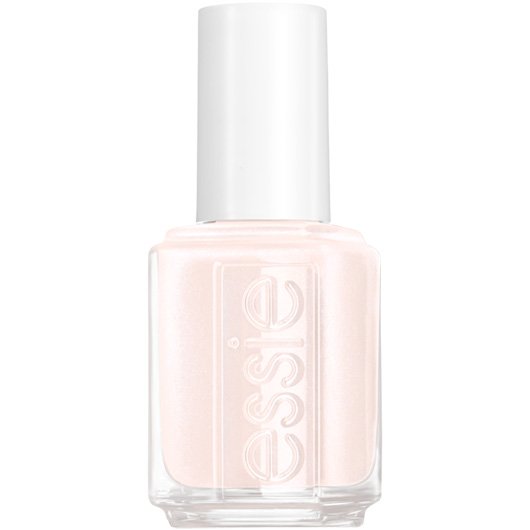 essie
boatloads of love
$9.00
equal parts comforting and captivating, you can&rsquo;t help but fall head over heels for this off-white nail polish with refined blue pearls. a perfect pick for pedicures (shimmer) <ul style="list-style-type: disc;"> <li>inspired by a dreamy first date in a romantic rowboat for two, essie proudly introduces the permanent swoon in the lagoon 2022 collection. this nine-shade range offers a calming balance of natural tones and mood-boosting brights that allow you to day drift away effortlessly. so, row with the flow and see where this lagoon of love takes you! </li> <li>salon quality formula for flawless coverage</li> <li>our exclusive easy glide brush for quick, even professional application on nails</li> <li>from the essie collection, which has produced more than 1,000 shades and counting</li> <li>over&nbsp;a thousand nuanced colors, essie original nail polish takes from the latest fashion and cultural trends to make your manicure possibilities endless, with a wink and story always on hand.&nbsp;&nbsp;your partner for playful inspiration.</li> </ul> <center><a href="https://www.essie.com/nail-polish/whats-new/swoon-in-the-lagoon" target="_self">see the collection</a></center>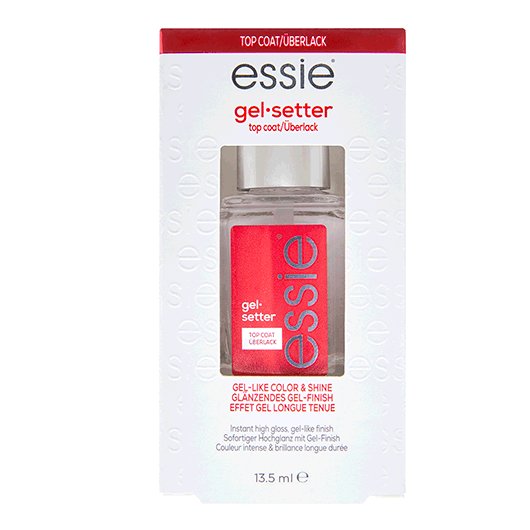 top coat
gel-setter
$10.00
<style type="text/css"> p.p1 {margin: 0.0px 0.0px 0.0px 0.0px; font: 12.0px 'Lucida Grande'; color: #000000} </style> <p class="p1">A clear topcoat that will give your nails gel-like essie color and shine day after day.</p>
---