go to content
register

sign in

sign up

sign up

sign in

sign out
tips & trends
Essie Playlist: 16 Songs to Get You Movin' n Groovin' - Essie
Pair these bops with six new shades you'll want to wear on repeat.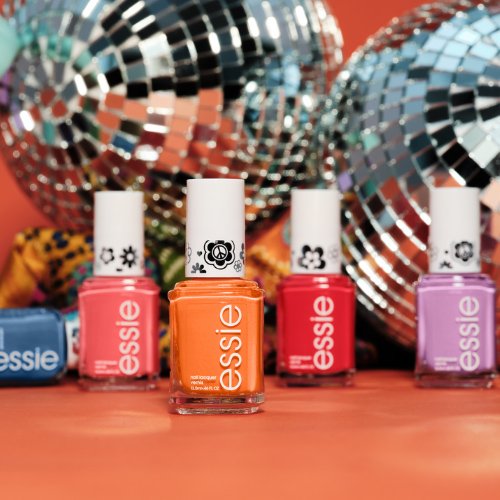 There's something about the open road that calls for epic tunes and a colorful mani. The new Movin' & Groovin' collection from essie takes you on a joyride with six happy shades that will bring you smiles for miles. From a funky tangerine to a flared denim blue, these 70s-inspired hues are a whole vibe. In honor of this fun and free-spirited lineup, the essie crew shares their favorite feel-good songs and go-to polishes guaranteed to get you in the groove. All that's left to do? Use the exclusive easy-glide brush for quick and even application, finish with top coat, and pump up the jams!
Peace, love, and essie.
Click to shop "movin' & groovin'"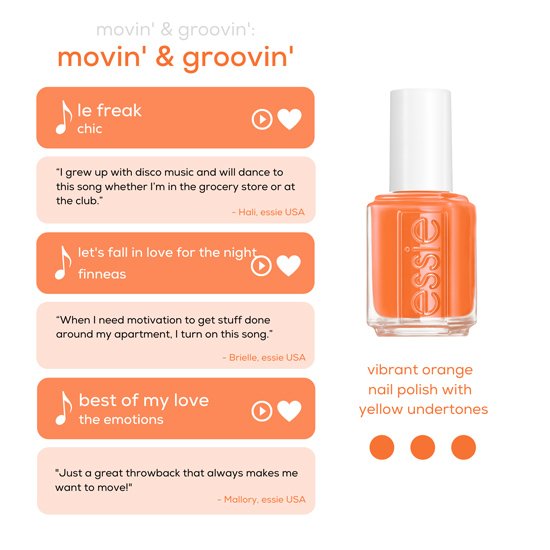 Click to shop "keys to happiness"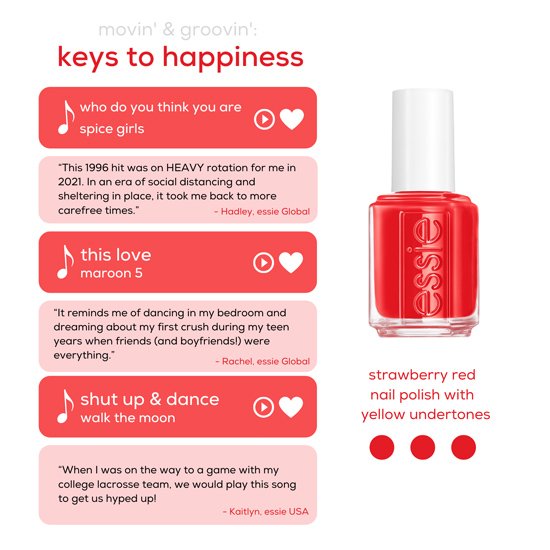 Click to shop "run wildflower"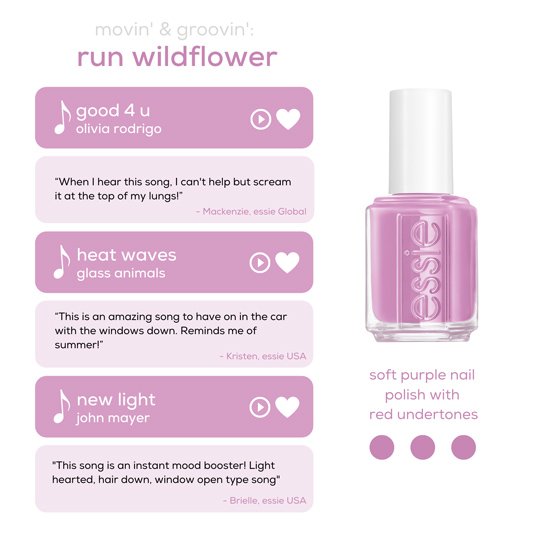 Click to shop "flare for fun"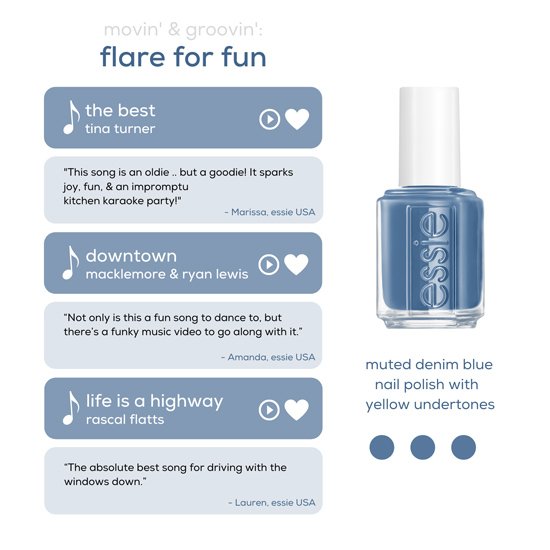 Click to shop "along for the vibe"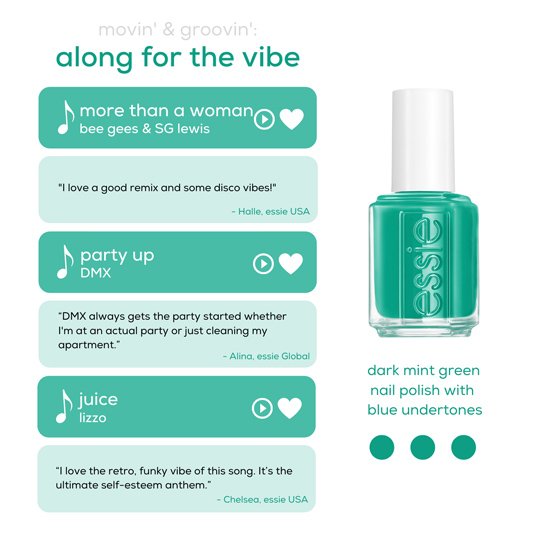 Click to shop "love yourself to peaces"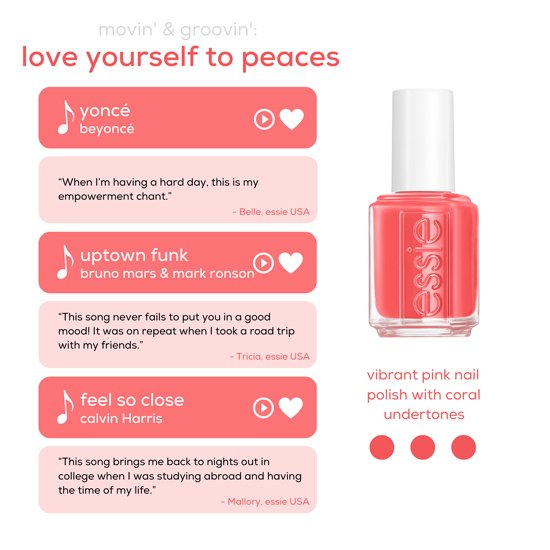 ---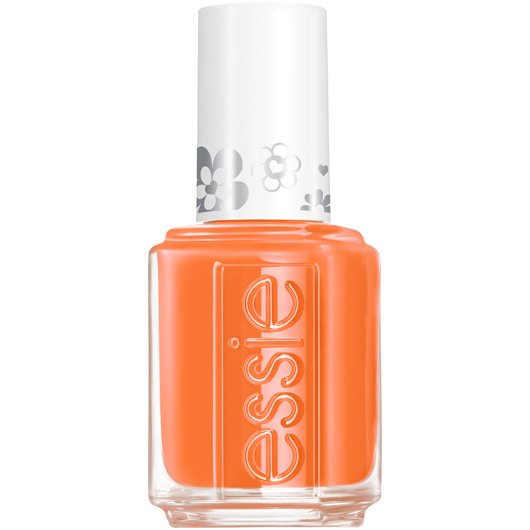 essie
movin' & groovin'
$10.00
get going on your next adventure in this vibrant orange nail polish with yellow undertones.<br /> <ul style="list-style-type: disc;"> <li> the limited edition movin' & groovin' collection inspired by a groovy joyride with your besties! this collection showcases a vibrant array of 6 optimistically bright shades that will bring smiles for miles! you and your crew are ready for the adventure of your life, so channel your inner free-spirit and let's get movin' & groovin'! li> <li> salon quality formula for flawless coverage.</li> <li> our exclusive easy glide brush for quick, even professional application on nails.</li> <li> from the essie collection, which has produced more than 1,000 shades and counting.</li> <li> to use: apply one coat of any of our essie base coats on nails. follow with two coats of essie original color. finish with any one of our essie top coats.</li> <li> over a thousand nuanced colors, essie original nail polish takes from the latest fashion and cultural trends to make your manicure possibilities endless, with a wink and story always on hand.  your partner for playful inspiration.</li> </li></ul> <center><a href="https://www.essie.com/nail-polish/whats-new/moving-and-grooving" target="_self">see the collection</a></center>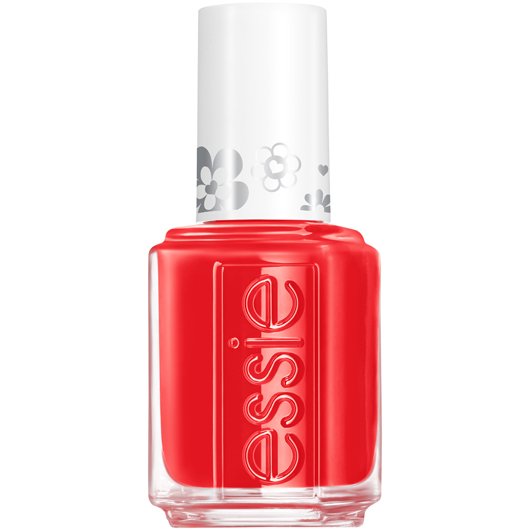 essie
keys to happiness
$10.00
this strawberry red nail polish with yellow undertones is the secret to living your best life!<br /> <ul style="list-style-type: disc;"> <li> the limited edition movin' & groovin' collection inspired by a groovy joyride with your besties! this collection showcases a vibrant array of 6 optimistically bright shades that will bring smiles for miles! you and your crew are ready for the adventure of your life, so channel your inner free-spirit and let's get movin' & groovin'! li> <li> salon quality formula for flawless coverage.</li> <li> our exclusive easy glide brush for quick, even professional application on nails.</li> <li> from the essie collection, which has produced more than 1,000 shades and counting.</li> <li> to use: apply one coat of any of our essie base coats on nails. follow with two coats of essie original color. finish with any one of our essie top coats.</li> <li> over a thousand nuanced colors, essie original nail polish takes from the latest fashion and cultural trends to make your manicure possibilities endless, with a wink and story always on hand.  your partner for playful inspiration.</li> </li></ul> <center><a href="https://www.essie.com/nail-polish/whats-new/moving-and-grooving" target="_self">see the collection</a></center>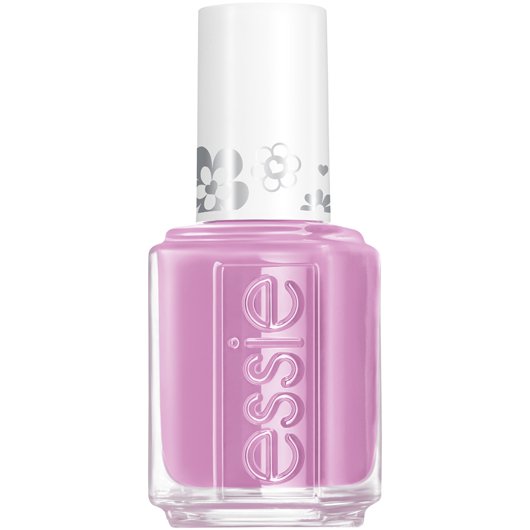 essie
run wildflower
$10.00
bask in the meadows in this soft purple nail polish with red undertones. it will leave you feeling light and free.<br /> <ul style="list-style-type: disc;"> <li> the limited edition movin' & groovin' collection inspired by a groovy joyride with your besties! this collection showcases a vibrant array of 6 optimistically bright shades that will bring smiles for miles! you and your crew are ready for the adventure of your life, so channel your inner free-spirit and let's get movin' & groovin'! li> <li> salon quality formula for flawless coverage.</li> <li> our exclusive easy glide brush for quick, even professional application on nails.</li> <li> from the essie collection, which has produced more than 1,000 shades and counting.</li> <li> to use: apply one coat of any of our essie base coats on nails. follow with two coats of essie original color. finish with any one of our essie top coats.</li> <li> over a thousand nuanced colors, essie original nail polish takes from the latest fashion and cultural trends to make your manicure possibilities endless, with a wink and story always on hand.  your partner for playful inspiration.</li> </li></ul> <center><a href="https://www.essie.com/nail-polish/whats-new/moving-and-grooving" target="_self">see the collection</a></center>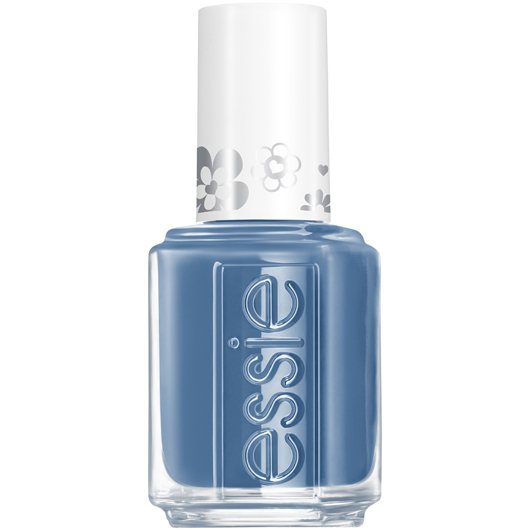 essie
flare for fun
$10.00
you&rsquo;ll have style for miles in this muted denim blue nail polish with yellow undertones. groovy baby!<br /> <ul style="list-style-type: disc;"> <li> the limited edition movin&rsquo; &amp; groovin&rsquo; collection inspired by a groovy joyride with your besties! this collection showcases a vibrant array of 6 optimistically bright shades that will bring smiles for miles! you and your crew are ready for the adventure of your life, so channel your inner free-spirit and let&rsquo;s get movin&rsquo; &amp; groovin&rsquo;! li&gt; </li> <li> salon quality formula for flawless coverage.</li> <li> our exclusive easy glide brush for quick, even professional application on nails.</li> <li> from the essie collection, which has produced more than 1,000 shades and counting.</li> <li> to use: apply one coat of any of our essie base coats on nails. follow with two coats of essie original color. finish with any one of our essie top coats.</li> <li> over&nbsp;a thousand nuanced colors, essie original nail polish takes from the latest fashion and cultural trends to make your manicure possibilities endless, with a wink and story always on hand.&nbsp;&nbsp;your partner for playful inspiration.</li> </ul> <center><a href="https://www.essie.com/nail-polish/whats-new/moving-and-grooving" target="_self">see the collection</a></center>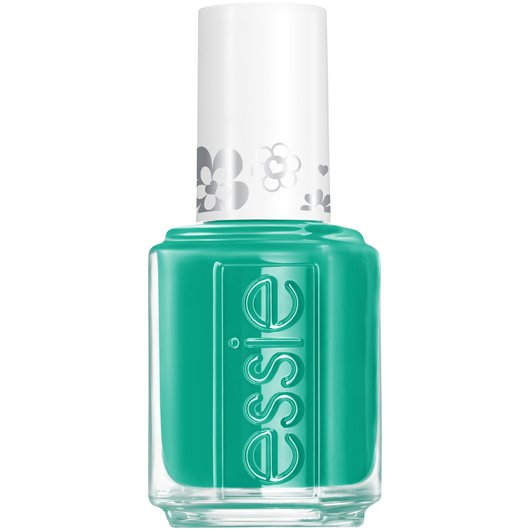 essie
along for the vibe
$10.00
the energy is good in this dark mint green nail polish with blue undertones. hop on in and enjoy the ride.<br /> <ul style="list-style-type: disc;"> <li> the limited edition movin' & groovin' collection inspired by a groovy joyride with your besties! this collection showcases a vibrant array of 6 optimistically bright shades that will bring smiles for miles! you and your crew are ready for the adventure of your life, so channel your inner free-spirit and let's get movin' & groovin'! li> <li> salon quality formula for flawless coverage.</li> <li> our exclusive easy glide brush for quick, even professional application on nails.</li> <li> from the essie collection, which has produced more than 1,000 shades and counting.</li> <li> to use: apply one coat of any of our essie base coats on nails. follow with two coats of essie original color. finish with any one of our essie top coats.</li> <li> over a thousand nuanced colors, essie original nail polish takes from the latest fashion and cultural trends to make your manicure possibilities endless, with a wink and story always on hand.  your partner for playful inspiration.</li> </li></ul> <center><a href="https://www.essie.com/nail-polish/whats-new/moving-and-grooving" target="_self">see the collection</a></center>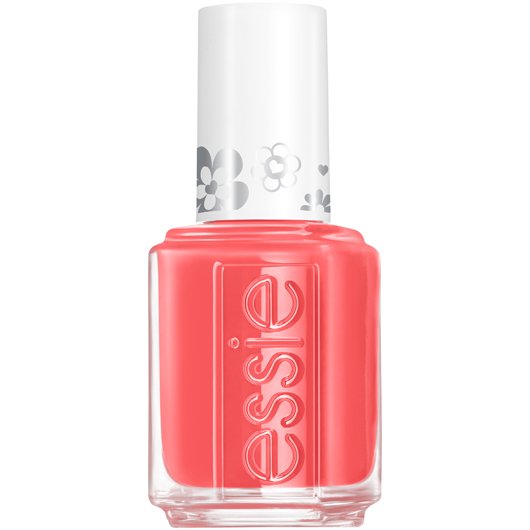 essie
love yourself to peaces
$10.00
show yourself some love in this vibrant pink nail polish with coral undertones.<br /> <ul style="list-style-type: disc;"> <li> the limited edition movin' & groovin' collection inspired by a groovy joyride with your besties! this collection showcases a vibrant array of 6 optimistically bright shades that will bring smiles for miles! you and your crew are ready for the adventure of your life, so channel your inner free-spirit and let's get movin' & groovin'! li> <li> salon quality formula for flawless coverage.</li> <li> our exclusive easy glide brush for quick, even professional application on nails.</li> <li> from the essie collection, which has produced more than 1,000 shades and counting.</li> <li> to use: apply one coat of any of our essie base coats on nails. follow with two coats of essie original color. finish with any one of our essie top coats.</li> <li> over a thousand nuanced colors, essie original nail polish takes from the latest fashion and cultural trends to make your manicure possibilities endless, with a wink and story always on hand.  your partner for playful inspiration.</li> </li></ul> <center><a href="https://www.essie.com/nail-polish/whats-new/moving-and-grooving" target="_self">see the collection</a></center>
---