go to content
register

sign in

sign up

sign up

sign in

sign out
tips & trends
take a break from gel with essie's Treat, Love & Color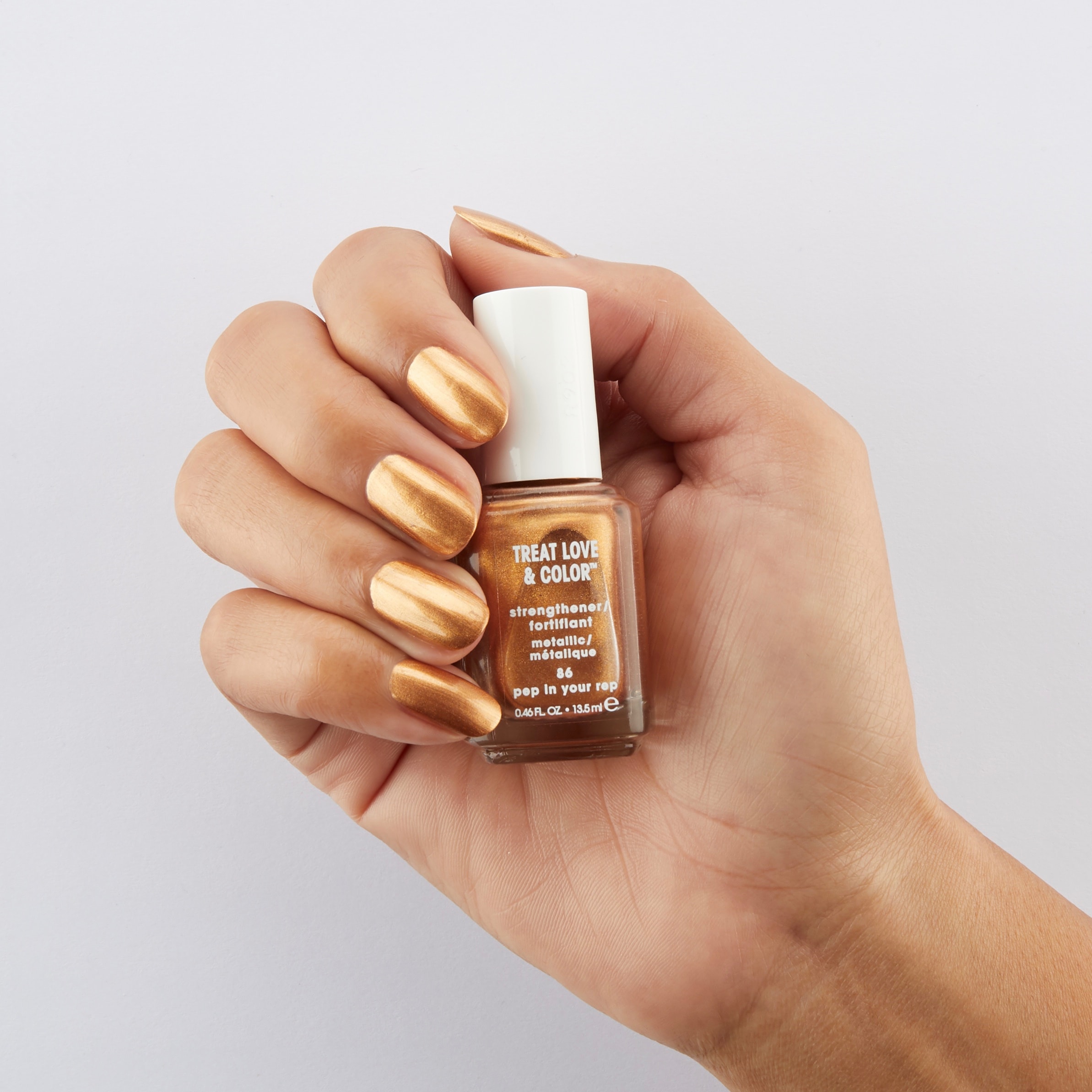 For many of us, a gel mani is the way to go when getting a service at the salon. That rush of glossy gel shine, the freedom of instantly dry nails…I mean it just can't be beat. But we know that after weeks of back-to-back gels, our nails could definitely use a break. Until now, taking that break meant keeping your nails in the nude, but that's a little too boring for us obsessies. Lucky for us, essie launched the Treat, Love & Color line: care, strength, and color in a glorious, all-in-one solution.
Fun fact: when we wear our nails bare, we actually leave them vulnerable to the drying and damaging effects of weather, environmental stressors, and harsh cleaning chemicals. Yikes. But that's why Treat, Love & Color comes on hand-y (get it?) With a built in base and top coat, this miracle product is truly a one-step solution to low-maintenance nail care and protection. Compared to nails without polish, one coat of Treat, Love & Color has been proven to advance the health of nails in just one week, with 60% less peeling and 40% less breakage shown in clinical testing.
Even better, essie Treat, Love & Color comes in over 40 shades, with colors that range from high power metallics to sheers & soft creams, so you can care for your nails without compromising on high fashion color. Win, win, and win.
---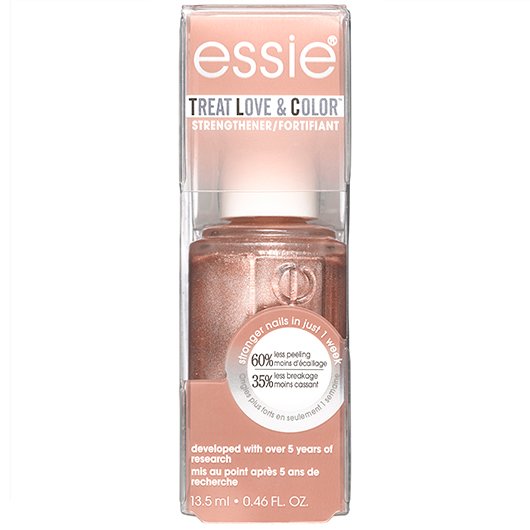 treat love and color
keen on sheen
$10.00
<style type="text/css"> p.p1 {margin: 0.0px 0.0px 0.0px 0.0px; font: 12.0px Helvetica; color: #1a1a1a; -webkit-text-stroke: #ffffff} span.s1 {font-kerning: none} </style> <p class="p1"><span class="s1">stronger nails in just 1 week. 60% less peeling and 35% less breakage. breathable nail polish formula with collagen &amp; camellia extract in radiant rose gold perfects nails in 1 step: no base or top coat needed. (metallic)</span></p> <p>&nbsp;</p> <p> <style type="text/css"> p.p1 {margin: 0.0px 0.0px 16.0px 0.0px; line-height: 19.0px; font: 16.0px Helvetica; color: #636363; -webkit-text-stroke: #636363; background-color: #ffffff} li.li2 {margin: 0.0px 0.0px 0.0px 0.0px; line-height: 18.0px; font: 16.0px Helvetica; color: #262626; -webkit-text-stroke: #262626} span.s1 {font-kerning: none} span.s2 {-webkit-text-stroke: 0px #636363} span.s3 {font-kerning: none; background-color: #ffffff} ul.ul1 {list-style-type: disc} </style> </p> <p class="p1"><span class="s1"><strong>treat love &amp; color product benefits:</strong></span></p> <ul class="ul1"> <li class="li2"><span class="s3">our 1st advanced 1-step strength &amp; color formula. developed with over 5 years of research.</span></li> <li class="li2"><span class="s3">stronger nails in just one week. 60% less peeling, 35% less breakage.</span></li> <li class="li2"><span class="s3">nails looks instantly perfected, with brightening pigments</span></li> <li class="li2"><span class="s3">no base or top coat needed! breathable care formula infused with collagen and camellia extract.</span></li> </ul>
treat love and color
mint condition
$10.00
stronger nails in just 1 week. 60% less peeling and 35% percent less breakage. infused with collagen &amp; camellia extract, this crisp mint sage cream perfects nails in 1 step: no base or topcoat needed. <p><span>&nbsp;</span></p> <p><strong><span>treat love &amp; color product benefits:</span></strong></p> <ul style="list-style-type: disc;"> <li><span>our 1st advanced 1-step strength &amp; color formula. developed with over 5 years of research.</span></li> <li><span>stronger nails in just one week. 60% less peeling, 35% less breakage.</span></li> <li><span>nails looks instantly perfected, with brightening pigments</span></li> <li><span>no base or top coat needed! breathable care formula infused with collagen and camellia extract.</span></li> </ul>
---