go to content
register
what's your sk8 shade .. based on your horoscope!
Your next manicure may be written in the stars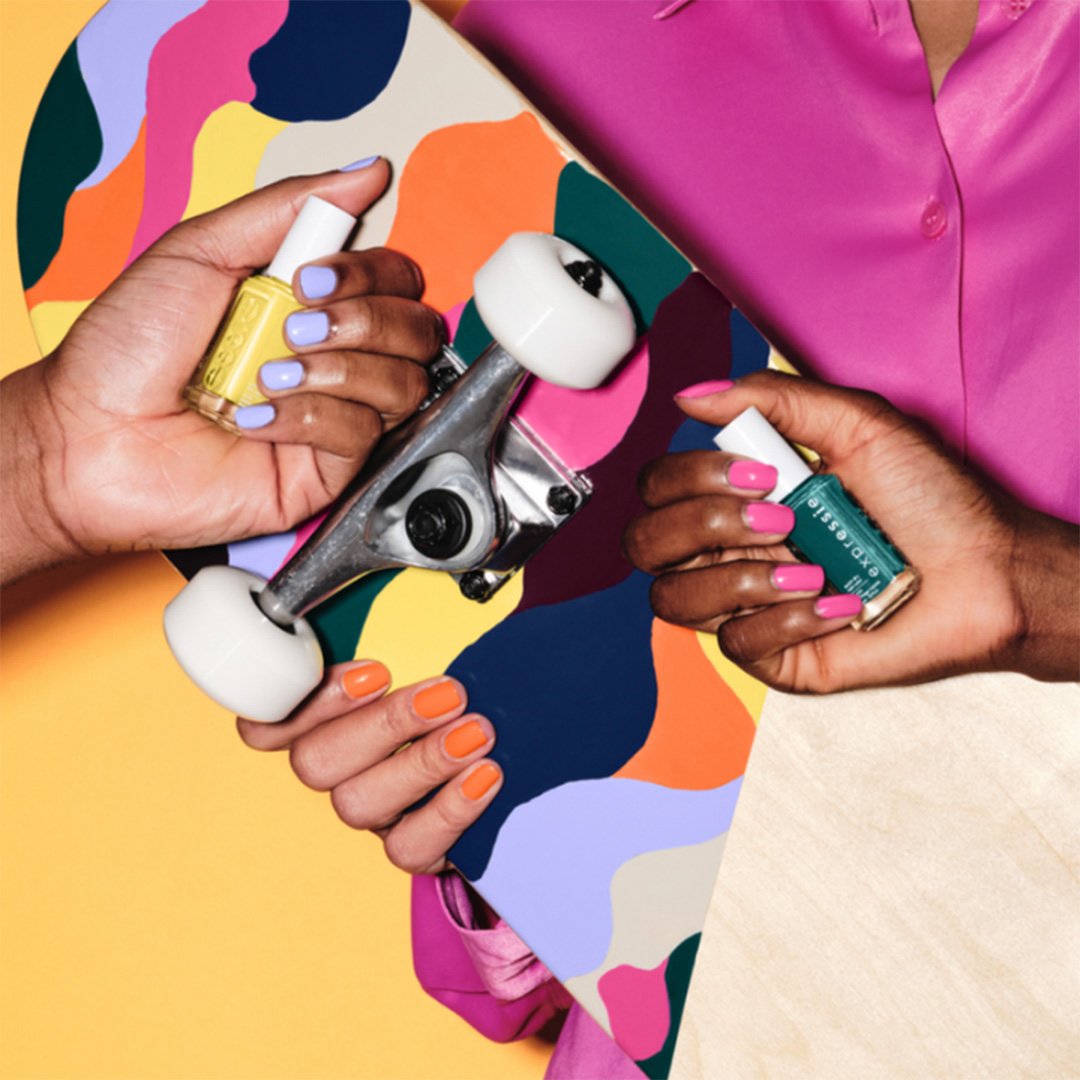 "Color is such a powerful way to tap into different energies, and depending on which elements [earth, air, fire, and water] are really present in your chart, you definitely might gravitate toward certain shades," says Kelly Mosser, an aligned success coach and strategic consultant. "I'd expect water signs to look for dreamy blues and purples; air signs to look for lighter, more effervescent shades; earth signs to gravitate toward dark, earthy, and more grounding colors; and fire signs to love highly saturated colors that evoke their bold personalities."
Inspired by our new Expressie Sk8 With Destiny collection, we asked Mosser to share her cosmic knowledge and color recommendations for each zodiac. After consulting a deck of tarot cards, she's also offering up her predictions for the year ahead. Read on to see what's in store for your nails and your life.


Aries (March 21 – April 19)
Personality Traits: "Bold. Assertive. Ambitious. Direct."
Cosmic Color: "Aries will immediately reach for Trick Clique because it says 'Yes. Hello. I am here. Listen to what I have to say!' Aries loves to command the room and their fiery personality calls for a bright hue like this one."
What the Cards Say: "This year could bring a major life event that signifies your next level of growth, likely in career, business, and leadership. The Three of Wands is also an indicator of travel to new, exciting places…You might be called to expand your studies this year, learn something new, earn a new certification, or start a forum, like a podcast, where you're able to share what you love with more people. The question I want you to keep in your pocket this year when you face a decision to make: Will this expand me? If the answer is yes, go for it!"


Taurus (April 20 – May 20)
Personality Traits: "Reliable. Devoted. Grounded. Sensual."
Cosmic Color: "Taurus babies are going to love Streetwear N' Tear because shades of green are energetically grounding and calming. A Taurus loves the outdoors, and this shade is a great way to bring the outdoors with you."
What the Cards Say: "This year is all about continuing the mission you started last year and compounding your success through diligence and hard, focused work. The Seven of Pentacles reminds us to stay the course, trust the process, and detach from short-term gain in favor of long term prosperity. Whatever you're working on right now, it's taking you where you desire to go, even if you haven't started to feel the big effects of your actions and choices just yet."


Gemini (May 21 – June 20)
Personality Traits: "Friendly. Clever. Curious. Adaptable."
Cosmic Color: "A bright and bubbly Gemini will love Curbside Pick-Me-Up. It's the ultimate shade to brighten a room—just like an outgoing and lovable Gemini!"
What the Cards Say: "The Two of Cups is all about duality and partnership, which echoes the concept of your sign beautifully…Look to expand your existing partnerships this year and seek new opportunities for collaboration and connection with others who regard you as an equal. If any partnerships in your life don't reflect equality of power, it's time to reevaluate those. This is your year to lock down the partnerships that allow you to feel important and supported—and to release the ones that don't."


Cancer (June 21 – July 22)
Personality Traits: "Nurturing. Sensitive. Compassionate. Loyal."
Cosmic Color: "A water sign, Cancers are going to feel right at home in Just For Kicks, a soothing shade that feels like a calming hug! Cancers love giving hugs and making others feel comfortable, so this color gives them a dose of their own gorgeous medicine."
What the Cards Say: "It's time to connect with your inner Strength; your inner lioness; your inner horsepower; your inner queen-of-the-jungle energy…This is the year to own your magic, anchor into your power, and let others know you've arrived at a new place of self-certainty. No more getting pushed around. No more shrinking or squeezing into spaces just so you don't upset others. This is your opportunity to roar and let the world hear you."


Leo (July 23 – August 22)
Personality Traits: "Confident. Generous. Creative. Charismatic."
Cosmic Color: "Bearer Of Rad News. Leave it to a Leo to go bold and make no apologies for it! Leos love any excuse to push the envelope and express their outgoing personalities."
What the Cards Say: "The Four of Wands is a gorgeous card of homecoming, celebration, and major milestones. This is such celebratory energy if you've been waiting on a big life moment to unfold. Keep focusing your energy on whatever 'home' means to you. This year is about building homes, families, and abundance for your future. There's a deep sense of safety and security in this card, so let that energy take priority in every decision you make."


Virgo (August 23 – September 22)
Personality Traits: "Meticulous. Kind. Charitable. Conscientious."
Cosmic Color: "I'm putting practical Virgos in Daily Grind. It's chic, timeless, and will look amazing with their primarily neutral wardrobes."
What the Cards Say: "The Nine of Pentacles is all about leveling up in your finances and the amount of abundance you'll allow into your life this year. This card is an invitation to accept the abundance that is tapping at your window, begging to be acknowledged and accepted by you. How might you have bottlenecked your abundance in 2021? What changes might you need to make to allow for greater ease in your money story in 2022? This energy asks you to just let it in. You've worked hard, you're worthy of it, and it's ready for you."


Libra (September 23 – October 22)
Personality Traits: "Balanced. Beautiful. Peace-seeking. Social."
Cosmic Color: "When a Libra walks into the room, heads turn! I'd pair a Libra with Sk8 With Destiny because this shade feels versatile, stylish, and non-polarizing all at the same time."
What the Cards Say: "Judgment is all about a reckoning. Whatever choices, fears, blessings you haven't reconciled with, this will be your year to do that. This is the time to start charting your future course, and that will require you to make some big decisions this year about who you are, what you stand for, what you're willing to accept in your life, and what your non-negotiables are…This is your opportunity to choose the energy and values you're going to operate under for the next big chapter of your life. Own your desires."


Scorpio (October 23 – November 21)
Personality Traits: "Passionate. Mysterious. Intuitive. Deep."
Cosmic Color: "All Ramped Up. Every Scorpio will love the most seductive and mysterious shade in the collection."
What the Cards Say: "The Queen of Swords is such a boss. She knows exactly what she needs, her boundaries are strong as steel, and she doesn't take anyone's you-know-what. This is the energy you want to be working with in 2022. Approach whatever life throws at you this year with an abundance of logic, and don't get too emotionally sucked in. Now's the time to lead with your mind, be objective, and hold your boundaries strong."


Sagittarius (November 22 – December 21)
Personality Traits: "Adventurous. Spontaneous. Optimistic. Wise."
Cosmic Color: "Sagittarius is known for being spontaneous and a little unconventional, so I think they'll love Bearer Of Rad News every bit as much as a Leo, a fellow fire sign."
What the Cards Say: "If you want different results, you have to be willing to do things differently this year. It might be a matter of shaking up your routine, pushing yourself out of your comfort zone, or learning a whole new way of operating. The Page of Wands is willing to try new things, experiment, and meet the world with a sense of fiery determination to succeed…This energy invites you to light your own ass on fire, get up, and make it happen."


Capricorn (December 22 – January 19)
Personality Traits: "Responsible. Hard-working. Diligent. Driven."
Cosmic Color: "The last thing Capricorns want to worry about is complicated color coordination, so they'll love Left On Shred, a chic and versatile shade."
What the Cards Say: "The Empress is so energetically fertile and open, that anything she desires seems to manifest instantly. This card's energy is all about divine receiving: getting comfortable enough with your worthiness so you can receive and actually enjoy it. What would you love to welcome into your life this year? The wisdom of the Empress says: You actually can do less and receive more."


Aquarius (January 20 – February 18)
Personality Traits: "Artistic. Independent. Socially conscious. Innovative."
Cosmic Color: "Sk8 With Destiny, Curbside Pick-Me-Up, and Left On Shred. I'm giving Aquarius a multicolored mani that lets them really lets them express their uniqueness."
What the Cards Say: "It's time to release the illusion that you've got to do this alone. The Three of Pentacles is a flashing neon sign that says: It's time to consciously build and trust your community! Lean into the resources and support of the people around you to help lift you up, build your dreams, heal—whatever you need to do this year will require community support… Your ideas might be ahead of your time, but trust that there are others out there who share your powerful vision and are ready, willing, and able to support you."


Pisces (February 19 – March 20)
Personality Traits: "Intuitive. Empathetic. Compassionate. Magical."
Cosmic Color: "Pisces are known as the most intuitive and psychic sign in the zodiac, so I'd love to see them in Keepin' It Wheel, which will delight their creativity but keep them grounded at the same time."
What the Cards Say: "The Empress card, same as your Capricorn friends...The Empress is so beautifully autonomous over herself. If you're called to do any self-mothering or reparenting work this year, start by creating this energy of safety and unconditional support for yourself. If you've been busy pushing, forcing, and doing, take this opportunity to see what divine feminine energy has to offer."
SHOP THE SHADES
---
---
expressie
curbside pick-me-up
$9.00
a vibrant yellow quick dry nail polish with green undertones (cream)
view details
expressie
just for kicks
$9.00
a soft grey quick dry nail polish with green undertones (cream)
view details
expressie
sk8 with destiny
$9.00
a bright lilac quick dry nail polish with blue undertones (cream)
view details
expressie
left on shred
$9.00
a deep navy blue quick dry nail polish with red undertones (cream)
view details
expressie
trick clique
$9.00
a vibrant hot pink quick dry nail polish with blue undertones (cream)
view details
expressie
all ramped up
$9.00
a deep plum quick dry nail polish with yellow undertones (cream)
view details
expressie
bearer of rad news
$9.00
an electric orange quick dry nail polish with red undertones (cream)
view details
expressie
streetwear n' tear
$9.00
a kelly green quick dry nail polish with blue undertones (cream)
view details
expressie
keepin' it wheel
$9.00
a dirty baby pink quick dry nail polish with blue undertones (cream)
view details
expressie
daily grind
$9.00
a dirty eggshell white quick dry nail polish with yellow undertones (cream)
view details